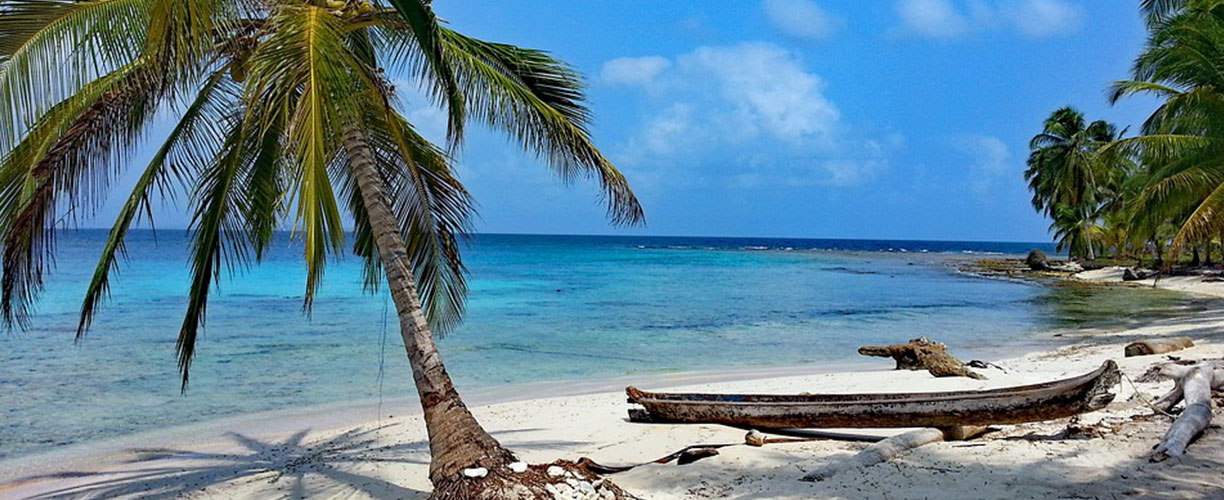 Panama's Pacific and Caribbean
Overview / Highlights
10 NIGHTS / 11 DAYS
Panama is much more than the Canal Crossing and offers a kaleidoscope of tourist attractions sure to satisfy the most demanding travelers. Panama boasts hundreds of islands spanning the Caribbean and Pacific coasts, spectacularly beautiful mountains and highlands, historical sites from a rich past as an international crossroads, seven living Indian cultures and a cosmopolitan capital city with a non-stop nightlife and easy access to National Parks and open wilderness. This tour will allow you to explore a diverse range of people and landscapes including pristine beaches, rain forests, cloud forests, to a wide variety of flora and fauna.
Countries

Panama

Cities

Ciudad de Panama, San Blas, Chiriqui, Bocas del Toro
Tour Program Summery Outline

Day 1 : Arrival in Panama
Day 2 : Panama Chagres National Park (Embera Indigenous Encounter)
Day 3 : Panama City / San Blas Islands
Day 4 : San Blas Islands
Day 5 : San Blas Islands / Panama City
Day 6 : Panama City / Chiriqui Cloud Forest (Boquete)
Day 7 : Boquete (Baru Volcano)
Day 8 : Boquete / Bocas del Toro
Day 9 : Bocas del Toro
Day 10 : Bocas del Toro / Panama City
Day 11 : Departure from Panama City

Click   icon to enlarge map to full screen view and back 

Features

10 nights accommodations
Private transfers and transportation
Meals as specified





Entrance fees to National Parks and other attractions specified
Domestic flights within Panama as noted
Room tax
Indegenous taxes
Interest
Adventure / Beaches / Cosmopolitan Cities / Culinary / Eco Tours / FAMILY ADVENTURES / Flora / Historical / Nightlife
Day 1 Arrival in Panama
Meeting services upon in Panama City, arrival and transfer to the Country Inn & Suites Amador Hotel. Afternoon city tour first visiting the historical section with "Casco Antiguo" (Old Quarters), built in 1673 after "Old Panama" was sacked and burnt. Here we view the French and Spanish colonial style architecture including the Presidential Palace, the Grand National Theater and the Bóvedas (prison chambers), among others. Next, we will continue to Flamenco Island, one the three islands, which form a causeway at the entrance of the Canal. Continue to the Centennial Bridge and the Bridge of The Americas, used to connect north and South America before retuning to the hotel.


Day 2 Panama Chagres National Park (Embera Indigenous Encounter)
Early in the morning we begin a fascinating tour sure to be a most unforgettable experience. Upon arrival at the Chagres National Park, we will enjoy the breath-taking beauty of the rainforest while aboard a small or motorized canoes along the Lake Alajuela and the Chagres River until we reach the friendly people of the Embera-Drua Community. Here we have the opportunity to learn about their culture and traditions, and have lunch in their thatched huts. You will also have the chance to take a tour with the "Medicine Man" who will explain the use of plants as natural medicines. The Embera Indians are master artisans, known for their trays, fine baskets and high quality in woodcarvings. In addition to crafting objects for sale, skilled woodcarving has many traditional uses in the Embera culture, including fabricating hunting weapons, canoes, paddles, household furnishing and ceremonial objects. Members of the community will share their culture with you through dances, rituals, food, etc. You will have the opportunity to partake in "jagua" body painting with vegetable ink. Late afternoon arrival back at Panama City for overnight at the Country Inn & Suites Amador (BL)


Day 3 Panama City / San Blas Islands
Depart from your hotel early in the morning for a 25-minute flight to Mamitupu airstrip on Panama's Atlantic Coast. Transfer by motorized dugout canoe to Dolphin Lodge. You will visit the Kuna Indians' principal island. Believed to be decedents of the Caribs, the Kuna Indians have cleverly managed to retain their tribal identity and contentedly lead a moral balanced life, free from the complexities of modern, highly-organized societies. They live traditionally in thatched roof huts made from materials readily found in the jungle. The Kuna women wear wrap around skirts and beautifully hand-made blouses known as "molas", an intricately sewn picture made from layers of cloth in a reverse appliqué technique. While on the islands you will enjoy beautiful beaches in front of your lodge. Lunch and dinner will feature delicious San Blas seafood. (LD)


Day 4 San Blas Islands
Rent (or bring your own) snorkeling gear and explore the beautiful living reefs in San Blas. You will also have a tour of a neighboring island to swim in crystal clear waters, relax on white-sand beaches or in a hammock under the palms.
Overnight at Dolphin Lodge (BLD)


Day 5 San Blas Islands / Panama City
Early morning you will return from San Blas to Panama City. The afternoon will be free for relaxing by the pool or shopping. Optional: Folkloric show and dinner at Tinajas Restaurant. Overnight at Country Inn & Suites Amador.


Day 6 Panama City / Chiriqui Cloud Forest (Boquete)
Early morning transfer to the domestic airport for your flight to David in the western province of Chiriqui, bordering Costa Rica. Then transfer by car to the quaint mountain town of Boquete. Enjoy the afternoon in these beautiful highlands hiking, riding or taking another optional tours such as visiting a private flower garden or coffee plantation. Overnight at Villa Marita (B)


Day 7 Boquete (Baru Volcano)
After an early breakfast, explore the trails around the Baru Volcano National Park. At an elevation of 7,500 feet, you will have the opportunity to see the elusive and resplendent Quetzal in its mountain habitat of wild orchids and bromeliads. Box lunch in the field. Overnight in Boquete, Villa Marita (BL)


Day 8 Boquete / Bocas del Toro
After breakfast you will be transferred to David International Airport for your flight to Bocas del Toro on the Caribbean side of the country. Here you will experience the Afro-Panamanian influences and indigenous cultures. Bocas del Toro Archipelago is close to the border with Costa Rica and offers visitors a number of attractions such as bountiful rain forests with an abundance of fauna and flora, sunny islands, beaches that compete with the Caribbean best, coral reefs in crystal clear water, mangrove islets in a lake-like scenery, Guaymi Indian villages and a national marine park that protects examples of the ecosystems and natural resources coexisting within the Archipelago boundaries, as a tribute to our future generations. Bocas del Toro is also where many "Survivor" Series were shot. Upon arrival we transfer to Hotel Bahia, Laguna or similar. You will have the rest of the day explore the town and optional tours are available. Hotel Bocas del Toro(B)


Day 9 Bocas del Toro
After breakfast you will have a Bastimentos Marine National Park Tour to snorkel and to observe the unique ecosystem of the area. This park offers many activities such as snorkeling and diving in one of the most beautiful Crystal clear waters and white sands. Most of these beaches are used by turtles for nestling since April month to September month. Also you can enjoy a trip in one of the many canals that run through the mangroves and, if you are lucky, see some dolphins or turtles. Overnight at Hotel Bocas del Toro in the center of town overlooking the Caribbean Sea. (B)


Day 10 Bocas del Toro / Panama City
Breakfast, then return to Panama City where you will be transferred to Country Inn & Suites Amador. Free day to explore the city, optional tours are also available. (B)


Day 11 Departure from Panama City
After breakfast, transfer to international airport.(B)
Remarks
Not included:
Gratuities of any kind; airport departure taxes; meals unless included in the itinerary.