Meet Our South America Team
The single most important factor in selecting a tour company to handle your tour to Latin America, is the competence, experience and knowledge of the people researching and arranging your tour. Today's savvy travel places a premium on a well-managed, seamless, well-coordinated travel experience. Our South America specialists have lived, worked and travelled extensively in the region. These dedicated experts pay a lot of attention to strike the perfect balance between what a client wishes to see, the time required to accomplish it, and the best itinerary to achieve it.
CALL A DESTINATION EXPERT TODAY AT 877-422-2212 or email to [email protected].

Maita Barrenechea is another of our hand-picked, special breed of Destination Experts. Maita is a well-recognized luxury and experiential Travel Specialist, boasting over three decades of hands-on ground travel-management. A natural-born ambassador for her country, she grew up traversing the globe, an experience that sparked her passion for delivering the best Argentina has to offer. Maita brings unmatched knowledge of the region and what it has to offer. This unique, in-depth knowledge allows Maita to deliver the perfect experience for each client served. She is one of the most revered authority on tour packages for Argentina, Chile, and Uruguay. As is true for the entire group, Maita's long-standing experience provides her with unparalleled access to special places and the best providers in her regions of specialty, with "outside the box" authentic experiential travel experience.
The Latin Travel Direct Group is a leader and innovator in providing experiential-style travel arrangements. We understand that "luxury travel" has shifted from the mundane stay in luxury properties to providing the style of tourism with a focus on experiencing the authentic, often hidden parts of a country, city or particular region such as connecting to the local history, people and culture. The most forward-thinking tour operators understand how a travel experience can truly change us by providing a new, unique, and authentic way to understand our world. Maita brings to the fore all that Argentina, Chile and Uruguay can offer.

Gisela Lopez longstanding professional attributes span over two decades of unwavering dedication to tourism of her blessed Peru and neighboring Bolivia. Gisela began her career at Faucett, a Peruvian airline, then moved to the reservations department in a corporate travel company, from where she crossed over to the tour operation segment of the industry. Manning our tour Desk in Peru, Gisela is the quintessential tour expert on Peru; a trained professional in tourism, with a formal diploma in Management and Administration, and many years' hands-on experience in researching and promoting all aspects of tourism to Peru. Her experience spans the gamut of tour related operations, combined with sincere dedication to her work. As is true of our entire team, Gisela real passion is manifested in her creative, outside the box thinking, with an eye towards excellent customer service that provides a once in a lifetime experience.
So, no matter the type of traveler served, be it a history buff, adventurer, or foodie, you van be sure that Gisela and our team will provide the best Peru has to offer.

Kattia Rojas is our Resident Expert for Costa Rica. She brings 23-years of multifaceted experience in tourism and has a good handle on what Costa Rica has to offer. She is well-practiced in the art of matching our client's expectations with what Costa Rica has to offer. Kattia is well-schooled in all aspects of our filed and has a bachelor's degree in Tourism Administration.

Annie Young is an accomplished and acknowledged leader in the Panama tourism scene. Annie is president and co-founder of the Panamanian Foundation for Sustainable Tourism and member of
Panama´s National Council of Tourism. She is an activist for responsible travel in Panama. She believes in providing opportunities to indigenous and rural communities and fosters the sustainable development of Panama´s tourism industry. Annie is a passionate about the great outdoors taking every chance to explore unique destinations that provide her with inspiration for new projects.
After extensive traveling, studying abroad and volunteering, Annie was motivated to develop a concept where she could share her passion for Panama through conservation, education, and tourism. Annie's extensive, multi-faceted experience, combined with her in-depth knowledge of Panama provides Latin Travel Direct Group with immeasurable understanding and ability to provide our agents and their clients with the very best Panama has to offer.

Adriana Rodriquez brings a lot of passion and love of her native country Colombia, dubbed "Tourism Comeback Kid in South America". Colombia is a land of soaring Andean summits, unspoiled Caribbean coast, enigmatic Amazon jungle, cryptic archaeological ruins and cobbled colonial communities. Adriana's passion for tourism is in her DNA and runs in her family (her mother also works in tourism). She's a keen explorer of her native country, Colombia, and has visited all the main attractions, as well as the less explored areas, i.e., the Amazon, Nuqui, Bahia Solano on the Pacific Coast, San Agustin, Tayrona, etc. As one of our younger Destination Experts, Adriana brings new, fresh ideas that uncover the hidden side of Colombia's culture and untold variety of attractions.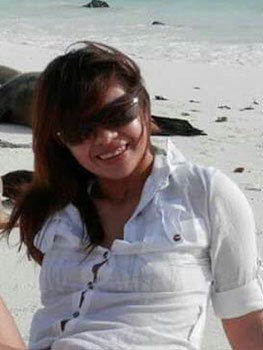 Gaby Saltos
Resident Expert
Ecuador & Galapagos Islands
Gaby Saltos brings much appreciated knowledge, combined with unparalleled enthusiasm for her native Ecuador. Gaby originates from Quito, Ecuador's Capital, a city rich in history home to one of the largest and best preserved colonial quarters in the Americas. Gaby genesis for travel began early in her life taking trips with her family to the Mountains and to the Amazonas cloud forest, where she developed an insatiable love for the outdoors. She found her desire for travel at an early age and came up the ranks from early beginning as a cultural guide in Quito's. Her knowledge and passion of Ecuador evolved as she began to plan tours through Ecuador and improved her knowledge of Ecuadorian Communities and its traditions. Gaby graduated from the University where her focus was on Ecotourism, environmental conservation, and Ecuadorian Art. Her favorite activities include Horseback riding, cycling, trekking, and mountaineering.
Gaby brings her loves for and fresh sceneries, having moved to a valley outside Quito in her search for peace and quiet. She is excited to keep exploring the many facets of Ecuador and the Galapagos Islands, offering to share her enthusiasm for travel and adventure with our guests.