About Chile...
Chile is a land of startling contrasts and extreme beauty offering dramatic landscapes from the Atacama Desert to shimmering lakes, towering volcanic mountains, glaciers and rolling hills with bountiful flora and fauna. In describing Chile one must resort to a number of superlatives. This is the longest country in world; home to Atacama, the driest desert in the world; Punta Arenas, the southernmost city in the world and on it goes. Central Chile is a long and expansive river valley, a five hundred mile corridor occupied in the north by vineyards and great farms and in the south by primeval forests and enchanting lakes. To the south we find the Lake districts and the some of the most pristine places left on earth such as the Payne National Park in the heart of the Patagonia. Beyond that lies the Strait of Magellan and Tierra del Fuego, an island divided between Chile and Argentina. Few places on earth provide such varied and diverse travel opportunities.
A Note about Our Tours.... Chile
Please note that all of our tours are carefully selected, researched and designed in order to maximize your experience, no matter the destination, your interests or the tour selected. We employ professional Destination Specialists to design, as well as guide and lead the tour of your choice. When needed, we utilize specialized experts from a diverse background to lead special interest tours. Our published tour programs are intended as suggestions and are based on previously tried and tested programs. But we also custom-design tailor-made tours to meet your needs whatever they maybe. So come and visit Chile where a real surprise awaits the curious traveler. Due to its long, narrow land profile adjacent to the Pacific Ocean and Andes Mountains, Chile has a unique topography and climate. Bordering Peru and Bolivia to the North and running some 3000 mile to the tip of South America created extreme diverse landscapes. From the driest desert on earth to vast southern glacial fields, Chile offers contrasting landscapes home to parched dunes, fertile valleys, volcanoes, ancient forests, massive glaciers and fjords.
So no matter your preference, interests or style, please feel free to ask us to design and quote the tour that best meets your needs and requirements. We also offer you multi-destination tour programs combining multiple countries of your choice, i.e., Chile, Argentina, Brazil with or without Peru or any combination you deem of interest to you and or your group.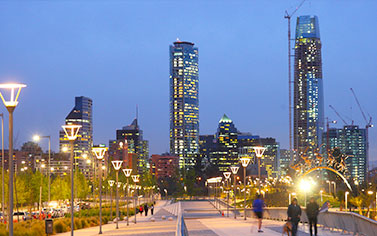 Experience, first-hand Chile's stunning array of landscapes. Begin in Santiago and make your way to the wine country and the Patagonia landscape.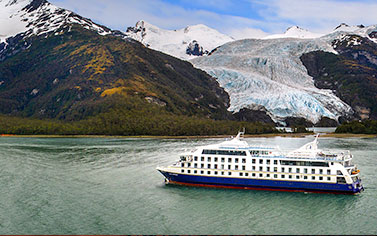 Join us on an amazing journey to the "uttermost end of the earth" on modern expedition cruise ships navigating untamed waterways at the end of earth.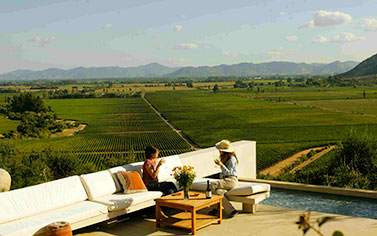 Wedged between the Pacific Ocean and Andes mountains, Chile offers a Feast for the Senses full of adventure and amazing food, wine and culture.
See all Chile Tours