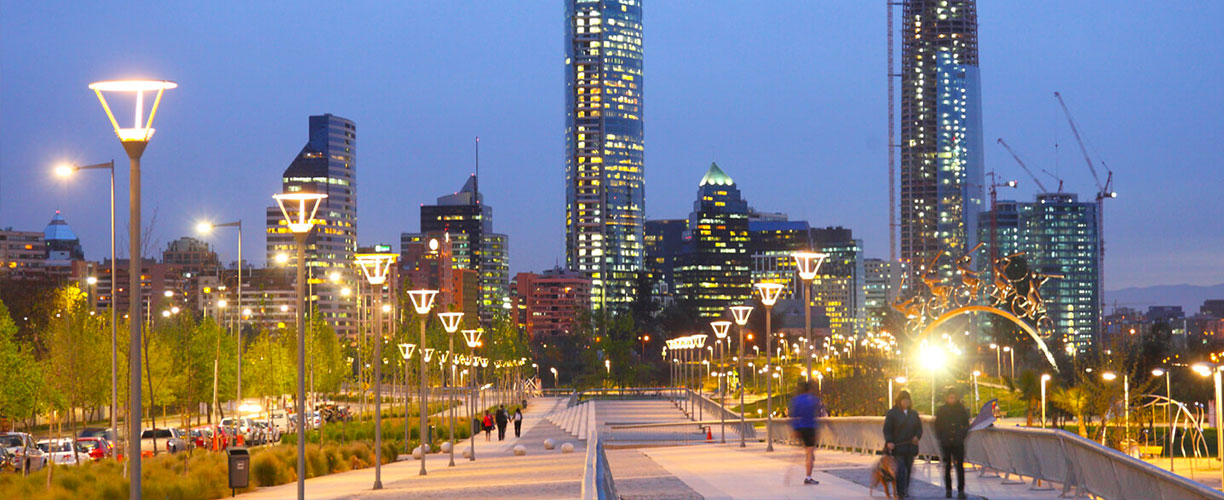 Chile' Lake District Self-Drive
Overview / Highlights
7 NIGHTS / 8 DAYS
Chile's Lake District is famous for its spectacular scenery of deep blue mountain lakes, snow-capped volcanos, pristine beauty of alerce (larch) forests, popular resorts, year-round sports, and traditional folklore, handicrafts and legends. It's a wide region anchored at the northern end by the inland city of Temuco, in the middle by Valdivia on the Pacific and Osorno inland. Puerto Montt on the Bay of Reloncavi is at the southern end. From north to south, the Lake District stretches from the Pacific east to the Andes. The region is home to twelve major lakes with dozens more dotting the landscape. Between the lakes there are rivers, waterfalls, forests, thermal hot springs, and the Andes, including six volcanos with Villarrica being the highest at 9395 ft.

We invite you to visit this scenic district at your own pace with this suggested self-drive journey unveiling the full glory of Chile's wild vistas. You pick up your car in Temuco and make your way along winding roads embraced by lustrous evergreen forests and a wonderland of snow-capped volcanoes, glassy lakes and waterfalls tumbling to arrive Pucón at the foot of the Villarrica Volcano. At the eastern end of the Villarrica Lake your surrounded by extensive areas of native forests rendering this town as a good base for visits to the nearby national parks, hot springs, waterfalls and lakes.

When people describe Chile's Lake District as the South American equivalent of Switzerland, they usually mean it in a topographic sense: jagged peaks, verdant valleys, shimmering cobalt waters, that kind of thing. The 210-mile stretch between Temuco and Puerto Montt offers almost as many disparate cultures as Switzerland (which is so polyethnic as to have four official languages). In some pockets of the Lake District, German surnames are as common as Spanish, and weirdly authentic examples of Scandinavian architecture line the sidewalks. Elsewhere, the native Mapuche culture, all but eradicated in the 1800's, still thrives.
Countries

Chile

Cities

Santiago, Temuco, Pucón, Puerto Varas, Puerto Montt
Tour Program Summery Outline

Day 1 : Arrive Santiago (City Tour)
Day 2 : Santiago (Maipo Valley Wine Tour)
Day 3 : Santiago / Temuco - Pucón (Activities)
Day 4 : Pucón (Activities)
Day 5 : Pucón (Activities)
Day 6 : Pucón to Puerto Varas (Activities)
Day 7 : Puerto Varas (Activities)
Day 8 : Puerto Varas – Puerto Montt / Departure

Click   icon to enlarge map to full screen view and back 

Features

Transfers airport – hotel – airport as per itinerary
City Tour Santiago
Wine Tour of Maipo Valley,, lunch included
5-day car Rental Toyota 4 Runner or similar
2-night accommodations at the Hotel Magnolia, Santiago - Superior Room





3-night accommodations at the Pucón Green Park Hotel – Superior Room
2-night accommodations Cabañas del Lago Hotel, Puerto Varas – Superior Room
Breakfast Daily
Other meals as per itinerary (B=bkfst; L=lunch; D=dinner)
Hotel taxes and Service Charges (not tips)
Interest
Adventure / Eco Tours / FAMILY ADVENTURES / Flora
Day 1: Arrive Santiago (City Tour)
Morning arrival to the Chile's Capital City. Santiago is an architectural collage of old Spanish colonial charm, European elegance, and North American suburbia. Founded in 1541, it is today one of the continent's most modern cities, serving as gateway to Chile's Central Valley and connecting point for trips around the country. Upon arrival, your guide will be waiting to transfer you to your hotel. We suggest a few hours rest and lunch at the restaurant or poolside. In the afternoon, you'll set out to discover Santiago's secrets. The historic quarter is first stop: Cobblestone walkways, historic buildings, La Moneda Palace and, of course, the very heart of the city the Plaza de Armas. Then, for modernity and glamour, on to residential districts -Providencia, Las Condes, and Vitacura. We finish atop San Cristobal Hill for a magnificent panoramic view of the city. Evening free Overnight at the Hotel Magnolia.

Hotel Magnolia.
Located in a building that has been declared heritage property, Magnolia Hotel offers a modern architecture and decoration and is located in Santiago's city centre, steps away from Cerro Santa Lucia hill, museums, the historic al district and the traditional Barrio Lastarria neighbourhood. Its Magnolia restaurant and bar stands out for its Chilean gourmet cuisine that rescues local flavours, ingredients and traditions and the roots of its gastronomy. Its 42 guestrooms are fully equipped with complimentary Wi-Fi, a complete bathroom, temperature control system, safe-deposit box, cable TV and facilities for disabled guests, among other amenities. The hotel also provides laundry services, a coffee-shop, Internet in public areas, meeting rooms and elevators.


Day 2: Santiago (Wine Tour)
Today we make our way south into Chile's prestigious wine region where most of the best Chilean wines are produced. Here we'll discover the 'New World of Wine' in Chile and visit two of the oldest and most historic wineries in the country on a full day guided tour from Santiago. Chile has established itself as an emerging producer of great wines and today is your chance to visit some of the most popular wineries leading the way.

Cousino Macul was founded in 1856 and is still owned and run by the direct descendants of Matias Cousino, the original founder. The cellars were built in the French style using 'cal y canto' - a mixture of egg white and lime as 'cement'. You will take a tour of the winery before sampling its produce. The winery is known for its red, particularly merlot.

After a stop for lunch We'll continue our Chilean wine experience at Concha y Toro. Founded in 1883 by Don Melchor Concha y Toro, the winery is today the largest producer of export wines in Chile. Your tour takes in the landscaped gardens of the colonial house, the vineyards themselves as well as a full explanation of the wine making process, including the modern processing plant and the old cellars. Return to Santiago and our hotel for overnight.
Overnight at the Hotel Magnolia. (B,L)


Day 3: Santiago / Temuco - Pucón (Activities)
Pick up your car at the airport rental office in Temuco. Your destination for today will be the town of Pucón, located some 112 KM or 70 miles from Temuco at the foot of the volcano Villarrica. At the eastern end of the Villarrica Lake and surrounded by extensive areas of native forests, this town will be a good base for visits to the nearby national parks, hot springs, waterfalls and lakes.

This afternoon commence exploring the beautiful natural surroundings of Pucón. There is no loss for what to do in this region. Here you can hike in the national parks and reserves, see nearby waterfalls and enjoy a relaxing bath in one of the numerous hot springs.

One sure thing is a visit to Villarrica Volcano. You can't miss this imposing volcano, which poses in the background of Pucón, coated with a dusting of snow during the winter months. There are several agencies offering an opportunity to hike up to the top of the volcano, which usually takes around five hours.
Overnight at the Pucón Green Park.

Pucón Green Park
This hotel is three minutes away from center Pucon, surrounded by nature and with great sights of the Villarrica Volcano and Quelhue Mountain Range. Its rooms are decorated with natural wood finishes and have a private bathroom, minibar, TV, safe-deposit box, heating and mountain views. It has a swimming pool, playground, children's park and free bicycle use. Volleyball and soccer matches are frequently organized for kids. The establishment boasts cypress-wood whirlpool tubs and a SPA offering massages and wellness treatments. Las Hortensias Restaurant prepares traditional Chilean fusion cuisine and regional dishes. Buffet breakfast, Wi-Fi and private parking are also included.


Day 4: Pucón (Activities)
Today you may consider a visit to the Conguillio National Park. Here you'll enjoy a landscape that will take you back to prehistoric times. Millennial araucarias and volcanic material can be found among the forests right in the heart of the park, many of them untouched and ancient. Its 60,000 hectares were the stage chosen by the Discovery Channel to film their series "Walking with Dinosaurs". In these same landscapes of unequaled beauty, you can do sports like cycling, trekking, kayaking and mountaineering. Discover the "Mother Araucaria", the park's oldest tree, which is over 1,800 years old. And experience the perfect sunrise: witness how the volcano turns red and yellow with the sun's rays.

Overnight in Pucón


Day 5: Pucón (Activities)
For hiking you may want to head out to the Huerquehue National Park. A beautiful, pre-Andean park with an area of 12,500 hectares (27,500 acres), characterized by its mountainous geography and crystalline lakes and lagoons. Easily accessible in the summer, this park offers the visitor a wide range of recreational options, from simply admiring nature to camping and sport activities. There are some incredible views from the park, like the Pucon river to the Villarrica volcano. If you are lucky enough, you may even catch a glimpse of the majestic condor. Here you come face to face with the famous Araucaria trees that were already huge trees when Columbus explored the American continent. Also, can visit to one of the many relaxing thermal springs.
Overnight in or near Pucón.


Day 6: Pucón to Puerto Varas (Activities)
Today drive for 172 miles (321 KM) towards Puerto Varas. You'll drive past Valdivia, crowned the capital of Chile's second newest region, Región XIV (Los Ríos), in 2007, after years of defection talk surrounding its inclusion in the Lakes District despite its geographical, historical and cultural differences. It is the most important university town in southern Chile and, as such, offers a strong emphasis on the arts, student prices at many hostels, cafes, restaurants and bars, southern Chile's best craft-beer culture and a refreshing dose of youthful energy and German effervescence. You also pass Osorno is a city on the Rahue River. The 18th-century Reina Luisa Fort stands beside the river. The Museo Histórico Municipal has exhibits on the Mapuche culture and the 19th-century German settlers who built nearby mansions. The city is named after the Osorno Volcano, the most active volcano of the southern Chilean Andes and is known as the picture postcard of the local landscape. It stands 2,652 meters tall with a conical shape, also noted for its' similar appearance to Mount Fuji.

You arrive Puerto Varas, a city in southern Chile's Lake District along the southwest banks of the expansive Lake Llanquihue, which offers commanding views of snow-capped Osorno Volcano and Calbuco Volcano, both still active. Traditional German-style architecture characterizes the town, reflecting its colonial past. Built in the early 20th century, the red-and-white Sacred Heart of Jesus Church has 3 striking towers.
Overnight at the Cabanas del Lago Hotel


Day 7: Puerto Varas (Activities)
With a great choice of open-air adventures, distinctive Chilean-German traditions, and a truly stunning natural setting, it is no wonder many visitors to southern Chile make a bee-line for Puerto Varas, an enchanting town with a sweeping lakeside promenade and magnificent views of the distant volcanoes from the shores of peaceful Lake Llanquihue. Dubbed the 'City of the Roses', slow down and take a leisurely stroll around Puerto Varas to appreciate its traditional, unmistakably Germanic architecture and its pretty residential neighborhoods with their well-tended gardens.

If you're a fan of adventure sports and enjoy close contact with nature, this is the place for you! There are many options of day trips and adventures available from Puerto Varas. The Vicente Pérez Rosales National Park, including the Petrohué falls and Lake Todos los Santos, is about 70 km. from Puerto Varas. Osorno and Calbuco volcanoes are nearby. Mt. Osorno has a road to the base of a chairlift which is open all year round, for skiing in winter and sightseeing in summer. There are also good nearby destinations for trekking, flyfishing, rafting, kayaking and other adventures nearby.

Puerto Varas boasts exquisite restaurants, a stylish casino with a lively program of nightlife and a vibrant cultural scene. During the winter months, the locals celebrate the abundant seasonal rains with the traditional 'Rain Festival'. Unmissable!

Overnight at the Cabanas del Lago Hotel.

Cabanas del Lago Hotel:
Lying in a wonderful location opposite Llanquihue, with awesome views of the lake and volcanoes, Cabaña del Lago Hotel is a superb property ensuring its guests a pleasant and comfortable stay, surrounded by southern Chile's natural beauties. This great 4-star hotel has 157 guestrooms fitted with a bathroom with bathtub, minibar, closet, toiletries, safe-deposit box, Wi-Fi, cable TV, heating and hair dryer. Wi-Fi is also available in public areas and other amenities include a swimming pool, parking facilities, a SPA, gym, bar, gift shop, business center and meeting room. Other conveniences include two venues for events and three restaurants: Mirador del Lago and Comedor Philip, serving international food; and Terraza Ailen 75, specialized in barbecues.


Day 8: Puerto Varas - Puerto Montt / Departure
Today you will drive to Puerto Montt, the main urban center and gateway (or departure) point to the Lake District. Puerto Montt stands out for its gastronomy, commerce and its beautiful typical architecture. Handmade crafts are also very important in the region and can be found in one of the biggest markets in the country. Drop off rental car and depart.
Remarks
Not included:
Gratuities of any kind; airport departure taxes; meals unless included in the itinerary.