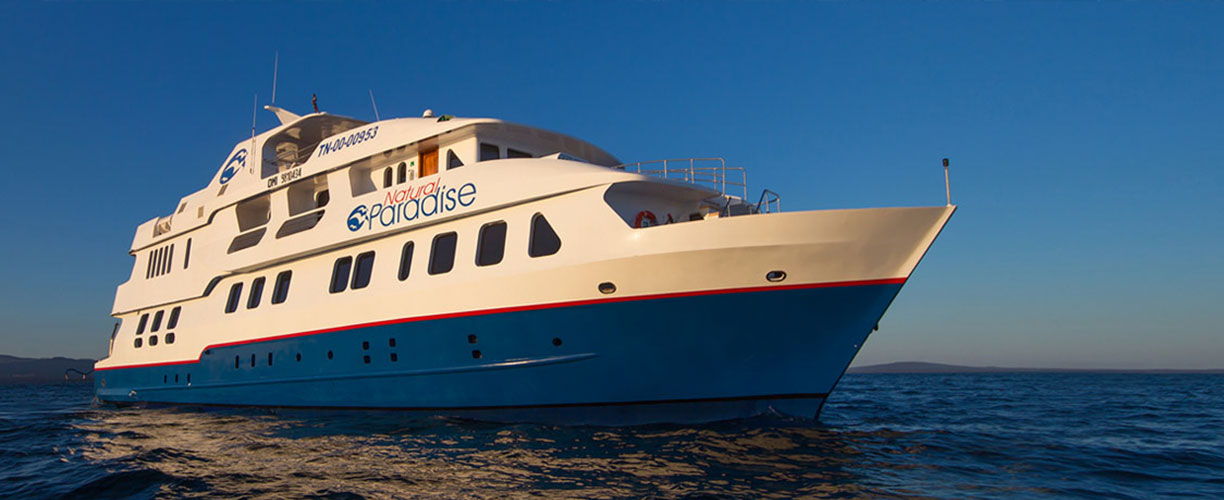 Natural Paradise Galapagos Special
Overview / Highlights
8 NIGHTS / 9 DAYS
Latin Travel Direct offers high-end experience to our demanding clientele. And occasionally, our suppliers provide us with limited specials, even on our upscale products. One such opportunity is now available on our Galapagos Island Cruises. This Galapagos Special Tour Section provides your VIP clients the opportunity to sail the Galapagos Islands with the same upscale yachts offered year-round but with a special discount on select dates. So, send your clients on these magical adventure cruise programs visiting the Archipelago of volcanic Galapagos islands located 600-mile off mainland Ecuador. We offer a variety of sail nights and alternating vessels. Call our DESTINATION EXPERTS for more details.
Countries

Ecuador

Cities

Quito, Galapagos
Tour Program Summery Outline

Day 1 Mon : Arrive Quito
Day 2 Tue : Quito / San Cristobal - Galapagos Island (Kicker Rock)
Day 3 Wed : Galapagos Islands (North Seymour & South Plaza)
Day 4 Thu : Galapagos Islands (Rabida & Bartholome)
Day 5 Fri : Galapagos Islands (Sullivan Bay & Santa Cruz Dragon Hill)
Day 6 Sat : Galapagos Islands (Santa Cruz Highlands & Darwin Station)
Day 7 Sun : Galapagos Islands (Genovesa & Darwin Bay)
Day 8 Mon : Galapagos Islands - Santiago Espumilla &
Day 9 Tue : Depart Galapagos Islands (Bachas Beach & Departure)

Click   icon to enlarge map to full screen view and back 

Features

Round trip transfers as per itinerary
1 night hotel accommodations JW Marriot Quito
7 nights aboard the Natural Paradise
1 night hotel accommodations JW Quito or Hilton Guayaquil





Quito City Tour
Breakfast daily
All meals aboard cruise
Galapagos Islands daily excursions and lectures
Locally hosted by English speaking guides
Hotel tax and service charges
Interest
Beaches / COSMOPOLITAN CITIES / CULINARY / FAMILY ADVENTURES / LUXURY / Nightlife
Day 1 Mon : Arrive Quito
Welcome to Quito, the Capital City of Ecuador. At an elevation of 10,000 feet and a mere 22 miles from the Equator, Quito is surrounded by natural beauty with mountains ringing the city, some volcanic, some with white capped peaks, lushly forested hills and a fertile valley. Long before the Spanish arrived, Quito was a major Inca city, destroyed by the Incas in a scorched earth policy that briefly halted the Spanish invasion. Back in 1564 Sebastián de Benalcázar recognized the importance of the city's location and founded San Francisco de Quito on top of the few ruins left him. As Ecuador's Capital City, Quito is a mix of colonial history and modern buildings and has been designated as a UNESCO World Heritage Site.

Meeting services and transfer to the JW Marriott Hotel Quito. Strategically located, the hotel is surrounded by the area's popular attractions, including Santo Domingo Church, Vulqano amusement park, Old Town and the House of Ecuadorian Culture. Dive into the heart of the city, then relax in this spacious hotel offering an excellent range of facilities, including a huge spa, fitness center and three pools. Relax in spacious, classic rooms, shop at its many boutiques, make the most of free yoga, spinning and personal training sessions and eat everything from sushi to steak in its varied restaurants.

Overnight at JW Marriott Hotel; late arrivals at the Wyndham Airport Hotel.


Day 2 Tue : Quito / San Cristobal - Galapagos Island (Kicker Rock)
This morning embark on a remarkable journey to the beginning of time as you transfer to the airport for the 600-mile flight to the Galapagos Archipelago of volcanic islands, five million years in the making. Board the Natural Paradise, a recently inaugurated luxury yacht for those travelers with discerning tastes. This intimate, customized vessel transports 16 passengers through the enchanted Galapagos Islands. To help you explore the archipelago's underwater world, snorkeling gear, wetsuit and underwater camera are available for your use. The crew and naturalist guides acquaint you with the ship and islands you'll encounter.

This afternoon we visit Kicker Rock, also known as León Dormido, the remains of a volcanic cone, eroded by the sea across hundredths of years. It is the eroded cone of an extinct volcano in the shape of a sleeping lion which earned it the name Leon Dormido. Above the water, the monolithic rock formation towers over 500 feet above the Pacific Ocean and is home to various Blue-Footed Boobies, Frigate birds, California Sea Lions, Red-billed Tropicbirds. Although there are no landing areas, kayaking and scuba diving allow visitors to spot a variety of marine life.

Overnight aboard Natural Paradise. (B,L,D)


Day 3 Wed : Galapagos Islands (North Seymour & South Plaza)
This morning we visit North Seymour. Only five islands of the 20 Galapagos Islands are inhabited. A major appeal when visiting the area is cruising through the other uninhabited islands and seeing the plants and animals that can only be found here. We didn't do a cruise that went around the islands but instead chose a land based trip in Santa Cruz and did a couple of day trips. One of our favorite day trips was to the uninhabited North Seymour Island and it was teeming with interesting wildlife.

This afternoon we visit South Plaza Island. One of the smallest and, depending on the season, most colorful islands. Find sea lion colonies, land and hybrid iguanas and countless birds soaring by the cliffs. It's an unpopulated island. These islands are interesting formations without a volcano resulting from an uplifting from underwater. Conformed by two islands, one flat and the other inclined, they create very special ecosystem dynamics. North Plaza is visited only with scientific and conservation purposes. This home to the The biggest Land Iguana population that can be visited. There is a big ecosystem formed of Cactus Opuntia that holds a population of Land Iguanas, the smallest ones of the archipelago. The trip around South Plaza place allows the visitor see the whole population and to notice how this animals survived in this and other similar environments when they arrived and established. Rarely a hybrid of Marine and Land Iguana can be found on the trails.

Overnight aboard Natural Paradise. (B,L,D)


Day 4 Thu : Galapagos Islands (Rabida & Bartholome)
This morning a dry landing at the dark red colored beach of volcanic origin, frequented by sea lions. This is a small island, just over 2 km in width and 400 meters above sea level at its highest point, is one of the most volcanically varied islands in the Galapagos. The island geologically consists of eroded hills and lava emitted from spatter cones that have resulted in the island's striking colors. The reddish beach and steep volcanic slopes give this island a distinctive look. Here a short trail leads to a salt water lagoon where we find small colonies of Flamingos feeding. The brown pelican nests in the mangroves found at the far side of the lagoon. Also to be found are boobies and 9 species of Darwin s finches. A dinghy ride along the reefs provides an excellent opportunity for snorkeling.

This afternoon we visit Bartolome Island, a volcanic islet in the Galápagos Islands group. The "postcard" famous Pinnacle Rock, Bartholomew consists of an extinct volcano with a variety of red, orange, black and even green volcanic formations. A trail of stairs leads to the summit of the volcano, boasting one of the best views of the islands. The beach is perfect for snorkeling and possible sightings of the Galapagos penguin.

Overnight aboard Natural Paradise. (B,L,D)


Day 5 Fri : Galapagos Islands (Sullivan Bay & Santa Cruz Dragon Hill)
This morning we visit Sullivan Bay. A wet landing on coral beach leads towards a lava field as far as the eye can see. This is one of the most outstanding wildlife areas of the archipelago, with a long list of species found along its cliffs and sand or pebble beaches. In addition to five species of nesting seabirds there are the curious and bold Española Island mockingbirds, Galápagos doves and Galápagos hawks. Several types of reptiles, including the marine iguana and the oversized lava lizard, are unique to this island.

Situated on Santa Cruz Island, Dragon Hill is one of the newest visitor sites accessible to tourists in the Galapagos Islands. One of the lengthier Galapagos walking trails will lead visitors along a beach and up a trail to the lagoon lookout where bright flamingos, pintail ducks, and land iguanas can be spotted.

Overnight aboard Natural Paradise. (B,L,D)


Day 6 Sat : Galapagos Islands (Santa Cruz Highlands & Charles Darwin Station)
Santa Cruz Highlands can be reached by bus from Puerto Ayora, the highlands of Santa Cruz are a deep green contrasting beautifully with much of the dry, lower islands. The dominant vegetation in the highlands is the forest of Scalesia trees creating the lush green color. The lava tubes, over half a mile long. We visit Los Gemelos, or the Twin Craters, located opposite each other on both sides of the road leading from Puerto Ayora to Baltra. The name is only figurative; not real craters, these formations were created by the collapse of surface material in underground fissures and chambers. The view is breathtaking.

Afternoon we visit Charles Darwin Station / Fausto Llerena Breeding Center. The Charles Darwin Research Station is home to turtles ranging from 3-inches (new hatchlings) to 4-feet long. Subspecies of turtles interact with one another and many of the older turtles are accustomed to humans stretching out their heads for a photo opportunity. The babies are kept until they are about four years old and strong enough to survive on their own.

Overnight aboard Natural Paradise. (B,L,D)


Day 7 Sun : Galapagos Islands (Genovesa & Darwin Bay)
Also known as Prince Phillip's Steps, El Barranco's steep, rocky paths leads up to a high cliff-face. A marvelous view can be appreciated from here. This site is also home to palo santo vegetation as well as red-footed boobies, short-eared lava owls, Galapagos swallows, and Galapagos doves.

Afternoon visit Darwin Bay. This white sand coral beach heads a half mile trail that winds through mangroves filled with land birds. Nazca boobies, red-footed boobies, and swallow-tailed gulls can be spotted here. Further down the path are tidal pools where sea lions swim playfully. At the end is a spectacular view off a cliff.

Overnight aboard Natural Paradise. (B,L,D)


Day 8 Mon : Galapagos Islands - Santiago Espumilla & Buccaneer Cove
Espumilla Beach is a popular place for marine iguanas and Sally Lightfoot crabs. The crabs attract the hunting herons performing the dance of predator and prey. With an abundance of marine life including octopi, moray eels, and sharks, snorkeling is highly recommended.

Buccaneer Cove is a testament to the fact that Santiago Island was once a refuge for British buccaneers. These pirates would anchor in the protected bay to make repairs and stock up on tortoise meat among other things. The steep cliffs, where hundreds of seabirds perch in front of the dark red sand beach, are a magnificent site.

Overnight aboard Natural Paradise. (B,L,D)


Day 9 Tue : Galapagos Islands - (Bachas Beach & Departure to Mainland)
Located on the north shore of Santa Cruz, Las Bachas is a swimming beach. One of the few remnants of the U.S. World War II presence in the Galapagos, a floating pier, can be seen here. You may see flamingos, Sally Lightfoot crabs, hermit crabs, black necked stilts, and whimbrels. Sea turtles also nest off the beach.

After lunch transfer to the airport for the Airport for the flight to Quito or Guayaquil for departure or optional overnight added (not included)
Remarks
Not Included:
Additional last night on mainland Ecuador is optional and not included (added as optional night either Quito or Guayaquil)

Airline ticket to the Galapagos islands Quito Galapagos Quito $ 600 net per person
Alcoholic drinks
$100 US per person, Entrance Fee Galapagos National Park
$20 US per person, Transit control card
Travel & Medical insurance
Tips
Personal expenses

| Promotion | Dates | Iti | Days |
| --- | --- | --- | --- |
| 1000 | Feb 12-16 | A | 5D4N |
| 1000 | Mar 12-19 | A | 8D7N |
| 1000 | Mar 12-16 | A | 5D4N |
| 1000 | Mar 16-19 | A | 4D3N |
| 1000 | June 04-08 | A | 5D4N |
| 1000 | June 04-11 | A | 8D7N |
| 1000 | June 08-11 | A | 4D3N |
| 1000 | June 18-22 | A | 5D4N |
| 1000 | Jun 18-25 | A | 8D7N |
| 1000 | Jun 22-25 | A | 4D3N |
| 1000 | Jul 16-20 | A | 5D4N |
| 1000 | Jul 16-23 | A | 8D7N |
| 1000 | Jul 20-23 | A | 4D3N |
| 1000 | Aug 27-03 Sep | A | 8D7N |
| 1000 | August 27- 31 | A | 5D4N |
| 1000 | Aug 31-03 Sep | A | 4D3N |
| 1000 | September 10-17 | A | 8D7N |
| 1000 | September 10-14 | A | 5D4N |
| 1000 | September 14-17 | A | 4D3N |
| 1000 | Nov 26-03 Dec | A | 8D7N |