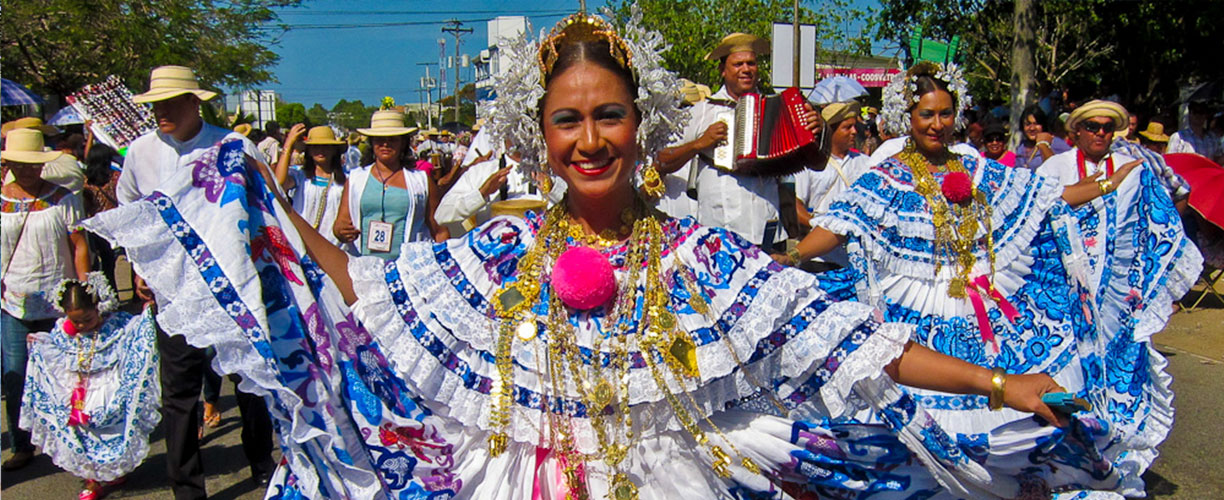 Panama Getaway
Overview / Highlights
6 NIGHTS / 7 DAYS
Panama is one of Central America's best kept secrets. Situated at the end of Central America, Panama links Central and South America. The Panama Canal, a famous feat of human engineering, cuts through its center, linking the Atlantic and Pacific oceans to create an essential shipping route. In the capital, Panama City, modern skyscrapers, casinos and nightclubs contrast with the charming colonial buildings in the bohemian Casco Viejo district and the rainforest of Natural Metropolitan Park. From clear turquoise seas to the coffee farms and cloud forests of Chiriquí, Panama can be as chilled out or as thrilling as you wish. Boasting a plethora of deserted islands, chilled Caribbean vibes on one side and monster Pacific swells on the other, Panama offers some of the best that the Americas have to offer. Panama Getaway is your introductory one-week tour to sample Panama.
Countries

Panama

Cities

Panama City, Gamboa,
Tour Program Summery Outline

Day 1 : Arrive Panama City
Day 2 : Panama City (Miraflores Locks & Casco Viejo)
Day 3 : Panama City – Gamboa (Panama Canal Rainforest Adventure)
Day 4 : Gamboa Rainforest Resort (Embera Indians of the Gatun River)
Day 5 : Gamboa Rainforest Resort
Day 6 : Gamboa Rainforest Resort (Panama Canal Partial Transit)
Day 7 : Departure

Click   icon to enlarge map to full screen view and back 

Features

2 night accommodations at Bristol Boutique Hotel, Panama City**
4 night accommodations at Gamboa Rainforest Resort **
Hotel tax and services charges
Breakfast daily.
Other meals as per itinerary B=Bkfst; L=Lunch; D= dinner)
The meal plan at Gamboa consists of breakfasts (already included in the room rate), 4 dinners and 1 lunch (Jan 7). The other lunches are included with the tours





All private transfers to / from airports and hotels.
Combined tours of Panama City, Miraflores Locks at the Panama Canal, Colonial Casco Viejo (Private)
Panama Canal Rainforest Boat Adventure (Private)
Embera Indians of the Gatun River (Private)
Panama Canal Partial Transit (shared tour, but private guide and transfers)
Visit Frank Ghery's Biodiversity Museum at the Amador Causeway
Locally hosted by English speaking guides.
Interest
Adventure / Eco Tours / FAMILY ADVENTURES / Flora / Historical
Day 1 Arrive Panama City
Meeting services and transfer to the Bristol Boutique Hotel
Overnight at the Bristol Hotel.


Day 2: Panama City (City including Miraflores Locks Panama Canal & Casco Viejo)
This morning your start your city tour by experiencing the Panama Canal visitors' center at Miraflores Locks where large ships can be seen transiting the canal. A presentation by the Panama Canal Authority on the history of the Panama Canal will be provided. Marvel at the workings of this feat of human engineering and enjoy the different exhibition halls.

After having lunch at a Panamanian restaurant enjoy a historical walking tour in Casco Viejo (the old city compound), a UNESCO World Heritage Site. Casco Viejo is home to the Presidential Palace, the Metropolitan Cathedral, the National Theater, the French Plaza and several other iconic landmarks that offer testament to the city's rich history, culture and heritage. From the top of old city's wall enjoy spectacular views of the Pacific Ocean dotted with local fishing boats near port and massive ships lined up waiting to cross the Panama Canal as well as the impressive skyline of modern Panama City.
Overnight at the Bristol Hotel. (B,L)


Day 3: Panama City – Gamboa (Panama Canal Rainforest Boat Adventure)
Early morning depart hotel with your Naturist Guide for a 45 minute drive to the town of Gamboa where the Chagres River meets the Panama Canal. Here you board an expedition boat and depart on an adventure that will include a voyage across Gatun Lake in the Panama Canal passing by gigantic cargo ships transiting the waterway, making contrast with the natural surroundings. Along the way, you will have the opportunity to spot Green iguana and Three-toed sloth resting on tree branches, Crocodile, Osprey in the hunt for Peacock bass, Snail kite and Keel-billed toucan among other wildlife.

Gatun Lake was formed to give way to the Panama Canal in 1914. With a surface of 263 square-miles at the time of its creation was the largest man-made lake in the world. The flow of all the rivers within the Panama Canal Watershed is contained in Gatun Lake to provide water for the operation of the lock system. More than 52 million gallons of fresh water are used for every ship that transits through the Panama Canal from one ocean to another.

Your expedition boat will allow for close approximations to rainforest covered islands (former hill tops) in Gatun Lake to search for White-faced Capuchin, Mantled Howler Monkey, Central American Spider Monkey, and Geoffroy's Tamarin. Enjoy the extraordinary views of the Panama Canal and the natural surroundings. We continue to the Gamboa Rainforest Resort, your home for the next 4 days.
Overnight at the Gamboa Rainforest Reserve. (B,L,D)


Day 4: Gamboa Rainforest Resort (Embera Indians of the Gatun River)
Early in the morning departure accompanied by your Naturalist Guide and transferred to El Corotu on the shores of Madden Lake. The main reservoir of drinking water for the cities of Panama and Colon, Madden Lake also supplies 40% of the water required for the operation of the Panama Canal. Here, you board a motorized piragua (dugout canoe) and travel up the Chagres River to an Embera indigenous village.

The boat journey takes you through the rainforest of the 320,000-acre Chagres National Park, which is the largest of the National Parks protecting the Panama Canal Watershed. Along the Chagres River, you may be able to spot Little Blue and Green Heron, Great Egret, Anhingas, Neotropical Cormorant, Amazon, Ringed, and Green Kingfishers, along with Keel-billed Toucans and Ospreys flying above. At the Embera village you will be greeted with dancing and music.

You will learn about Embera customs and their relationship with nature. There will be handcrafts available for sale and you will have a chance to be painted with the traditional jagua, a natural dye the Embera use to adorn their bodies. After a traditional Embera lunch of fried fish and plantains wrapped in a banana tree leaf, accompanied by fresh fruits and beverages, you will be heading back to Panama City. Please let us know if you have any dietary restrictions or allergies to be prepared in advance. Overnight at the Gamboa Rainforest Reserve. (B,L,D)


Day 5: Gamboa Rainforest Resort
The Gamboa Rainforest Resort is strategically located in the heart of the lush Panamanian rainforest within the Soberania National Park along the Panama Canal. A mere 30-minute drive from Panama City amid 340 acres overlooking the stunning Panama Canal, you can commune with nature in a pristine environment where explorers and pirates once tread. Gamboa Rainforest Resort has been designed for you to do as much or as little as you like as you explore the many treasures of Panama and Soberania National Park.

The resort has been carefully designed to provide a variety of educational and adventure experiences. Today is free for you to relax at the hotel or opt for one of their excursions to further explore the rainforest. Choose to glide through the jungle on the Aerial Tram and see the rainforest as monkeys and exotic birds do. Join a bird-watching excursion, set out on the Panama Canal for some of the best freshwater fishing in Panama, paddle a kayak up the Historical Chagres River or experience the mysterious wonders of a night safari adventure.
Overnight at the Gamboa Rainforest Reserve. (B,L,D)


Day 6: Gamboa Rainforest Resort (Panama Canal Partial Transit)
This morning you will be picked up at your hotel by our driver for a short ride to the Flamenco Marina, in Amador, where you will transfer to our outfitter's coach bus for the 40 minute drive to the town of Gamboa, half way up the Panama Canal, where you will board the Panama Canal transit day cruiser. The journey begins where the Chagres River flows into Gatun Lake, 85 feet above sea level. Cruising southbound, the first highlight of the day will be crossing Gaillard Cut, the narrowest section of the Panama Canal. The 8-mile long portion of the waterway was carved through rock and shale between 1904 and 1914 and it is flanked by the backbones of the Continental Divide. The original width of Gaillard Cut was 302 feet. In order to accommodate to the demands of today's transit needs, the Panama Canal Authority recently completed the monumental task of widening the Cut to 630 feet in straight sections and up to 730 feet in curves. This allows for unrestricted two-way traffic of Panamax vessels, the largest ships that can currently fit in the Panama Canal locks. The majestic Centenario Bridge soars over Gaillard Cut.

As the cruise continues you will reach the first set of locks that you will cross today. At Pedro Miguel locks the ship will be lowered 30 feet into Miraflores Lake. While you enjoy lunch on board, you will reach Miraflores Locks, which are the tallest in the canal's locks system due to the extreme tidal variation of the Pacific Ocean. In two steps, the ship will be lowered from 55 feet above sea level to sea level. The transition from fresh water from the lake and lock chambers to salt water in the Pacific Ocean takes place here.

Before leaving the Panama Canal and entering the Pacific Ocean you will sail under the bridge of the Americas, which raises over 330 feet above sea level reuniting the land divided during the construction of the canal and forming a link on the Pan-American Highway.

Next we visit the Biodiversity Museum, designed by the world renowned architect Frank Gehry. As a Smithsonian Affiliate museum, the Biodiversity Museum serves as a gateway to new information about the biodiversity and natural history of the Isthmus of Panama. Scientific experts from both the Smithsonian Institute and the University of Panama oversee the contents of the museum and aim at teaching visitors about eco-awareness, conservation and Panama's extraordinary natural treasures in various unique exhibition galleries. Did you know that the Isthmus of Panama has more bird, mammal, reptile and plant species than the US and Canada together in just 75,990 Km2 (approx. 29,000 square miles)? In fact, 3 million years ago, the emergence of the Isthmus of Panama changed both the climate and the biodiversity in the planet and played a key role in the creation of the world we know today.
Overnight at the Gamboa Rainforest Reserve. (B,L,D)


Day 7: Departure
Today we transfer back to Tocumen Airport outside Panama City for the flights back home. (B)
Remarks
Not included: