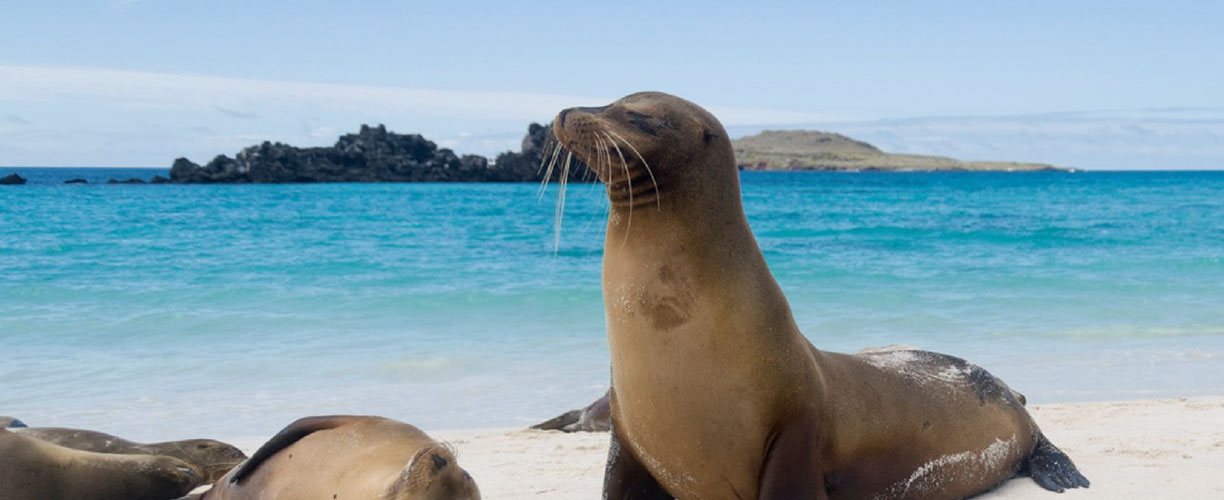 Introduction to Galapagos
Overview / Highlights
6 NIGHTS / 7 DAYS
The smallest country in the rugged Andean highlands, Ecuador has an array of vibrant indigenous cultures, well-preserved colonial architecture, majestic volcanic landscapes and dense rainforest. This program was designed to introduce you to the Galapagos Archipelago of volcanic islands located 600-mile off the mainland, five million years in the making. The islands' isolated location and historical age created native flora and fauna with a pristine environment in which to evolve and adapt, unfettered by outside influences. This phenomenon is evident in the way the indigenous water and land creatures show no signs of wariness when approached by humans. The Galapagos is home to a diverse group of birds, most notable are the Galapagos Penguins, frigate birds, albatross, the famous blue and red-footed boobies, the flightless Cormorant, a peculiar bird which has lost the ability to fly, is also part of this rich fauna. Also unique is the topography of the Galapagos, appearing harsh, characterized by parched, rocky desert-like terrain providing for a unique impression unlike anywhere else on earth.
Countries

Ecuador

Cities

Quito, Galapagos
Tour Program Summery Outline

Day 1 : Arrive Quito
Day 2 : Quito / Baltra - Galapagos Island (Bartolome)
Day 3 : Galapagos Islands (Isabela & Fernandina)
Day 4 : Galapagos Islands (Santiago & Rabida)
Day 5 : Galapagos Islands (Darwin Station & Santa Cruz Highlands)
Day 6 : Galapagos Islands - Baltra /Quito
Day 7: Depart Quito

Click   icon to enlarge map to full screen view and back 

Features

Round trip transfers as per itinerary
1 night at the Dann Carlton Hotel, Quito
4 nights aboard the M/V Galapagos Legend Cruise (Junior Suite)
1 night at the Dann Carlton Hotel, Quito





Quito City Tour
Breakfast, lunch, and dinner aboard cruise
Galapagos Islands daily excursions and lectures
Locally hosted by English speaking guides
Hotel tax and service charges
Interest
Adventure / Beaches / Cruises / Cultural / Eco Tours / FAMILY ADVENTURES / Flora / Luxury
Day 1 Wed: Arrive Quito
Arrival transfer from the airport to the hotel. Afternoon City Tour, including the modern Legislative Building with its murals of Ecuador's history and gold-altered La Compania Church. Later, we visit San Francisco Cathedral, one of the first Christian religious buildings in the New World. Overnight at the Dann Carlton Hotel.


Day 2 Thurs: Quito / Baltra - Galapagos Island (Bartolome)
This morning embark on a remarkable journey to the beginning of time as you transfer to the airport for the 600-mile flight to the Galapagos Archipelago of volcanic islands, five million years in the making. Board the M/V Legend where the crew and naturalist guides acquaint you with the ship and islands you'll encounter. Set sail with a stop at Bartolomé Island for a dry landing. Arriving on this island, passengers will see volcanic formations including lava bombs, spatter, and cinder cones. After a hike to the summit visitors have an impressive view of the surrounding islands, including the eroded tuff cone of Pinnacle Rock. During the ascent travelers will often see a large colony of Marine Iguanas and Lava Lizards. Red Mangroves, Tiquilla, and various cacti all add to the experience. Visitors also enjoy a chance to cool off while snorkeling. Here travelers often see the Galapagos Penguin, Sea Turtles, and White Tipped Sharks from a safe distance. (B,D)


Day 3 Fri: Galapagos Islands (Isabela & Fernandina)
Isabela Island – Is the largest island along the Galapagos. This afternoon a dry landing at Tagus Cove. Here we learn more about the eruption of five volcanoes that flowed together to form this land mass. During the walk you will see the largest population of Giant Tortoises (about 4000 -- but difficult to spot). A marked trail leads to Darwin's salt water lagoon and an excellent view of the lava fields, scoured with unique volcanic formations, As we board our dinghy and make our way back to the slowly to allow viewing of the marine life and with a bit of luck we may be treated to see the Galapagos Penguins at this site. A view of graffiti dating back to the 18-hundreds (believed to be that of pirates and buccaneers) will help visitors appreciate the relationship between the islands and sustainable tourism of today.

Fernandina Island – This afternoon a dry landing at Espinosa Point and begin our stroll across the island's immense lava field and mangrove forest viewing the largest colony of Marine Iguanas mingling with Sally-light Foot Crabs. Also enjoyed are the Flightless Cormorants nesting sites, the Galapagos Penguins, Galapagos Hawks, and Sea Lions. Among the flora and volcanic formations observers will note Brachycereus Cactus, "pa-hoe-hoe" lava, and other unusual lava formations. This is the youngest of the islands and here you will see recent lava flows from a safe distance. (B,L,D)


Day 4 Sat: Galapagos Islands (Santiago & Rabida)
Santiago Island – This morning a wet landing along the dark sand beach at Puerto Egas. Most of the landscape is tuff-stone layers and lava flows, a good location for spotting and observing Hunting Herons, Great Blue Herons, Lava Herons, Oyster Catchers, and the Yellow Crowned Night Heron. Here you'll view Marine Iguanas grazing upon algae beds at low tide sharing space with Red Sally Light-Foot Crabs. Further along we will spot a colony of Fur-Seal swimming in deep pools of cool water called "grottos". This is an excellent spot for swimming and snorkeling in search of Octopuses, Sea Horses, Star Fish and other sea life caught in the small tidal pools. From a safe distance you'll be able to spot Moray Eels, Hammerhead Sharks, White Tip and Galapagos Sharks, Golden and White Spotted Eagle Rays, Jacks, Wahoo, Tuna, Groupers, Red-Tailed and Dog Snappers, Sea Lions, and Sea Turtles.

Rábida Island – After lunch aboard ship a dry landing at the dark red colored beach of volcanic origin, frequented by sea lions. This is a small island, just over 2 km in width and 400 meters above sea level at its highest point, is one of the most volcanically varied islands in the Galapagos. The island geologically consists of eroded hills and lava emitted from spatter cones that have resulted in the island's striking colors. The reddish beach and steep volcanic slopes give this island a distinctive look. Here a short trail leads to a salt water lagoon where we find small colonies of Flamingos feeding. The brown pelican nests in the mangroves found at the far side of the lagoon. Also to be found are boobies and 9 species of Darwin s finches. A dinghy ride along the reefs provides an excellent opportunity for snorkeling. (B,L,D)


Day 5 Sun: Galapagos Islands (Charles Darwin Station & Santa Cruz Highlands)
This morning you will visit the Charles Darwin Research Station, staffed by international scientist, conducting biological research and conservation projects. Here you can see the giant tortoises that are part of the breeding program.

This afternoon, trek through the highlands of Santa Cruz to visit Cerro Chato, where you can observe the famous giant tortoises. (B,L,D)


Day 6 Mon: Galapagos Islands - Baltra /Quito
Disembark at Bachas Beach on the north of the island. Here you will be met by bodysurfing sea lions, marine iguanas, and sea turtles. You will have the opportunity of swimming in the white sand beach. Next we head to Baltra´s airport to board our flight back to the mainland. Arrival transfer from the airport to the hotel. Overnight at the Dann Carlton Hotel. (B)


Day 7 Tues: Depart Quito
Breakfast at the hotel. Departure transfer to Quito airport. (B)
Remarks
Not included:
Gratuities of any kind; airport departure taxes; meals unless included in the itinerary.

Ask about our special airfares to Ecuador & the Galapagos for this program on AMERICAN AIRLINES or LAN AIRLINES.

Round trip airfare Quito/Galapagos/Quito: From $380 per person additional.

Galapagos Park fee not included: $110 per person.

Snorkelling/Wetsuit equipment rental not included.

Cruise itinerary subject to change.