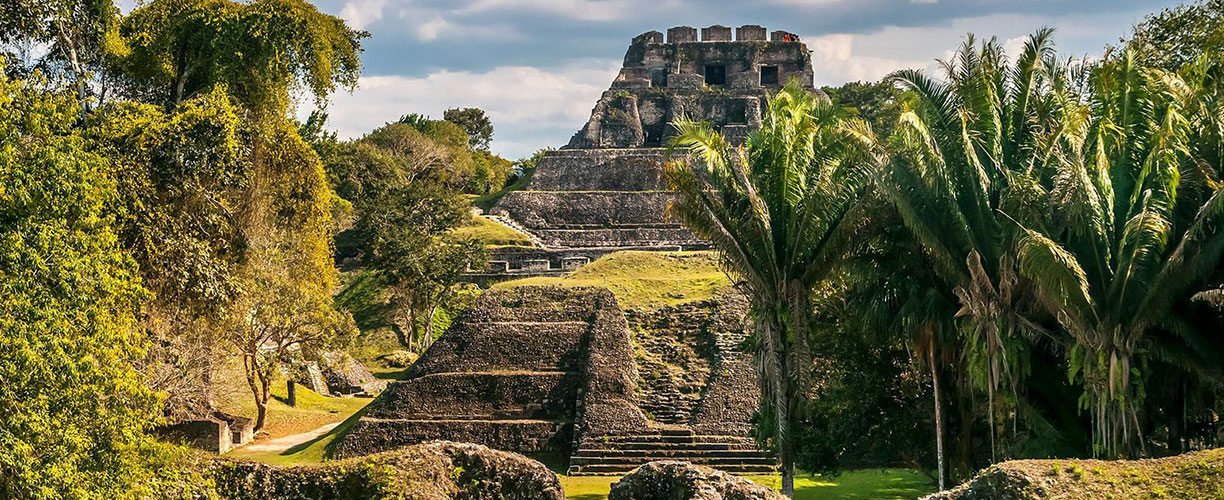 Alluring Belize & Tikal
Overview / Highlights
8 NIGHTS / 9 DAYS
Belize proves the cliché that big things come in small packages. Here you'll find a mix of tropical forests rich with wildlife, majestic mountains, mysterious Maya temples, diving and fishing experiences beyond compare. Belize is the perfect getaway for those seeking experienced-filled vacations, beach getaways, or combination of both. This tour will take you to the Cayo District, famous for its varied landscapes, cultural blend, numerous archeological sites, excellent opportunities for ecotourism and…caves. We also visit Tikal (in Guatemala), one of the most spectacular of all Maya Sites with its five skyscraper-like temples poking above the rainforest canopy. We return to Belize and Placencia peninsula boasting the best beaches in Belize, offering relaxation and various water activities.
Countries

Belize

Cities

Cayo District, Ambergris Caye
Tour Program Summery Outline

Day 1 : Arrive Cayo District
Day 2 : Exploring Cayo (Caracol & Mountain Pine Ridge)
Day 3 : Cayo on your own
Day 4 : Cross the border into Guatemala / Tikal
Day 5 : Tikal, the realm of the Maya
Day 6 : Tikal - Belize City - Placencia
Day 7: Placencia (Snorkeling in the reef)
Day 8: At leisure in Placencia
Day 9: Depart Belize

Click   icon to enlarge map to full screen view and back 

Features

Round Trip Transfers airport/hotel
Round Trip Transfers within Belize
3 nights in Cayo District
2 nights in Tikal
3 nights in Placencia
Barton Creek excursion





Tour of Yaxha with lunch
Puerto Montt City Tour
Full Day Tour of Tikal with lunch
Half Day Snorkeling Tour with lunch
Breakfast daily
Hotel tax and service charges
English-speaking assistance
Interest
Adventure / Beaches / Cultural / Eco Tours / FAMILY ADVENTURES / Flora / Historical / Luxury
Day 1 Arrive Cayo District
Upon arrival at the airport in Belize City, you will be transferred to the Cayo District, located 3 hrs from the airport, near the Guatemalan border. Free evening. Overnight.


Day 2 Exploring Cayo (Caracol & Mountain Pine Ridge)
Cayo is famous for its varied landscapes, cultural blend, numerous archeological sites, excellent opportunities for ecotourism and caves. We begin private guided adventures with an excursion to a magical cave, where the ancient Maya once conducted ritual ceremonies. A ride through a prosperous Mennonite farming community will bring us to a river shore, where we board a waiting canoe. As our guides paddle us towards the cave's entrance we pass majestic, towering jungle. Then we glide silently with the river current through the eerie cave, observing glistening stalactites, weird rock formations, pottery shards, and often skeletal remains. Remainder of the day free to visit nearby Maya ruins or hike in the forest. (B,L)


Day 3 Cayo on your own
One could easily spend an entire vacation in Cayo alone: Mountain Pine Reserve with its caves and waterfalls is a favorite among visitors. Horseback riding, paddling on the Mopan River, cave tubing and bird watching are all exceptional. If you are feeling ultra-adventurous, the Aknul Tunichil cave expedition is an exciting full-day excursion, as are visits to the nearby Xunantunich and Caracol Maya ruins. (B)


Day 4 Cross the border into Guatemala / Tikal
In the northern jungles of Guatemala, encircled by a towering forest of giant trees and marauding jaguars, the mysterious Maya built several of ancient America's most spectacular cities. Centuries later, we still struggle to decipher, let alone understand, all the information left behind by these highly advanced calendar builders. This morning, on a 2 hr private overland transfer, we'll cross the Guatemalan border to journey deep within the El Peten wilds. Our first destination is spectacular Yaxha where an ancient temple complex stands beside an impossibly beautiful, jungle encircled lagoon. We arrive in time to have lunch at a local restaurant, visit the ruins, watch the sunset over the silent waters, and then experience a torch-lit hike with our guides through the jungle. After the unforgettable excursion, we drive on to your hotel in Tikal. (B, L)


Day 5 Tikal, the realm of the Maya
From all the cities built by the Maya, Tikal stands as the most majestic, the most enigmatic, the most powerful. Here every temple keeps a secret, for every stone there is a story, in each glyph there is a mystery waiting to be revealed. There is the dramatic setting in the heart of an exuberant jungle, the loud shrieks from the forest dwellers that may send a chill up your spine, the commanding view of ancient skyscrapers jotting out of the dense canopy from the top of Temple IV, the myriad colorful birds, the awe-inspiring Main Plaza, and, if you look carefully, the remains of rituals practiced by local shamans, who continue to come to Tikal searching for advice from their ancestors. Your guide, the main character in today's play, will explain the ins and outs of the Maya civilization, the buildings, their mysterious demise, and if you care, even the prophecies. (B, L)


Day 6 Tikal - Belize City - Placencia
It is time to trade El Peten's exuberant forests for the azure waters of the Caribbean. This morning we will traeling south to one of Belize's most attractive destinations: Placencia. Located at the very tip of a long, narrow peninsula, this small fishing village stands out as one of the most picturesque in the country. Here you will discover miles of deserted, palm-fringed beaches, indigenous Creole and Garifuna communities, and a reef teeming with life just a few miles offshore. An anecdotic fact is that Placencia entered the Guinness World of Records as having the world's narrowest main avenue! This afternoon you're free to walk the narrow landmark, enjoy the sun swept beach or rent a canoe and set out upon the mangrove lagoon. (B)


Day 7 Placencia (Snorkeling in the reef)
With the world's second largest barrier reef running parallel to the coast, it's not hard to find a perfect spot to snorkel. After breakfast we head for the offshore reef, where your captain will choose the day's best spot, based on the time of year, current and the day's weather. Once underwater you'll be literally stunned by the spectacular display of colors and forms. Picture a private aquarium filled with tropical fish, virgin corals, sponges, manta rays…well, you get the idea. Group lunch included. Balance of the day at leisure. (B, L)


Day 8 At leisure in Placencia
Full day to explore on your own. If you are into water sports, you have come to the right place. You already know snorkeling is superb. Diving, kayaking, and sailing are also outstanding. If you fancy animals there are excursions to the unique Cockscomb Jaguar Preserve and boat tours on the Monkey River, both excellent options for observing Belize's fascinating wildlife. In case you decide to simply relax the day away the spa offers massages and treatments. (B)


Day 9 Depart Belize
This morning you will be escorted to the airport for your flight back to Belize City. (B)
Remarks
Not included:
Airfare; gratuities of any kind; airport departure taxes; meals unless included in the itinerary; beverages; incidental charges.

Please inquire about our special airfares for this package.