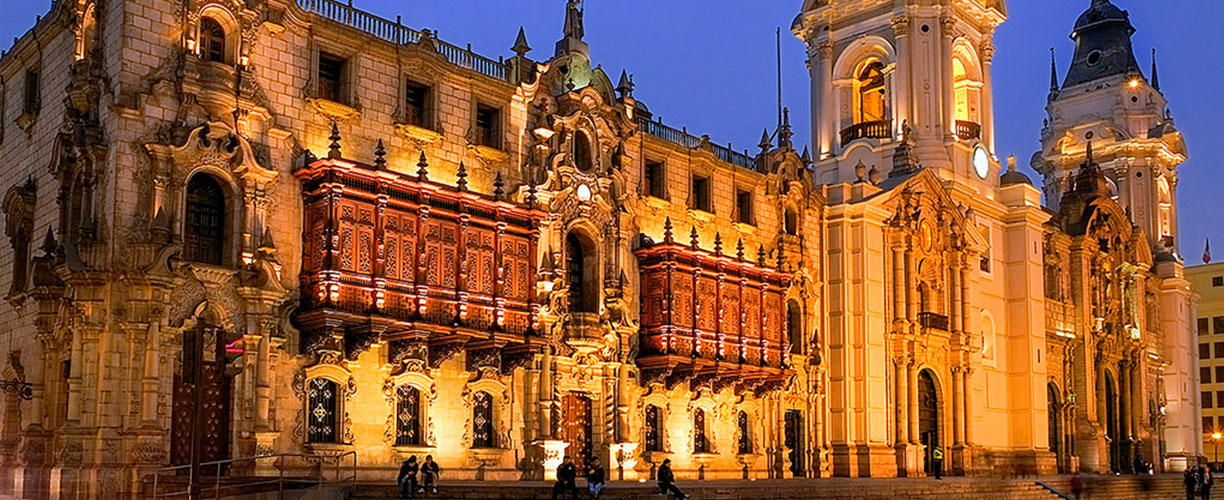 Christian Heritage of Latin America
Overview / Highlights
13 NIGHTS / 14 DAYS
Latin America as a region is characterized by the majority Catholic Church, minority Protestant and Evangelical churches and groups, rapidly growing Pentecostal churches and small Orthodox diaspora churches. The Catholic Church in Latin America began in earnest with the Spanish colonialization of the Americas and continued through the independence movements of the Spanish-American colonies up to the present day. South America has a wealth of architectural wonders, among them many jaw-droppingly beautiful churches and cemeteries. The architectural glory of some of them rival Europe's best monuments, while others are celebrated for their originality. If you're looking for a culturally inspired way to tour the continent, look no further - here are the spots to hit. Latin Travel Discovery invites you on a magical custom-designed tour program designed to introduce you the magic and culture of South America. We visit sophisticated Buenos Aires, the Paris of South America, followed by the dense rainforest and the magnificent Iguassu Waterfalls, a nature spectacle, wider than Victoria, higher than Niagara, and more splendid than both. Next, we visit Rio de Janeiro, the sun, fun capital of South America, famed for its Copacabana and Ipanema beaches and the Christ the Redeemer statue atop Mount Corcovado. We complete the experience with Peru, boasting some of the most spectacular and varied scenery in South America. Heir to enigmatic ancient cultures and a rich colonial tradition, enveloped by some of the richest biodiversity's of Earth, renders Peru as simply fascinating.
Countries

Brazil, Peru, Argentina

Cities

Buenos Aires , Rio de Janeiro, Tigre, Iguassu Fall, Machu Picchu, Lima
Tour Program Summery Outline

Day 1 Sat: Arrive Buenos Aires (City Tour)
Day 2 Sun: Buenos Aires (San Telmo, Tigre, Dinner & Tango Show)
Day 3 Mon: Buenos Aires (Fiesta Gaucho)
Day 4 Tue: Buenos Aires / Iguassu (Visit Argentine Falls)
Day 5 Wed: Iguassu / Rio de Janeiro (Brazil Falls)
Day 6 Thu: Rio de Janeiro (Petropolis)
Day 7 Fri: Rio de Janeiro (Corcovado, Sugarloaf, Dinner & Show)
Day 8 Sat: Rio de Janeiro / Lima
Day 9 Sun: Lima (City Tour & Church Visits)
Day 10 Mon: Lima / Cuzco - Sacred Valley (Ollantaytambo Ruins)
Day 11 Fri: Urubamba Valley (Pisac Market, Maras and Moray)
Day 12 Sat: Urubamba Sacred Valley - Machu Picchu (Visit Ruins)
Day 13 Sun: Machu Picchu - Cuzco (2nd Visit on own)
Day 14 Mon: Cuzco / Lima - Depart (Cuzco and nearby Ruins Tour)

Click   icon to enlarge map to full screen view and back 

Features

3-night accommodations at the Grand Brizo Hotel. Buenos Aires
1-night accommodations at the Recanto Cataratas Thermas Resort
3-night accommodations at the Excelsior Hotel, Rio de Janeiro
2-night accommodations Casa Andina Premium Miraflores Hotel
2-night accommodations Munay Tika Garden Hotel, Ollantaytambo
1-night accommodations at the Casa del Sol Machu Picchu Hotel
1-night accommodations at the Casa Andina Premium Cusco Hotel
All transfers to / from airports / hotels and tours as per itinerary
Buenos Aires Special City Tour
Churches, San Telmo, Tigre, Dinner & Tango Show
Church Visits, Tigre plus Dinner & Tango Show
Full Day Fiesta Guacos Estancia Santa Susana, lunch included
Visit Argentine side of Iguassu Falls & Park
Visit Brazil side of the Park
Great Adventure Tour in Iguassu Falls





Full day Petropolis excursion with lunch
Tour Rio City, Corcovado, Sugarloaf including lunch
Rio by night Dinner and Show
Lima Special City Tour with church visits plus Larco Museum and lunch
Excursion of Ollantaytambo Ruins
Special lunch and horse show Wayra Ranch at the Sacred Valley
Full day excursions to Pisac Market, Maras and Moray, lunch included
Full day Excursion to Machu Picchu with guided visit to ruins, lunch included
2nd Day entrance to Machu Picchu
Cuzco Special City Tour with churches and nearby ruins
Special Church Visits throughout
Mass daily
Breakfast throughout
Other meals as indicated (B= bkfst; L= lunch; D= dinner)
Hotel tax and service charges
Locally hosted by English Speaking guides
Interest
Adventure / Beaches / COSMOPOLITAN CITIES / CULINARY /Cruises / Cultural / ECO TOURS / FAMILY ADVENTURES / FLORA / Historical / LUXURY / Nightlife
Day 1, Sat: Arrive Buenos Aires (City Tour)
Welcome to Argentina's capital, often referred to as the Paris of South America, a mosaic as varied and diverse as its culture. Built in the 19th Century, an era of plenty for the wealthy gaucho land barons of Argentina, this city of 10 million is a kaleidoscope of intimate places, events and interactions, each with a slightly different shade, shape, and character.

Founded by European explorations such as Spain and Portugal, much of Argentina's history is tied to the Catholic Church. Like most Catholics, many Argentines accept the authority of the priesthood and Roman Catholic Church, which is led currently by an Argentinian Pope - Jorge Mario Bergoglio, Pope Francis. As the first pope to come from Latin America, Pope Francis is a great source of pride for many Argentines.

Meeting services upon arrival and transfer to the Hotel Grand Brizo Buenos Aires, centrally located in the heart of Buenos Aires, some 300 meters from The Obelisk of Buenos Aires. Boasting an outdoor swimming pool, this property is set near attractions such as Colon Theater.

This afternoon we begin our indoctrination of Buenos Aires making our way along the 9th of July Avenue (Avenida 9 de Julio) with its eight lanes divided by small green squares with old leafy trees and enriched by sculptures and fountains, considered as widest boulevard in the world. We pass Plaza de la Republica with Buenos Aires' signature Obelisk projecting upwards as a symbol of the city. Next, we visit the picturesque and colorful port section of La Boca, a picturesque neighborhood at the mouth of the Riachuelo River where the city's first settlers landed; filled with Italian restaurants, and some streets, such as the Caminito, are lined with wooden houses painted in bright colors. Continue to San Telmo, also a center for immigrant settlers that maintain its heritage and architectonic patrimony untouched. We pass along the Palermo District with its elegant residences framed by wide green areas; reaching finally the district of Recoleta, the chic, most sophisticated neighborhood in the city, home to the Recoleta Cemetery, a necropolis of elaborate mausoleums, including that of Eva Peron. We end our visit at the modern district of Puerto Madero, a revitalized section of the city once an abandoned old dilapidated port now boasting elegant houses, offices, lofts, luxurious hotels and restaurants.
Suggested church for Mass: Basílica San Nicolás de Bari (Mass: 7:30pm - Schedule to be reconfirmed.

The Basilica of San Nicolás de Bari, dating back to 1733, is a French Academic style religious temple in honor of San Nicolas de Bari. Demolished in 1931 due to the widening of Corrientes Avenue, it was rebuilt. The current building (located on Av. Santa Fe 1352) it was reconstructed in 1937 and elevated to minor basilica Overnight at Hotel Grand Brizo Buenos Aires.


Day 2, Sun: Buenos Aires (San Telmo, Tigre, Dinner & Tango Show)
This morning we begin our visits to several of the more ornate churches of Buenos Aires. First stop is the Basilica del Santísimo Sacramento where we will have Mass (8:00am).

This extravagant Catholic church was designed by the French architects Coulomb and Chauvet and was consecrated in 1916. Pope Benedict XV declared it a minor basilica. The luxuriously decorated church has a large collection of gold and silver, as well as stained glass, marble, blue granite and bronze ornaments and Venetian mosaic. The remains of the church's benefactor rest in the crypt.

Boasting marvelous European influences and facades, Buenos Aires' churches tend to be extravagant temples full of luxury and we will visit most of the important churches of the City.

Next, we visit the Basílica María Auxiliadora y San Carlos. Built in 1910, it is an icon of Catholicism in the city of Buenos Aires. It presents an eclectic style combining Lombard and Byzantine movement among others. This Basilica is where the Pope Francis was baptized in Christmas of 1936. Next, we visit the Basílica San José de Flores. Inaugurated in 1883, this was Pope Francis's regular place of worship during his infancy and adolescence. It was here that at the age of 17 he decided to dedicate his life to God. He decided to start his papacy on March 19, 2013, in order to coincide with Saint Joseph's Day (San José - the patron saint of this church).

Today is Sunday, a grand opportunity to visit San Telmo to experience the famous San Telmo Antique Market, a favorite pastime of the Portenos (as the residents of the city are called) and tourists alike. We suggest the you first stop is at the famous Café Tortoni, the oldest Café house in Argentina and home to the artistic and intellectual capital of Buenos Aires since 1858. Here you may sample delicious deserts with coffee before heading to San Telmo, widely hailed as the most picturesque part of Buenos Aires, birthplace of the sultry tango. Cobblestone streets and colonial buildings set the atmosphere for an array of shops and boutiques, tango parlors and cafes. In a departure from the sophistication that is Buenos Aires, here you'll experience the bohemian side of the city with its mimes, impersonators, musicians and the ubiquitous tango dancers offering free lessons to the least inhibited passersby. The centerpiece of San Telmo is Plaza Dorrego, one of the oldest public spaces in the city, dating back to the 18th century, when it was an area reserved for the wagons that brought in produce to Buenos Aires from all over the country. The coffee shops and bars surrounding the Plaza sprung up in the 1930s when it became an area for wine, song and dance, as it remains today.

This afternoon we head to the suburbs and the Delta of the Parana River. The Tigre and the Delta islands is a unique region just 15 or so miles outside the hustle and bustle of the big city. We travel along the northern residential districts of the city and the suburbs for views of luxurious homes and mansions overlooking the River Plate. Continue to the Tigre district, home to summer residences, yacht clubs and rowing clubs, a weekend getaway for "porteños" (residents of Buenos Aires). The islands of Paraná River Delta Tigre are the starting point for hundreds of islands forming up the Paraná River Delta at the mouth of Río de la Plata (River Plate). Tours along the Delta and to Martín García Island, a natural and historical reserve, start from the river port of Tigre. There are several museums here and time permitting we will visit the Museo de Arte Tigre, Tigre's fanciest museum located in an old (1912) social club. This beautiful art museum showcases famous Argentine artists from the 19th and 20th centuries.

This evening will be a special treat as we step into the Buenos Aires night making our way to Tango Porteno, one of the most prestigious and popular Tango houses in the city. Located in the heart of Buenos Aires City, just a few meters from the Obelisk, it offers an amazing show that takes you back in time recreating the sophistication of old Buenos Aires. Enjoy dinner sampling the famous Argentine beef followed by a show where we are mesmerized by sensual national dance...The Tango.
Overnight at Hotel Grand Brizo Buenos Aires. (B,L)


Day 3, Mon: Buenos Aires (Fiesta Gaucho)
This morning starts with Mass: Suggestion the Hemanas Esclavas del Sagrado Corazón Church (Mass: 8:00am - Schedule TBC) This Romanesque - Byzantine and Moorish influence building was started in 1898 and completed in 1902.

Today a special treat as we make our way to Estancia Santa Susana, driving along the famous Argentine rolling plains of the pampas, one of the most fertile natural prairies of the world, famous for its meat and cereal production, to visit to a typical "Estancia" (Argentine Ranch) for a "Fiesta Gaucha" (Barbecue Party).

A warn reception upon arrival at this traditional estancia (ranch) with a friendly welcome at the ranch pub with empanadas (a type of pastry) and wine. We take a guided tour to some of Santa Susana's attractions, including its museum and church, before enjoying a horse-drawn carriage ride or going horseback riding to explore the grounds of the ranch. Back at the ranch, tuck into a delicious parrillada (Argentina BBQ) lunch of grilled specialties such as sausages and chicken, accompanied by salad and beverages (red and white wine, soda, water and coffee). Then sip on a glass of mate (an Argentine drink of yerba mate leaves steeped in hot water) and finish with a pastelito (pastry). During lunch, be entertained by a tango and folk show of classical music and dance, and watch an exciting boleadoras show, with throwing weapons used by gauchos. When you're done eating, the real entertainment begins as you watch the gauchos show off their incredible ranch skills. Be impressed by a ring race (known as la sortija), animal herding and the cuadreras race, a typical gaucho game. Return to Buenos Aires for overnight.
Overnight at the Hotel Grand Brizo Buenos Aires. (B,L)


Day 4, Tue: Buenos Aires / Iguassu (Visit Argentine Falls)
This morning we transfer to the airport for the flight to Iguassu Falls where Argentina and Brazil share borders, a region recently voted one of the 7 natural wonders of the world, endowed with countless natural attractions. Here you will be treated to a sensational sound and light show brought to you courtesy of Mother Nature. A show with no intermissions - 275 separate waterfalls, spanning 2-miles, wider than Victoria, higher than Niagara and more magnificent than both.

Upon arrival we transfer to the Recanto Cataratas Thermas Resort & Convention Hotel. A lovely hotel integrated with the natural exuberance of an area set aside for a native conservation. The hotel offers an aquatic park including a thermal pool with a poolside bar, indoor thermal pool, 2 restaurants, pubs, amusement square, equipped with a London-style pub, and Bowling. There is an exclusive disco club for guests, game rooms, library, relaxing Spa, recreation staff, enjoyment for all ages with top-notch quality services.
This afternoon we visit the Argentine side of the falls including the national park. Upon arrival to the park we walk the paths along lush tropical basin, over and under the splashing torrents of falling water. Beautiful flowers, ferns, tropical plants, butterflies and exotic birds add to the exciting experience of close contact with nature. A short train trip will take us to the pathways leading to the Devil's Throat, one of the most impressive points where 14 separate falls cascade down 350-foot cliff.

We continue the thrill with the "Great Adventure" tour, a fabulous combination of nature and adventure. We first walk along boardwalks into the surrounding forest; then gain amazing, close-up views of the falls until we reach the river shore. Once there, we board zodiacs to start an exhilarating ride around the thundering falls, enjoying the myriad rainbows beside roaring San Martin Falls. Later we disembark on the Iguassu River shore where Rangers will escort us on a fascinating park ride, explaining the local habitat and pointing out exotic plant and animal species that still survive in the Atlantic Rainforest. After the tour return to the hotel.

Note: 1 hour for Mass included. (Church and schedule TBC) Overnight at the Recanto Cataratas Thermas Resort Hotel. (B)


Day 5, Wed: Iguassu / Rio de Janeiro (Brazil Falls)
More than just a thundering water falls, Iguassu is also a national park of tropical forests sheltering more than 1,100 species of birds and mammals. This morning we cross the Tancredo Neves Bridge over the Iguassu River which also forms the border between Argentina and Brazil to visit the Brazil side of the falls for the best panoramic view of the falls. The visit includes an unforgettable guided walking tour to visit the Brazilian side of the falls offering the best vantage points to appreciate the wondrous spectacle.

At the completion of the tur we transfer to airport on the Brazil side for the flight to Rio de Janeiro. Rio...the very sound of it evokes images of sun, fun and rhythm of the sensuous Samba. Welcome to one of the most spectacular cities on our planet. Flanked by gorgeous mountains, white-sand beaches and verdant rainforests fronting deep blue sea, Rio occupies one of the most spectacular settings of any metropolis in the world. With the seductive sounds of sambato the world-famous beaches of Copacabana and Ipanema; the restaurants and open-air cafes, the cariocas (residents of Rio) live for the moment without a care in the world. This idea of paradise has enchanted visitors for centuries.

Meeting services upon arrival and transfer to the Windsor Excelsior Hotel, one of the best 4-star hotel in Rio de Janeiro, strategically located on Copacabana Beach facing the ocean.
Overnight at the Excelsior Hotel. (B)


Day 6, Thu: Rio de Janeiro (Petropolis)
A Mass in Mosteiro de São Bento - early morning (7:15am) Petropolis was the mountain getaway some 60km from Rio de Janeiro, referred to as the Imperial City since the Emperor Pedro II, enchanted by its fresh climate and beauty, bought a large property there in 1830. Settled by the Germans, Petropolis keeps the memory of Brazilian history with its buildings and charming streets. Upon arrival we the Imperial Museum, the former summer home of Brazil's imperial family. You will tour the home to get a snapshot of the glamorous everyday life of the imperial family. Magnificent paintings, artifacts, furniture and crowns, among other things, are available for viewing. We continue and visit the tombs of Brazil's two emperors and their wives and the house of Santo Dumont, the founder of aviation in Brazil. Then you will pass by the Crystal Palace, Rio Negro Palace and university before returning to their hotel in Rio. Please note that this tour is not possible on Mondays.

Time permitting, we will visit the following churches:

* Nossa Senhora do Rosário Church
* Matriz Sagrado Coração de Jesus Church
* Catedral São Pedro de Alcântara

Return to Rio de Janeiro for overnight.
Overnight at the Excelsior Hotel. (B,L)


Day 7, Fri: Rio de Janeiro (Corcovado, Sugarloaf, Dinner & Show)
This morning we drive through the fashionable Lagoa District to the base of Corcovado Mountain for a short train ride to the summit. Here, at 2,400 feet above the city stands one of South America's most famous landmarks, the 125-foot statue of "Christ the Redeemer", one of the new Seven Wonders of the World. The panorama of the city below is testament to why most visitors consider Rio to be one of the most spectacular and beautiful cities in the world. On a clear day a 360-degree panorama view covering the entire city, the beaches, the forest, mountains, Maracana (soccer) Stadium, Rio Niteroi Bridge, Botanic Garden and more. Continue to have lunch at one of Rio's famous Churrascaria's (barbecue house) for a sampling of Brazil's appreciation for beef and fun eating. Here you'll be introduced Brazil's national cocktail, the "Caipirinha", a traditional Brazilian drink prepared with "cachaça" (made of sugar cane), once Brazil's best-kept secret, now it's the connoisseur's cocktail of choice from New York City to Miami.

Continue our tour this afternoon as we drive along Copacabana and Ipanema, two of the world's most famous beaches as we make our way to Rio's downtown to see and visit the highlights of the city including Praça Mauá, where Brazil's first skyscraper was developed; we visit Rio's ultramodern Metropolitan Cathedral of Saint Sebastian better known as the Metropolitan Cathedral of Rio de Janeiro or as the Cathedral of St. Sebastian of Rio de Janeiro, is the seat of the Roman Catholic Archdiocese of São Sebastião do Rio de Janeiro. Traffic and time permitting, we also stop in front of the Teatro Municipal; also visit São José Church, Nossa Senhora da Glória Church, Ordem Terceira do Carmo. Next, we drive to the Sambódromo. Completed in 1984, it is approx. a mile long, custom-built to host Rio's Carnival samba parades. We head back towards the beaches with a stop at Urca where we board the cable cars to ascend to the top of Sugar Loaf Mountain - 1,200 feet of sheer rock overlooking Guanabara Bay for a breathtaking view of the beaches, a view of Corcovado with opportunity for great sunsets.

The Cariocas, residents of Rio, have perfected the art of living, which is evident all throughout the city including neighborhoods like Lapa and downtown Rio. From the beaches to the bars and nightclubs, the Cariocas know how to celebrate and live for the moment. Dancing the night away in Lapa is something that the locals love doing. Something that is contagious. So tonight, we visit the downtown neighborhood of Lapa is one of the most musically charged places, attracting young crowds especially on the weekend nights. Downtown Rio has a rich legacy of culture and architectural heritage, which is evident from the impressive historic buildings. What's unique about the area is the diversity of styles that co-exist, making it a great tourist attraction, a night of dining, drinking and music like a Carioca.
Overnight at the Excelsior Hotel. (B,L,D)


Day 8, Sat: Rio de Janeiro / Lima
Transfer to the airport for the flight to Lima Peru. Meeting services upon arrival and transfer to the Casa Andina Premium Miraflores Hotel situated along Lima's most alluring suburb of Miraflores.
Overnight at the Casa Andina Premium Miraflores Hotel. (B)


Day 9, Sun: Lima (City Tour & Church Visits)
Welcome to Lima. Founded in 1535 by the Spanish Conquistador Francisco Pizarro, this colonial city became the political and military capital of the New World until it was declared the capital of Peru in 1821. We begin our tour with a drive to the Park of Love located in Miraflores, the modern section of Lima, home to Lima's best restaurants and hotels, as well as many bars, clubs, and shops with a view of the Pacific Ocean. Continue to the modern residential suburb of San Isidro, also known for good shopping with numerous large shopping centers. Next, we head downtown to the colonial area of the city to visit the most important historical sites and monuments. First, we go to the Plaza de Armas where you will see the Government Palace, the Cathedral built on site where the first major church in Lima once stood. It has an austere interior, although it is home to genuine historical treasures including the Baltasar Noguera choir stalls, several side altars and the remains of Francisco Pizarro. Tourists can also visit the Museum of Religious Art, which holds a significant collection of paintings, sculptures, chalices and chasubles. We visit the Archbishop's Palace, the residence of the Archbishop of Lima, and the administrative headquarters of the Roman Catholic Archdiocese of Lima. We visit the City Hall and continue to the 17th century church and cloister of San Francisco, a world cultural heritage site. The church and monastery hold many treasures including religious art that is unique to Peru. We also visit the catacombs, a winding underground tomb filled with bones.

We continue and visit Santo Domingo Church, a church with three naves, in which the dome and a finely carved cedar choir stall are most impressive. The convent walls are decorated with Seville tiles and its chapter house features Baroque carvings. In 1551, the Universidad Nacional Mayor de San Marcos was founded in the convent, the first university that the Spanish crown created in the Americas.

Next stop is the Larco Museum. First, lunch at the Café del Museo Restaurant situated inside the walls of the colonial palace that houses the Larco Museum, one of the most charming places in Lima to enjoy a meal. Continue to visit the archaeological museum located in a unique vice-royal mansion of the 18th century built over a 7th century pre-Columbian pyramid and exhibits the world's largest private collection of pre-Columbian art boasting an astonishing array of gold, silver, semi-precious stones. Founded in 1926, the Larco Museum showcases remarkable chronological galleries providing an excellent overview on 3000 years of development of Peruvian pre-Columbian history. Its masterpieces are considered worldwide icons of Pre-Columbian art, after being exhibited in the world's leading museums.
Overnight at the Casa Andina Premium Miraflores Hotel. (B)


Day 10, Mon: Lima / Cuzco - Sacred Valley (Ollantaytambo Ruins)
Morning transfer to the airport in Lima for a short but spectacular flight over the snowcapped Andes to the oldest inhabited city in the hemisphere, Cusco, at an elevation of 11,440 feet. To help manage and acclimate to the high altitude, we transfer down to the Sacred Valley at 8,200 feet of altitude. The Urubamba Valley is a laid-back valley with a very pleasant climate perfectly suited for farming. Ancient ruins, gentle mountain slopes and scattered farming towns define the valley.

First stop is lunch at Wayra Ranch with Peruvian Paso Horse Show "Caballo de Paso" known worldwide for their smooth gaited movements and unusual spirit. No other horse combines strength, intelligence and beauty so perfectly as the Peruvian Paso Horse. The characteristic of the Paso Horse is precisely the reason for its name: the sublime charm of its typical step. As it walks, its front legs step very high and forward while the hooves sway to the sides in a graceful and synchronized movement. Enjoy a delightful demonstration of the skills of this unique member of the horse kingdom. Lunch at the celebrated Wayra at "Sol y Luna" in the Sacred Valley.

After lunch, visit the Ollantaytambo archaeological complex. The Incas built it as a fort that included a temple, agricultural terraces, and an urban area. There are two distinct sectors: The religious and worship zone, and the residential area. Ollantaytambo was an important administrative center with probable military functions if one considers the walls and towers. There are also traces of ancient roads and aqueducts. The town of Ollantaytambo is called a "Living Inca Town" since the inhabitants maintain very old practices and customs.

This evening Mass at a local church.
Overnight Munay Tika Garden Hotel (B,L)


Day 11, Fri: Urubamba Valley (Pisac Market, Maras and Moray)
Morning departure for a drive through the fertile countryside of the Urubamba Valley to the colonial village of Pisac where an Indian Market takes place Tuesdays, Thursdays and Sundays. This being Friday we will tour the religious nucleus and archaeological site of Pisac. At the Pisac market there will be opportunity to bargain with the natives for many different types of Peruvian handicrafts and jewelry.

We continue todays excursion driving past unspoiled and picturesque Andean communities on our way to the Incan agricultural experimental center of Moray, famous for its sunken amphitheater, made up of four circular terraces, which appear to fade away into the earth like an artificial crater. The site was apparently an Inca agricultural research station filled with fertile earth and watered by complex irrigation systems, designed for experimenting with crops at various altitudes (some of which run down to depths of 100 meters).

Continue to the impressive Maras salt pools formed by water emerging from a lake inside a mountain in the Urubamba Valley. An amazing view of evaporating ponds for the extraction of salt. Learn about ancestral techniques, which are still used, in agricultural, irrigation and salt-recollection tasks, as well as in Andean festivals and rites. Lunch is included. Evening Mass at Urubamba Chapel.
Overnight Sonesta Posadas del Inca Yucay. (B,L)


Day 12, Sat: Urubamba Sacred Valley - Machu Picchu (Visit Ruins)
Early morning transfer to the train station to board the Vistadome Train traveling through the Urubamba Valley to Machu Picchu often dubbed the "Lost City" of the Incas. Perched 8,200 feet above the valley, this significant archaeological find is situated along remote mountains, amid a semi-tropical jungle and therefore was hidden for 400 years until discovered in 1911 by Hiram Bingham of Yale University.

Upon arrival to the town of Aguas Calientes we transfer to the bus station and begin this phase of our adventure aboard the minibus that makes an awe-inspiring ascent to the ancient citadel to explore the temples, altars and more than 200 buildings. Standing at the top of a steep, forested hill overlooking the Urubamba River, the citadel was hidden by dense vegetation for centuries until Hiram Bingham began to clear the site. Today the city has been completely restored and even if it has lost some of its mystery it remains an unforgettable sight. The tour includes visits to the temples, plazas, palaces, watercourses and residential areas.
After lunch more exploration on your own.
Overnight at the Casa del Sol Machu Picchu Hotel. (B,L)


Day 13, Sun: Machu Picchu - Cuzco (2nd Visit on own)
Morning is free to visit the ruins once again on your own. If you feel a bit more adventurous, we suggest a hike along steep stone-paved trail of Huayna Picchu, the pyramid-shape mountain above Machu Picchu for a breathtaking view of the site (reservations are need for this hike). Afternoon return by train back to Cuzco and transfer to the Casa Andina Premium Cusco Hotel for overnight.
Overnight Casa Andina Premium Cusco. (B)


Day 14, Mon: Cuzco / Lima - Depart (Cuzco and nearby Ruins Tour)
This morning we tour Cuzco, the oldest continuously inhabited city in the western hemisphere. Nowadays Cuzco is a delightful combination of Inca and colonial architecture dating back to the 17th and 18th centuries. During the tour we will visit Cuzco's most important landmarks such as the Cathedral Basilica of the Assumption of the Virgin, also known as Cusco Cathedral, the mother church of the Roman Catholic Archdiocese of Cusco. The cathedral is located on the Plaza de Armas. Building was completed in 1654, almost a hundred years after construction began. We also visit the Iglesia de la Compañía de Jesús is a historic Jesuit church in Cusco, the ancient capital of the Inca Empire, in Cusco Region, Peru. It is situated in the Plaza de Armas de Cusco, the city center. It is built on a Inca palace. It is one of the best examples of Spanish Baroque architecture in Peru. Next, it's the primitive chapel of San Blas, located in the old Inca neighborhood of T'oqokachi, was one of the first parishes of Cuzco. After the earthquake of March 31, 1650; it became one of the most important temples and began to be decorated with sumptuous artwork. It has a rich collection of paintings where standing out is the series of life and miracles of San Blas- the martyr bishop- by the artist Fabian Perez de Medina. The other highlight is the canvas of the resurrection of Lazarus, a piece from the Master Diego Quispe Tito. However, its greatest attraction is the famous and worldwide known pulpit of San Blas carved in wood of cusquenian cedar.

Time permitting, we visit The Convent of Santo Domingo founded on the foundation of the famous "Inti court" by the year 1534. The current church and convent of Santo Domingo are built on the Temple of the Sun and the Qorikancha respectively. The Catholic temple has been erected on the same temple as the Inca, to demonstrate the destruction and suppression of the ancient cult, there comes to be the apse of the Temple Dominican

Next, we drive out of Cuzco to visit the nearby ruins of Kenko, Puca-pucara, and the royal baths of Tampumachay, continuing to the impressive fortress of Sacsayhuaman, whose gigantic 3-tiered walls are built from 18-foot boulders and weigh over 300 tons. We retune to Cuzco and transfer to the airport for the flight to Lima and continue our flight home. (B)
Remarks
Not Included:
Alcoholic or non-alcoholic beverages
International or domestic airfares
Cost of Medical Emergencies including evacuation
Gratuities
Souvenirs or additional services
Travel insurance
Cost of relevant visas
Anything else not listed as included