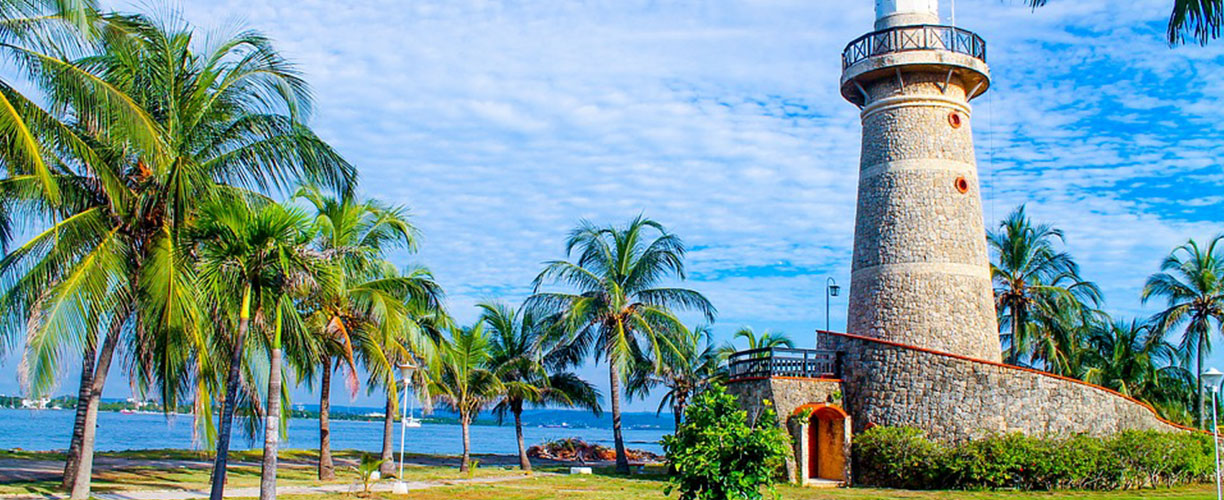 Cartagena Rising
Overview / Highlights
6 NIGHTS / 7 DAYS
Cartagena de Indias, situated along the northern coast of Colombia, is the undisputed queen of the Caribbean coast, a historic city of superbly preserved beauty lying within an impressive 10-miles of centuries-old colonial stone walls. Cartagena's Old Town, a Unesco World Heritage site, is a maze of cobbled alleys, balconies covered in bougainvillea, and massive churches that cast their shadows across leafy plazas. The old city boasts colonial architecture of its original construction and is the most complete set of fortifications in South America. Add to that an intense nightlife, cultural festivals, exuberant landscapes, magnificent beaches, excellent gastronomy and an important tourist infrastructure. It is a fantastic city that keeps the secrets of history in its walls and balconies, in its constructions and in its narrow stone ways. We welcome you to experience this charming paradise. Roll up your sleeves and get ready to immerse yourself in the local culture; get to know the locals and where they like to visit. We take you off the beaten path strolling through the Old Town day and night. Soak up the sensual atmosphere with to enter the nightlife of this pulsating getaway mecca as we sample some of the many excellent bars and restaurants.
Countries

Colombia

Cities

Cartagena
Tour Program Summery Outline

Day 1 : Arrive in Bogota
Day 2 : Cartagena (City Tour & Monuments, Historic Center)
Day 3 : Cartagena (Real Food, Real Places & Real People)
Day 4 : Cartagena (Rosario Islands at Majagua Hotel)
Day 5 : Cartagena (Boquilla Mangroves & Getsemaní)
Day 6 : Cartagena (San Basílio of Palenque Tour)
Day 7 : Depart Cartagena

Click   icon to enlarge map to full screen view and back 

Features

6-night accommodations at the Hotel Charleston Santa Teresa Cartagena
Private transfer from Cartagena Airport to Hotel Selected
Breakfast daily
Additional meals per itinerary
Transfers as per itinerary
Private half-day City Tour in Cartagena + Lunch at local restaurant





Full Day Tour to the Rosario Islands including lunch with a set menu
Private half-day Tour to Boquilla Mangroves and Getsemaní
Private 2-hour walking tour Real Food, Real Places & Real People, includes typical snack tasting.
Full day San Basílio of Palenque Tour, lunch included
Hotel taxes and services charges
English speaking guide
Interest
Adventure / Beaches / COSMOPOLITAN CITIES / CULINARY /Cruises / Cultural / ECO TOURS / FAMILY ADVENTURES / FLORA / Historical / LUXURY / Nightlife
Day 1: Arrive in Bogota Cartagena
Welcome to Cartagena. With its breathtaking colonial architecture, horse-drawn carriages and narrow cobbled streets, the city of Cartagena de Indias is one of the most exciting destinations in Colombia. This Caribbean colonial jewel was the first Spanish colony on the South American mainland and one of the main ports for the Spanish fleet which turned the city into an important center of trade in the 16th century. It is a city full of history which has been an inspiration for artists, writers, historians and musicians. This vibrant and colorful city throughout the years has enchanted tourists with its fairy-tale charms that invite people to linger and explore the city for days.

Hotel Charleston Santa Teresa
Welcome to the Hotel Charleston Santa Teresa where a regal mix of historical grace and contemporary cool, meets the warmth of Colombian hospitality. Nestled in the heart of a UNESCO World Heritage site, this luxury 5-star hotel in Colombia's Caribbean coast is renowned as Cartagena's best boutique hotel and one of the top 5-star luxury hotels in Colombia. Lovingly restored by expert craftsmen, the reverence of this former cloister demands an insistence on quality and attention to every tiny detail. The proud Colombian heritage is immediately evident from the stately splendor of the facade to the warm personal welcome of the staff. Whether you are looking for a unique corporate event venue in Cartagena, a premier corporate hotel in Colombia, the prefect dream Cartagena wedding or you simply want to revive your body and soul in a hotel spa, at one of the top Caribbean resorts; the Hotel Charleston Santa Teresa will refresh, restore and inspire you.
Overnight Hotel Charleston Santa Teresa.


Day 2: Cartagena (City Tour & Monuments, Historic Center)
The tour begins with a visit to the "Convento de la Popa", where the city's highest point is located, and you can enjoy the best view of the beautiful city of Cartagena. This convent was built in the 17th century by the Augustinian Monks. Initially it was just a small wooden chapel, but later it was replaced by a strong construction which remains.

Continue with a visit to the "Castillo de San Felipe". This castle was built by the Spaniards in the 1600s and it is the greatest and strongest fortress ever built in a Spanish colony. Located at the top of San Lázaro hill, its purpose was to protect and guard the city's landward side from any attack or invasion. This fortress provides a complex system of tunnels connected with strategic points to distribute provisions and facilitate a possible evacuation. Additionally, the tunnel's architecture was built so that any noise would echo along them, in order to make internal communications easier and hear even the slightest sound of the enemies approaching.

Afterwards, a walk through "Las Bóvedas" is included. These 23 vaults were built in the 18th century and they are considered the last major colonial construction made within the city walls for military purposes. The vaults were used as storerooms for munitions and provisions by the Spaniards, and later on, they became jail cells. Nowadays, they are used as crafts markets where you can find handicrafts, antiques, galleries, jewelry, clothing and souvenirs, among other things. At the end of the tour you will visit the "Iglesia y Convento San Pedro de Clever"; this convent was founded in the early 17th century by San Ignacio de Loyola. The name of the church was given in honor to San Pedro Claver, a Jesuit priest who spent his life ministering to the enslaved people brought from Africa. This baroque church has an imposing stone facade and inside there are fine stained-glass windows and a high altar made of Italian marble. You will also find a beautiful cloister surrounded with trees, a museum and the place where San Pedro Claver lived and died. NOTES: It is important to remember, when visiting churches, monasteries, and shrines, women should not wear shorts or miniskirts and men should not wear shorts.

Note: At the end of the tour lunch is included in a local restaurant (Starter + Main course + dessert and 1 soft drink)
Overnight Hotel Charleston Santa Teresa. (B,L)


Day 3: Cartagena (Real Food, Real Places & Real People)
We invite you to enjoy this delicious and colorful experience where you will be able to taste some of the local flavors of the city and learn about its culture. This walking tour through the inner walled section of the colonial city will let you experience Cartagena like a local resident in a neighborhood where people live, eat and shop. This experience takes you to discover different sites and people from the colonial city, with whom the local residents relate on a daily basis as they pass by and stop for breakfast, lunch, dinner or typical snacks. Featuring seven authentic food stops with different delicious tastings, you get to escape the crowds and taste the best of what the city has to offer. Along the way, your guide will entertain and tell you stories and insights into Cartagena's culture and history. Take a break from being a tourist and discover the real Cartagena with us!
NOTES: This tour includes small tastings at different points of the colonial city and one bottle of water per person.
Overnight Hotel Charleston Santa Teresa. (B, snacks)


Day 4: Cartagena (Rosario Islands at Majagua Hotel)
It is time to step outside the walls of Cartagena and experience the beauty of one of the many islands located in Islas del Rosario: Isla Grande.

The Rosario Islands are located about 30 miles away from the city. An archipelago formed by coral reefs with small white sand beaches, and clear Caribbean waters that invite you to appreciate the diverse marine life. These small islands have been protected by the authorities since 1977, when they were declared a National Park. The park's coral reefs, mangrove habitats and lagoons support more than 1,300 different species in nearly 500 square miles.

The day starts at your hotel where you will be picked up and transferred to the port. The boat usually departs at 9:00 am. You will head out from the port into open water for a 60-minute ride approximately to the island. Upon arrival you will disembark and have time to explore the island or just to relax.

You can sit on the small beach and rest, enjoy a walk around the island, sign up for a diving course in the coral reefs, swim or relax with a massage session. The hotel has a beach front bar and snacks can be purchased throughout the day. You will be arriving back to Cartagena between 4:00 and 4:30 pm. Lunch is included with a set menu.
Overnight Hotel Charleston Santa Teresa. (B, L)


Day 5: Cartagena (Boquilla Mangroves & Getsemaní)
The tour begins with a visit to "La Boquilla", an old fishing village located twenty minutes north from the city. This community was once a slave colony and it has been home to many Afro-Colombian inhabitants.

Once you arrive, you will find yourself on a stretch of beach located at a narrow peninsula flanked by the clear waters of the Caribbean Sea on one side and the "Ciénaga de la Virgen" - a large lake and mangrove swamp - on the other. You will go on board a traditional wooden canoe steered by a native person and you will navigate around the tunnels of the mangrove swamps where you will be able to observe the fauna and flora that inhabits in this unique ecosystem.

After this visit, you will enjoy a walking tour through the Getsemaní district, an outer walled neighbourhood with Spanish colonial architecture. This was an extension of the "Centro Histórico" (down-town) and originally it was occupied by the working classes back in the 16th I century, when Cartagena was ruled by the Spanish empire.

Getsemaní has experienced a 21st-century renaissance and nowadays, it is an authentic charming neighborhood with colonial architecture, dance halls, graffiti art, historic buildings converted into boutique hotels, acclaimed restaurants, food vendors and public plazas, which combined creates an elegant and relaxed atmosphere. This area offers so much to do and see which makes visitors easily fall in love with the charm and style of Getsemaní. At the end of the tour, a soft drink will be provided.
Overnight Hotel Charleston Santa Teresa. (B)


Day 6: Cartagena (San Basílio of Palenque Tour)
Today we head to San Basilio de Palenque, a village located 35 miles (56 kilometers) southeast of Cartagena. The village was one of the first freed slave cities in the Americas and still holds its indigenous traditions, culture, and language (Palenquero). The village has played an important part in Colombia's history, being the birthplace of various musicians and genres including Palenque and champeta (Colombia's coolest dance). The city managed to maintain their ancient customs and traditions for more than 300 years. More than 70 African languages that could be heard on the streets of Cartagena; the Palenquero has its roots in the Portuguese factories that traded African slaves in the seventeenth century. The city was a major slave port of America, where traditional languages of these were mixed with European lingua franca in an effort to establish a link between the two worlds. Founded at the end of that century by small populations of African slaves who escaped the Spanish regime and settled in the mountains of the San Jacinto's range, this community has a rich cultural heritage that has been passed down orally from generation to generation. Its vast and ancestral knowledge earned in 2008 the declaration of UNESCO as Intangible Cultural Heritage of Humanity. We invite you to walk the streets of this peaceful village stopping to chat at Palenquero grandparents' houses about music, legends and centuries-old stories, dancing authentic Afro-Caribbean sounds and preparing recipes of the culinary tradition that inspired one of world's best cookbooks (Kumina ri Palenge pa to paraje - Best Cookbook of the Year at the Gourmand Awards 2014). Try local sweets, participate in a drums improvisation or dare to wear a Palenquero hairstyle made by a local coiffeur: a journey through 300 years of Afro-Colombian traditions awaits you! After lunch and sharing with the community, you will be transferred back to your selected hotel in Cartagena.
Overnight Hotel Charleston Santa Teresa. (B,L)


Day 7: Depart Cartagena
Transfer to the airport for your flight home. (B)
Remarks
Not Included:
Alcoholic or non-alcoholic beverages
International or domestic airfares
Cost of Medical Emergencies including evacuation
Gratuities
Souvenirs or additional services
Travel insurance
Cost of relevant visas
Anything else not listed as included