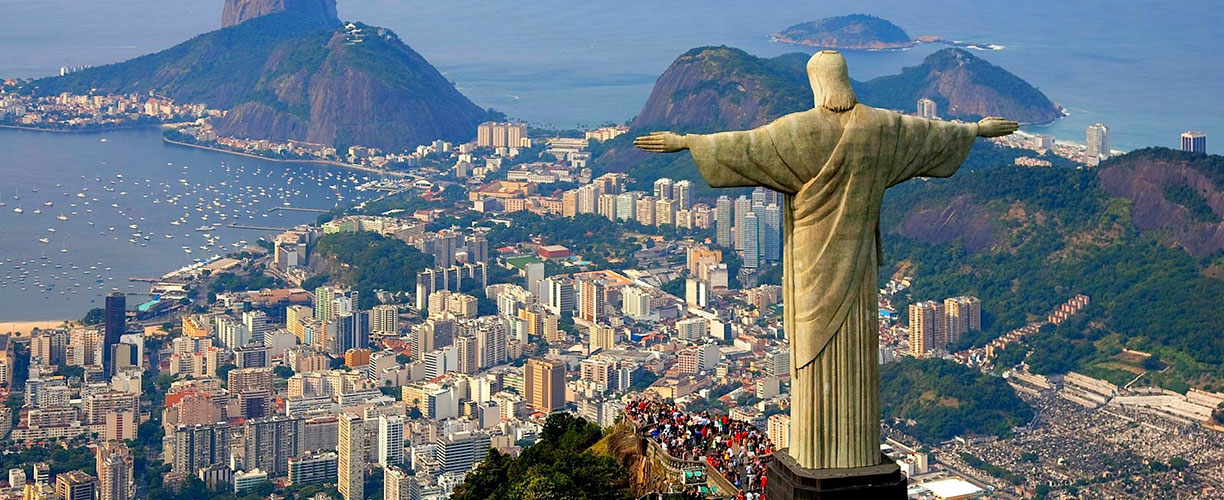 Afro-Brazil Experience
Overview / Highlights
7 NIGHTS / 8 DAYS
Brazilians of African origin comprise nearly 10 percent of the total population of Brazil. As in the United States, their arrival can be traced back to the slave trade of the mid-1500s. It is estimated that nearly 4 million slaves were shipped to Brazil from Africa. Afro-Brazilian cooking customs and religion are practiced by Brazilians of all races and ethnic backgrounds. From samba and carnival to food, music and religion, African culture is everywhere in Brazil. Rio de Janeiro is world-famous for its Carnival, the world's largest party. Over the years Carnival (Carnaval) has evolved into a wild smorgasbord of elaborate costumes, floats and drum squads known as blocos. For four days Carnaval unites thousands gyrating dancers to a samba beat. Samba is not only the official music and dance of Carnaval but is also a linguistic remnant of the Africans in Brazil. Samba means to dance and invoke the African spirits. Dating back to the 1600's Brazilian Carnaval has captured the imagination of the entire world. Nowadays over one million visitors from around the globe come to partake in this 4-day natural high. Carnival, which is celebrated across Brazil, combines samba -- music and dance which grew out of Brazil's black neighborhoods, combined with the Catholic tradition of celebrating the run-up to Lent brought by Portuguese colonialists.
Countries

Brazil

Cities

Rio, Salvador (Bahia), Praia do Forte, Cachoeira
Tour Program Summery Outline

Day 1 : Arrive Rio de Janeiro (Pedra do Sal)
Day 2 : Rio de Janeiro (Corcovado, City, & Sugarloaf Mountain)
Day 3 : Rio de Janeiro (Afro-Rio de Janeiro visits)
Day 4 : Rio de Janeiro / Salvador (City Tour, Cooking School & Dinner)
Day 5 : Salvador (Percussion & Dance Workshops, Bahia by Night)
Day 6 : Salvador (Cachoeira)
Day 7 : Salvador (Praia do Forte)
Day 8 : Depart Salvador

Click   icon to enlarge map to full screen view and back 

Features

All transfers as per itinerary
3 nights hotel accommodations in Rio de Janeiro
4 nights hotel accommodations in Salvador, Bahia
Half-day Pedra do Sal Historic Section of Rio
Full day Tour of Corcovado, City & Sugarloaf, lunch included
Rio by night at Lapa with dinner Lilia Restaurante
Full day Rio de Janeiro African Heritage Tour
Evening visit to Pedra do Sal, historic and religious part of the city





Half-day Afro-Brazil side of Salvador
Evening at SENAC, a Bahian culinary school with dinner
Full day Salvador and African Heritage Tour
Salvador by night at Balé Folclórico da Bahia, dinner included
Full day Praia do Forte, lunch included
Farewell Dinner at the Paraiso Tropical Restaurant
Breakfast daily throughout
Other meals as per program (B=bkfst; L=lunch; D=dinner)
Hotel tax and service charges
Locally hosted by English speaking guides
Interest
Adventure / Beaches / COSMOPOLITAN CITIES / CULINARY /Cruises / Cultural / ECO TOURS / FAMILY ADVENTURES / FLORA / Historical / LUXURY / Nightlife
Day 1: Arrive Rio de Janeiro (Pedra do Sal) Rio de Janeiro.
Rio ... the very sound of it evokes images of sun, fun and rhythm of the sensuous samba. Blessed with a wonderful natural setting, nestled among towering hills and the sea, watched from above by Christ the Redeemer atop Corcovado Mountain, and surrounded by tropical forests and lagoons, Rio de Janeiro has transformed into one of the world's most beautiful cities. Meeting services upon arrival and transfer to your hotel.

This afternoon we make our way into the Afro-Brazilian heritage of this city to Pedra do Sal, an historic and religious site in Rio de Janeiro, in the neighborhood of Saúde. The site was originally a quilombo village. Quilombos have existed in Brazil since the country started importing Africans as enslaved labor - back then they were self-sustaining communities of escaped enslaved Africans, often established deep in the forest. Today, the term refers to communities reminiscent of those original quilombos that use their Afro-Brazilian heritage and strong ties to their land as a form of resistance against cultural erasure, environmental destruction and even racism. Pedra do Sal is a historic and religious site in Rio de Janeiro, in the neighborhood of Saúde. The site was originally a quilombo village. An association group still lives there, formally known as the Community Descendants of the Quilombos of Pedra do Sal.

The Brazilian government has officially recognized these communities since 1988, and they go through a strenuous process to achieve this designation and gain the title to their land. A quilombo is typically a small community of Afro-Brazilians who have had historically limited contact with urban centers, thereby keeping their heritage as close to its African roots as possible, but urban quilombos also exist and are the most accessible. Community leaders are eager to welcome visitors who have a genuine interest in their history, culture and activism; visits often include hiking, history tours and cultural activities like dancing and singing.
Overnight at your Rio de Janeiro hotel.


Day 2: Rio de Janeiro (Corcovado Mountain, City & Sugarloaf Mountain)
This morning we drive through the fashionable Lagoa District to the base of Corcovado Mountain for a short train ride to the summit. Here, at 2,400 feet above the city stands one of South America's most famous landmarks, the 125-foot statue of "Christ the Redeemer", one of the new Seven Wonders of the World. The panorama of the city below is testament to why most visitors consider Rio to be one of the most spectacular and beautiful cities in the world. On a clear day a 360-degree panorama view covering the entire city, the beaches, the forest, mountains, Maracana (soccer) Stadium, Rio Niteroi Bridge, Botanic Garden and more.

After a typical Churrascaria Brazilian BBQ lunch, we head to Rio's downtown to see and visit the highlights of the city including Praça Mauá, where Brazil's first skyscraper was developed; we visit Rio's ultramodern Cathedral, traffic permitting, we also stop in front of the Teatro Municipal. Next, we drive to the Sambódromo. Completed in 1984, it is approx. a mile long, custom-built to host Rio's Carnival samba parades. We head back towards the beaches with a stop at Urca where we board the cable cars to ascend to the top of Sugar Loaf Mountain - 1,200 feet of sheer rock overlooking Guanabara Bay for a breathtaking view of the beaches.

This evening a feat for the senses as we head to the gritty bohemian neighborhood of Lapa to Lilia Restaurante, a hidden gem. The unpretentious restaurant is located on the upper floor of an old townhouse, where chef Lucio Vieira prepares a menu of quality, affordable plates - the small menu changes daily, inspired by whatever Vieira chooses that day from the local farmers markets. Many of the dishes are built around vegetables, but he also serves fresh fish and meat - with a special emphasis on the flavorful cheaper "off" cuts.
Overnight at the hotel. (B,L,D)


Day 3: Rio de Janeiro (Afro-Rio de Janeiro visits)
Behind Rio's famous beach lifestyle and sun-drenched atmosphere lies a complex African Heritage that has shaped an important chunk of Brazil's history. Rio played a significant role in the country's slave trade in the 18th century and beyond, with traces of this sensitive past remaining in the city's recently rejuvenated port area and the bustling downtown region.

A relatively unknown fact about Rio de Janeiro is that it was once the largest slave port in the world, with a total of two million slaves passing through the port where Rio's most popular museum (Museum of Tomorrow) currently stands. Many of the slaves came from Angola, Congo, Benguela and Mozambique, bringing with them African heritage that plays a significant role in Rio's cultural scene today through music, dance, and religion. These enslaved Africans are also the reason behind Brazil having the largest black community outside of countries in Africa.

Next, we visit Porto Maravilha. The slave trade was huge in Rio de Janeiro in the 18th century, contributing to over half of the city's economy at that time. The main area in the city where the slave trade took place is now known as Porto Maravilha - a once-rundown area renovated just before the 2016 Olympics, becoming one of the city's most exciting new cultural and artistic hubs. The excavations that took place during the reconstruction of the area revealed key historical sites that shed new light and interest in the area's past.

Cais do Valongo was discovered in one such excavation and identified as the main wharf built for trading slaves. Nowadays, it is known as Praça XV, a large square famous for late-night weekend parties and local live bands. The surrounding area is known as the Valongo Complex, which comprises important areas representing the slave trade. The most significant include Largo do Deposito, known today as Pracas dos Estivadors, where the slaves were once traded. Rua do Valongo was built to connect the wharf to Largo do Deposito in order to move slaves along to the trading.

This evening a special treat as we step into the Rio nightlife. One of the most famous sites that links back to the past slaves of Rio is Pedra do Sal, an historic and religious site in Rio de Janeiro, situated in the neighborhood of Saúde. The Monday- and Friday-night street parties here are major draws for lovers of samba, whether they're Brazilian or foreign, rich or poor. The lively samba da mesa features a handful of changing players who belt out well-known songs to swaying, joyful crowds surrounding the tiny plaza.

This area was originally a quilombo village. An association group still lives there, formally known as the Community Descendents of the Quilombos of Pedra do Sal. Best known for its Monday night samba parties when both locals and travelers come together to sip caipirinhas (Brazilian famous drink) in the balmy, humid nights and listen to the live samba bands. Centuries ago, the sea used to reach as far as the rocks at Pedra do Sal, and it was the point where the slaves unloaded the salt that the Portuguese colony brought over to Brazil. It later became the main home for freed slaves - becoming known as Little Africa, where the African freed or escaped slaves would practice Capoeira (the Afro-Brazilian martial art that combines elements of dance, acrobatics, and music), play music, and build a new life in Rio. Nowadays, African heritage still plays a huge role in Rio's culture, such as in Carnival; religions, including Candomblé and Umbanda (regards and share the same religious spirits.
Overnight at the hotel. (B,L,D)


Day 4: Rio de Janeiro / Salvador (City Tour, Cooking School with Dinner)
Transfer to the airport for the flight to Salvador. Meeting services upon arrival and transfer to the hotel.
Welcome to Salvador, capital of the state of Bahia, the first major port and the capital of colonial Brazil for almost two centuries. Brazil's African heritage comes alive in the staggeringly beautiful Northeastern state of Bahia. The heady blend of two seemingly disparate cultures - classic Portuguese architecture and African drumbeats, Catholic churches and Candomblé (Afro-Brazilian religion) - is unique and, for most travelers, truly intoxicating. Salvador, a sprawling colonial city with gilded churches, cobblestone streets, lively festivals, powerful percussion reverberating off old stone walls and capoeiristas (practitioners of capoeira) battling against the backdrops of 16th-century buildings. Beyond the city limits, Bahia awaits with more than 900km of coastline, World Heritage-listed sites, deserted beaches and paradisaical islands.

This afternoon an introductory tour of Salvador intended to deliver special attention and knowledge about the transatlantic slave trade and its legacy through key historical sites of the city of Salvador. Our tour begins at the Fort and Lighthouse Barra, one of the ports of arrival of enslaved Africans in the city. We will proceed to the Tororó dike and visit the monument dedicated to the valuable legacy of African religious heritage through the worship of Orixas. The next sites are located in the Cidade Baixa (Lower City), where we will visit other central locations in the historical processes that mark the presence of Africans in Bahia and Brazil. Next, we visit the old historical section of town, the Pelourinho area, with the largest and best-preserved complex of colonial architecture in the Americas. Here, in front of the central slave market, we trace the African roots of Salvador visiting the Afro-Brazilian Museum which houses the superb wooden, sculpted panels of the orixá's by Salvador's most celebrated artist, Carybé. We visit the Church of Our Lady of the Rosary, the famous Black church, built with meager resources over a period of almost 100 years. The buildings may be European, but the spirit is truly African. Time permitting, we will also visit the Society for Black Protection, an organization led by former slaves and dedicated to promoting the liberation of enslaved Africans and their decedents.

This evening a special treat as we make our way to SENAC, a Bahian culinary school where both locals and tourists take cooking classes - one course focuses solely on the preparation of popular street foods like acarajé (Bahian fritters made of brown beans and dried shrimp fried in palm oil). The cooking of Bahia is unique and fascinating. A combination of Portuguese, African and Indian ingredients.
Return to your hotel for overnight. (B,D)


Day 5: Salvador (Percussion and Dance Workshops & Bahia by Night Tour)
This morning we focus on rhythms from the candomblé, samba and samba reggae. Students will learn from master percussionists the subtleties of Brazilian percussion. The workshop will cater for all, no previous musical training or experience is necessary. The drum is the most important instrument in Bahia culture and this experience is to be not missed.

This afternoon a dance workshop. Here we will focus on Samba and street dances, touching on some of the rhythms from yesterday's workshop. In the Afternoon we visit the Regional Capoeira school where we focus on the variations of the capoeira: There was a movement in the 1930's, under the notorious Brazilian dictator Getúlio Vargas, to create a unique Brazilian sport. A Bahian capoeira master, Mestre Bimba, was given the task of adapting the Angolan capoeira to a new distinctly Brazilian form of capoeira. The other form, Capoeira Regional, was born. This form is faster, indeed flashier, than the original Capoeira Angola, where the blows are directed to the head in a spectacular display of strength, technique and control.

Tonight, enjoy dinner and folklore show by Balé Folclórico da Bahia and dinner in Pelourinho. The performance by the internationally famous Balé Folclórico da Bahia in the Miguel Santana Theatre in the Pelourinho area is a showcase of the different African traditions still so much alive in Bahia. We will see the sacred dances of the Candomblé; puxada de rede, a song by fishermen in honor of Yemanjá, the goddess of the sea; maculelê, a stick and sword dance with its origins in the cane fields; capoeira, a martial art/dance of Angolan origin and the samba de roda, a spinning, swirling version of this exuberant national dance. Return to your hotel for overnight. (B,D)


Day 6 : Salvador (Cachoeira)
Today drive through historical farmlands, making our way past plantations, peaceful colonial towns, and busy country markets en-route to Cachoeira. The small colonial city of Cachoeira is the historic centre of the Recôncavo region. During the colonial times the Recôncavo became the major agricultural centre of the country and sugar cane was its major produce. This rural development provoked the massive importation of African slaves, and their descendants today populate the region. Visit a cocoa plantation and stop at the city of Santo Amaro, birthplace of singers Maria Bethânia and Caetano Veloso. Arrive in Cachoeira at the end of the morning and have lunch in the Pousada do Carmo, an old convent transformed into a hotel and restaurant. Cachoeira is home to countless churches and is headquarters of the Irmandade da Boa Morte (The Sisterhood of the Good Death). Created in the 19th century to relieve the suffering of the slaves, Boa Morte is one of the most representative expressions of religious blending in the Country. Late afternoon return to Salvador for overnight.
Overnight at your hotel. (B,L)


Day 7 : Salvador (Praia do Forte)
The scenic Coconut Highway leads to Praia do Forte, a fishing village some 50 miles north of Salvador, home to some of the best beaches in Bahia. As we make our way north the appearance of the distinctive white sands of the sparse restinga vegetation signals that we are approaching Praia do Forte. First we visit the ruins of the imposing Garcia D´Ávila castle (1556), once the home of the largest landowner in the New World, set on the lands of what was the first farm in Brazil. From here we have a panoramic view of the northern coastline.

Lunch time sees us in the village of Praia do Forte. After lunch we visit headquarters of the TAMAR Project, the national sea turtle preservation project and one of Brazil's most successful ecological programs. The visitors´ center provides a unique up-close view of these majestic animals. Then time to relax on the beach or browse in the many local handicrafts stores before returning to Salvador.

Tonight, we bid farewell to Salvador Bahia with a special Farwell Dinner at a place referred to as a "little tropical island" in Salvador, the Paraiso Tropical Restaurant is located in a rustic house, far off the beaten path, in the residential neighborhood of Cabula. It has become an icon of Bahian cuisine and foodies don't mind making the trek for their traditionally prepared cuisine with a gourmet twist. The main draw is moquecas, a Brazilian saltwater fish stew, with tomatoes, onions, garlic, and coriander, that is cooked slowly in a terracotta casserole. The fresh fruit that is used in many of the recipes comes from their orchard on the premises. The restaurant has received high accolades from the Commanderie Des Cordons Bleu de France and was named as the best food in Brazil, by Guia 4 Rodas.
Overnight at the Salvador Hotel. (B,L)


Day 8: Depart Salvador
Morning at leisure. Afternoon transfer from the hotel to the airport for your flight back home (B)
Remarks
Not Included:
Alcoholic or non-alcoholic beverages
International or domestic airfares
Cost of Medical Emergencies including evacuation
Gratuities
Souvenirs or additional services
Travel insurance
Cost of relevant visas
Anything else not listed as included