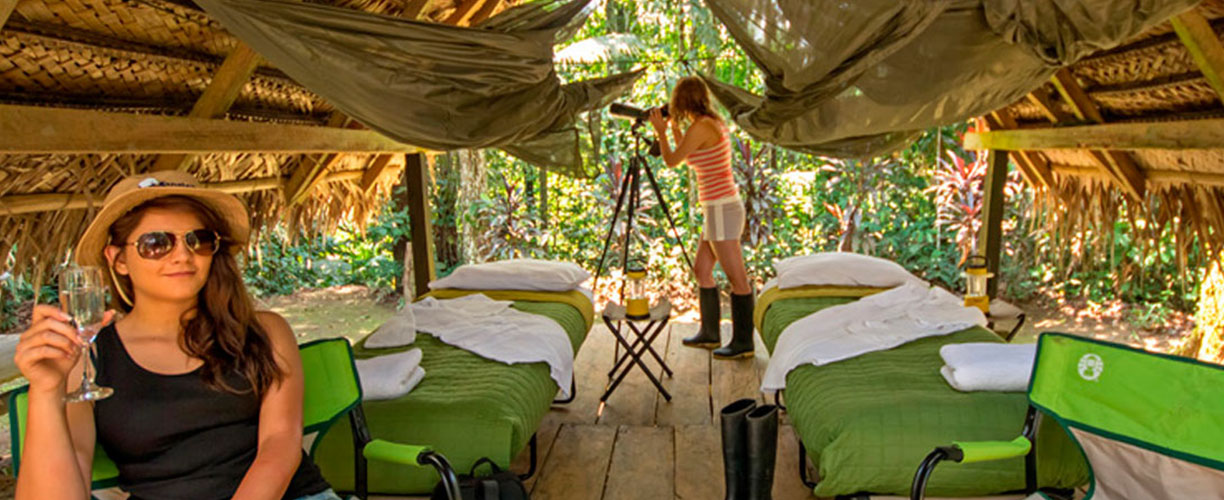 Ecuador, Highlands & Jungle Adventure
Overview / Highlights
10 NIGHTS / 11 DAYS
Ecuador has an array of vibrant indigenous cultures, well-preserved colonial architecture, majestic volcanic landscapes and dense jungle rainforest. This colorful tapestry of topography and people is presented in a country the size of the state of Nevada. This tour will introduce you to Ecuador's highlands, a diverse region of untamed beauty and indigenous people; we visit Ecuador's capital city, Quito, originally an Inca city, recently declared a UNESCO Patrimonial Monument. Next we make our way to the Amazon, the world's largest remaining tropical rainforest. We board the Anakonda, Ecuador's only boutique Amazon cruise for an amazing jungle adventure.
Countries

Ecuador

Cities

Quito, Otavalo, Amazon
Tour Program Summery Outline

Day 1 : Arrival in Quito
Day 2 : Quito (City & Equatorial Monument)
Day 3 : Quito - Otavalo (Imbabura Province)
Day 4 : Otavalo Market (Markets & Villages)
Day 5 : Otavalo - Quito (Otavalo Main Market)
Day 6 : Quito – Anakonda Jungle Cruise
Day 7 : Amazon (Yasuni National Park)
Day 8 : Amazon (Quechua Culture & Cooking Class)
Day 9 : Amazon (Observation Tower & Limoncocha Biological Reserve)
Day 10 : Amazon - Quito
Day 11 : Departure

Click   icon to enlarge map to full screen view and back 

Features

All transfers per program
5 nights in Quito
3 night in Otavalo
4 nights Amazon Cruise
2 nights in Lima





Breakfast daily
Meals per itinerary
4 daily guided excursions in Quito and Otavalo
5 days Amazon Jungle activities
Locally hosted by English speaking guides
Hotel tax and service charges
Interest
Interest
Adventure / Cosmapolitan Cities / Culinary / Cultural / Eco Tours / FAMILY ADVENTURES / Luxury
Day 1: Arrive Quito
Welcome to Quito, the Capital City of Ecuador. At an elevation of 10,000 feet and a mere 22 miles from the Equator, Quito is surrounded by natural beauty with mountains ringing the city, some volcanic, some with white capped peaks, lushly forested hills and a fertile valley. Long before the Spanish arrived, Quito was a major Inca city, destroyed by the Incas in a scorched earth policy that briefly halted the Spanish invasion. Back in 1564 Sebastián de Benalcázar recognized the importance of the city's location and founded San Francisco de Quito on top of the few ruins left him. As Ecuador's Capital City, Quito is a mix of colonial history and modern buildings and has been designated as a UNESCO World Heritage Site.

Meeting services and transfer to the Hotel Patio Andaluz, an elegant boutique hotel, a remodeled 16th-century home located in the heart of historic section of town "Quito Antiguo", just a few minutes' walk to the Plaza de la Independencia and the surrounding churches, museums and national monuments. Enjoy the enchantment and comforts that this boutique hotel offers, with large arches, balconies, interior patios and towering attics.
Overnight at the Hotel Patio Andaluz.


Day 2: Quito (City & Equatorial Monument Tours)
This morning we take a tour of Quito and surrounding. We visit the center of the city located downtown Quito, designated a UNESCO World Heritage Site. We will start with a panoramic view of Alameda Park and the Basilica, followed by a walk down the street of the Seven Crosses. Nest we take a walking tour, starting at Independence Square and continue to visit the presidential palace, the main cathedral, the gold-plated La Compañía Church, San Francisco Church and San Francisco Plaza.

Next we head north to the Equatorial line for a visit to the Equatorial Monument marking the Middle of the World at latitude 0º, where you can stand with one foot on each side of the hemisphere. Visit the Ethnographic Museum inside the monument depicting various Native American groups living in Ecuador. Return to the hotel for overnight. Overnight at the Hotel Patio Andaluz. (B)


Day 3: Quito - Otavalo (Visits along Imbabura Province)
Today we drive north to the picturesque highlands passing beautiful landscapes' including snow-covered volcanoes towards Otavalo Market, one of South America's most famous, home to expert craftsmen and weavers. We will observe the indigenous peoples way of life in various towns and villages, each specializing in different crafts. We begin with a visit to the village of Calderon, home of the renowned bread-dough dolls painted bright color. Continue through the semi-arid valley of Guayabamba to the dairy town of Cayambe in a lush green valley at the base of Cayambe Volcano. We drive to Cuicocha, a sparkling blue Crater Lake formed some 3,000 years ago due to volcanic eruption. Next we visit Cotacachi, a sleepy little pueblo with incredible vistas offering views of the snow-covered Cayambe and the lush green mountains in the distance. We visit Cotacachi, renowned for its leather stores. We continue to the La Mirage Garden Hotel & Spa, perched on an Andean hillside; a contemporary Inn built on the grounds of a 200 year old Hacienda and is the only Relais & Chateaux property in Ecuador
Overnight at the La Mirage Garden Hotel & Spa. (B,L,D)


Day 4: Otavalo Market (Visit Markets & Villages)
This morning we make our way to San Antonio de Ibarra, a center known for its woodcarvings. Continue and we arrive at the Awakening Valley, home to the Otavalo Indians, where we will explore some of the most important Indian villages around Otavalo where we can see our Indians living in the countryside the way they did centuries ago. We will witness our Indians operating back-strap as well as Spanish looms, making wall hangings, sweaters, scarves, etc.
Overnight at the La Mirage Garden Hotel & Spa. (B,L,D)


Day 5: Otavalo - Quito (Otavalo Main Market)
Today we head back to Quito driving along the highlands boasting a sweeping view of Imbabura and Cotacachi Volcanoes rising above San Pablo Lake. We can first visit the animal market in Otavalo, you will be able to see people trading their animals (llamas, ship, pigs, chicken, etc…) next we visit the main market which dates back thousands of years and is famous throughout the Andes for its handicrafts, wonderful textiles, native paintings, ceramics, jewelry, tapestries and much more at bargain prices. After the market we'll visit the village of Peguche where native weavers demonstrate their craft, as they have for centuries. After lunch we will return to Quito.
Overnight at the Hotel Patio Andaluz. (B,L)


Day 6: Quito – Coca – Napo River – Anakonda Cruise
Morning departure by plane from Quito to Francisco de Orellana (Coca), arriving at Coca after a brief 30-minute flight and transfer to the Napo River port. We will transfer to the dock and board our motorized canoe to begin our journey down the river for approximately an hour and a half, taking in the first sights and sounds of the Amazon. Upon arrival to the M/V Anakonda Amazon Cruise we receive our welcome aboard. Once settled into the M/V Anakonda Amazon Cruise, we will be joined by expert local naturalist guides who will provide us with a brief and informative introduction to the Ecuadorian Amazon, after which guests will have their first opportunity to discover the exciting features of our cruise ship: spacious social areas, comfortable suites, and the observation deck that allows us to admire the changing rainforest landscape as we glide down the Napo River. After dinner, we will plunge straight into the Amazon by going for a nighttime forest walk to observe the forest's nocturnal activity and experience the thrill of the vivid noises and aromas that come from so much biodiversity.
Overnight aboard the M/V Anakonda Amazon. (B,L,D)


Day 7: Visiting Yasuni National Park
Early in the morning, we will visit Yasuni National Park. This is a pristine and relatively undisturbed region of the Ecuadorian Amazon. Our guests will be pleased to learn that this is the home of the legendary Pink River Dolphin! In this area we can also find anacondas, river turtles and various primate species, as well as the colorful Hoatzin, a unique bird that is known locally as the "Stinky Turkey". This afternoon we will go canoeing in a Blackwater lake, home to giant otters and the magnificent, albeit elusive manatee. We will also enjoy a pleasant hike in the Riparian/Gallery Forest, where we have the chance to spot a flock of birds and marvel at the intricate organization of a colony of leaf-cutter ants by the "Giant Fig Tree", a truly majestic tree that is home to an abundance of wildlife, much like the "Giant Kapok Tree". Overnight aboard the M/V Anakonda Amazon. (B,L,D)


Day 8: Quechua Culture and Coking Class
We will start the day off by visiting an authentic Quechua family located on the banks of the Napo River, where we will receive cultural immersion and the opportunity to learn directly from members of the local community. We will then board the Anakonda Amazon Cruises for lunch and some leisure time as we continue our navigation upstream. At this time, our guests will be delighted with our life onboard experiences and participate in a cooking class with our expert chef who will share recipes and techniques using fresh and organic ingredients to prepare exquisite traditional Ecuadorian food that you can replicate at home. Guests are also invited to try their hands at making traditional handicrafts or enjoy our onboard facilities such as: a relaxing massage at the Rainforest Spa, a spectacular ever-changing scenery view from our Amazon Hut Tub, a delicious cocktail at our Bar and Lounge or just admire the amazing sunset or the stargazing at night from our Observation Deck Lounge. For our more active guest a kayaking activity is the best choice to explore the nature around. There is an option for everyone!
Overnight aboard the M/V Anakonda Amazon. (B,L,D)

Note: This day we are pleased to offer a camping program for our adventurous guests which is an alternative manner to explore this enchanting destination.


Day 9: Observation Tower - Limoncocha Biological Reserve
Our guests can relax and enjoy the Anakonda Amazon Cruises during the morning and disembark to explore the nearby forest for a walk to discover a myriad of different animals and plant species that can only be found in the Amazon basin. In the afternoon, we will visit a canopy tower, built against a giant Kapok tree. The perspective at the top of this observation tower is truly glorious, looming above the lush treetops and providing a view of the sheer vastness of the Amazon Basin. In the evening, we will bravely venture into the river on a canoe to search for black caimans with the help of our flashlights.
Overnight aboard the M/V Anakonda Amazon. (B,L,D)


Day 10: Amazon - Coca – Quito
This morning we conclude our amazon adventure and depart by motorized canoe along the Napo River to Coca, and transfer to the airport for the return flight to Quito. Meeting services and transfer back to the Hotel Patio Andaluz. Overnight at the Hotel Patio Andaluz. (B)


Day 11: Depart Quito
Transfer out to the airport for the flight back home. (B)

Note: Optional extension to the Galapagos Islands.
Remarks