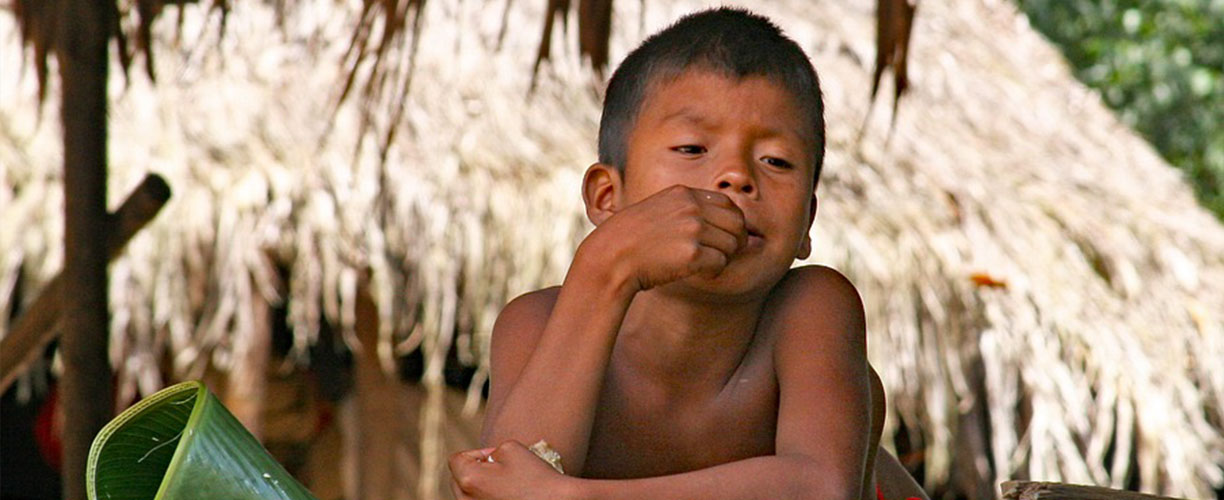 Faces of Panama
Overview / Highlights
7 NIGHTS / 8 DAYS
Spanning a mere 80 miles coast to coast, Panama is much more than the Canal Crossing and offers a kaleidoscope of tourist attractions. Here the savvy traveler will find a wide range of tropical landscapes, pristine beaches, rain forests, cloud forests, over 900 species of birds, 1500 species of trees and over 7000 vascular plants. Panama boasts fifteen hundred islands spanning the Caribbean and Pacific coasts, spectacularly beautiful mountains and highlands, historical sites from a rich past as an international crossroads, seven living Indian cultures and a cosmopolitan capital city with a non-stop nightlife, yet within ten minutes from, and with easy access to National Parks and open wilderness.
Countries

Panama

Cities

Panama City
Tour Program Summery Outline

Day 1 : Arrive Panama City
Day 2 : Panama City (Panama City Tour)
Day 3 : Panama City (Partial Panamá Canal Transit)
Day 4 : Panama City (Embera Indigenous Community)
Day 5 : Panama City (Panama Canal & Rainforest Tour)
Day 6 : Panama City (Portobelo by Train "The Golden Route")
Day 7 : Panama City (Rainforest Discovery & Gatun Expedition)
Day 8 : Depart Panama

Click   icon to enlarge map to full screen view and back 

Features

6 night accommodations at Bristol Boutique Hotel, Panama City
Hotel tax and services charges
Breakfast daily.
Other meals as per itinerary B=Bkfst; L=Lunch; D= dinner)
All private transfers to / from airports and hotels.
Panama City Tour





Panama Canal Partial Transit (shared tour, but private guide and transfers)
Embera Indians Indigenous Community
Panama Canal Rainforest Boat Adventure
Portobelo by Train "The Golden Route"
Rainforest Discovery & Gatun Expedition
All services on private basis
Locally hosted by English speaking guides
Interest
Adventure / Eco Tours / FAMILY ADVENTURES / Flora / Historical
Day 1 Arrive Panama City
Meeting services upon arrival to Panama and transfer to the Bristol Boutique Hotel. This afternoon, a guided tour Panama City. Our first stop during this historical site tour will be the ruins of "Old Panama," the first city on the Central American Isthmus founded by the Spanish and later plundered by the famous pirate Henry Morgan in 1671. From here we will continue to the "Casco Antiguo," ("Old Quarters") built in 1673. The architecture is a delightful combination of Italian, French and Spanish architectures of that period. En route, you will get a panoramic glimpse of the most modern part of the city, as well .We will visit the Independence Plaza, pass in front of the Presidential Palace, Plaza Bolivar, the Grand National Theater, the Church of San José, the Cathedral, the Bóvedas (prison chambers) and the French Plaza's Walkway, which offers a beautiful view of the Panama City.
Overnight at the Bristol Panama City Hotel.


Day 2: Panama City (Panama City Tour)
This morning a guided tour Panama City. Our first stop during this historical sites tour will be the ruins of "Old Panama," the first city on the Central American Isthmus founded by the Spanish and later plundered by the famous pirate Henry Morgan in 1671. From here we will continue to the "Casco Antiguo," ("Old Quarters") built in 1673. The architecture is a delightful combination of Italian, French and Spanish architectures of tha t period. En route, you will get a panoramic glimpse of the most modern part of the city, as well .We will visit the Independence Plaza, pass in front of the Presidential Palace, Plaza Bolivar, the Grand National Theater, the Church of San José, the Cathedral, the Bóvedas (prison chambers) and the French Plaza's Walkway, which offers a beautiful view of the Panama City.
Overnight at the Bristol Panama City Hotel. (B)


Day 3: Panama City (Partial Panamá Canal Transit)
This morning you will be picked up at your hotel by our driver for a short ride to the Flamenco Marina, in Amador, where you will transfer to our outfitter's coach bus for the 40 minute drive to the town of Gamboa, half way up the Panama Canal, where you will board the Panama Canal transit day cruiser. The journey begins where the Chagres River flows into Gatun Lake, 85 feet above sea level. Cruising southbound, the first highlight of the day will be crossing Gaillard Cut, the narrowest section of the Panama Canal. The 8-mile long portion of the waterway was carved through rock and shale between 1904 and 1914 and it is flanked by the backbones of the Continental Divide. The original width of Gaillard Cut was 302 feet. In order to accommodate to the demands of today's transit needs, the Panama Canal Authority recently completed the monumental task of widening the Cut to 630 feet in straight sections and up to 730 feet in curves. This allows for unrestricted two-way traffic of Panamax vessels, the largest ships that can currently fit in the Panama Canal locks. The majestic Centenario Bridge soars over Gaillard Cut.

As the cruise continues you will reach the first set of locks that you will cross today. At Pedro Miguel locks the ship will be lowered 30 feet into Miraflores Lake. While you enjoy lunch on board, you will reach Miraflores Locks, which are the tallest in the canal's locks system due to the extreme tidal variation of the Pacific Ocean. In two steps, the ship will be lowered from 55 feet above sea level to sea level. The transition from fresh water from the lake and lock chambers to salt water in the Pacific Ocean takes place here.

Before leaving the Panama Canal and entering the Pacific Ocean you will sail under the bridge of the Americas, which raises over 330 feet above sea level reuniting the land divided during the construction of the canal and forming a link on the Pan-American Highway.
Overnight at the Boutique Hotel Bristol Panama. (B,L)


Day 4: Panama City (Embera Indigenous Community)
After breakfast, we will take a short 30-minute bus ride to Chagres National Park and then embark on a fascinating cultural trip. Upon arrival at the National Park, we will enjoy the breath-taking beauty of the rainforest while aboard small or motorized canoes that take us through Lake Alajuela and the Chagres River until we reach the friendly people of the Embera Community. We will enjoy learning about their culture and traditions and have lunch in their thatched huts. This will be most definitively an unforgettable experience. You will have the opportunity to go for a refreshing swim before we return to the city at the village's beautiful tranquil natural pool or at a waterfall, which is approximately 20 minutes walking distance. You will also be able to purchase some of their incredible crafts.
Overnight at the Boutique Hotel Bristol Panama. (B,L)


Day 5: Panama City (Panama Canal & Rainforest Tour)
The nearest national park to the city is the Metropolitan National Park (MNP) located at 15 minutes distance. It is one of the few tropical forests located within a city in all Latin America. Also, it is part of the Inter-oceanic Biological Corridor composed of diverse sheltered areas which extend from the Pacific to the Atlantic. At MNP you will find over 200 species of birds, as well as two and three-toed sloths. The MNP offers trails for nature observation, environmental interpretation, a watchtower (where you can observe the Panama City and its surroundings), a bookstore and a store where crafts are sold. After the Rainforest visit, you will have lunch at the Causeway Amador and later proceed to the Miraflores Locks. Of th e three sets of locks in the Canal, this is the closest to Panama City. You will observe the magnitude of this engineering marvel, which operates a century later using the same hydraulic system since its inception. There will be a short audiovisual presentation and other exhibits at the Visitor's Center.
Overnight at the Boutique Hotel Bristol Panama. (B)


Day 6: Panama City (Portobelo by Train "The Golden Route")
Departure early morning from your hotel, you'll head to the train station in Panama City to travel along the famous Trans-Isthmian (Panama Canal) Railway. Learn about the history of this railway system, which was built in the 1850s and played a vital role in the construction of the Panama Canal. Upon arrival, you will be transfer to Portobelo, was the name given to perhaps one of the most ideal and well protected entrances along the Caribbean coast of Panama. A safe haven for The Conquistadors and a juicy target for the pirates trying to get their hands on the treasures of the New World. It is said that Sir Francis Drake, a famous pirate that attacked the City, died off the coast of this area in 1596 and was supposedly buried in a lead coffin near what is now known as Drake Island. Portobelo was the Atlantic terminal of two trails that crossed the rainforests of the isthmus, Camino Verdadero and Camino de Cruces. Once enough goods were accumulated at Portobelo, caravans of ships began their return journey to Spain, accompanied by escort ships with enough fire power to protect them from most, but not all pirate attacks. During its heyday, Portobelo had a military compound composed of batteries and forts that protected the entrance of this beautiful bay. It was perhaps the most heavily fortified Spanish control point along the coasts of the Americas. Nonetheless, this strategic and well –guarded fort was not enough to impede the fleet of pirate ships commanded by the Englishman Edward Vernon, who captured and destroyed it in 1739. Enjoy this important historical site, visit the Church of the Black Christ, and learn its interesting legend. Return to Colon and then to Panamá City. On your way back to Panama City, you'll stop at the Panama Canal for a guided visit of the Gatun Locks. You'll learn about this intriguing system of locks, one of the greatest engineering projects to be undertaken at its time.
Overnight Hotel Bristol Panama. (B,L)


Day 7: Panama City (Rainforest Discovery & Gatun Expedition)
The Panama Rainforest Discovery Center is located on the famous Pipeline road, bordering the Soberania National Park, just 40 min from Panama City. This Discovery Center is an ecotourism and environmental education project with a focus on conservation of birds through environmental sustainability projects, thus making it one of the most renowned places in the world for bird watching. In fact, here was established a record number for a bird count organized in 1985 by the Audubon Society, when 385 species were identified in 24 hours. Start the tour in the visitor center, observing up to 13 species of hummingbirds that they have recorded in our feeders. Continue on the trails observing birds of the undergrowth such as manakins, anteaters and trogons. Go up our 40-meter tower to contemplate birds in the canopy such as the famous blue cotinga and toucans, and visit the viewing platform by the lake to see aquatic birds like wattled jacanas, least grebes, herons and snail kites. As well as birds you will be able to observe other animals like monkeys, crocodiles, coatis, and butterflies.

This afternoon enjoy a panoramic tour along the world famous Panama Canal. This trip will take you into the Gatun Lake, a major part of the Panama Canal, where you will see and learn about the fascinating tropical wildlife of the lake and the surrounding forest. You will explore some of the islands formed after the creation of which was once the largest artificial lake in the world. With a little luck and with the help of a naturalist guide, you can see crocodiles, caimans, sloths, monkeys and a host of birds native to the area.
Overnight Hotel Bristol Panama. (B,Box L)


Day 8: Depart Panama
Private transfer from Hotel to Tocumen International Airport for your flight back home. (B)
Remarks