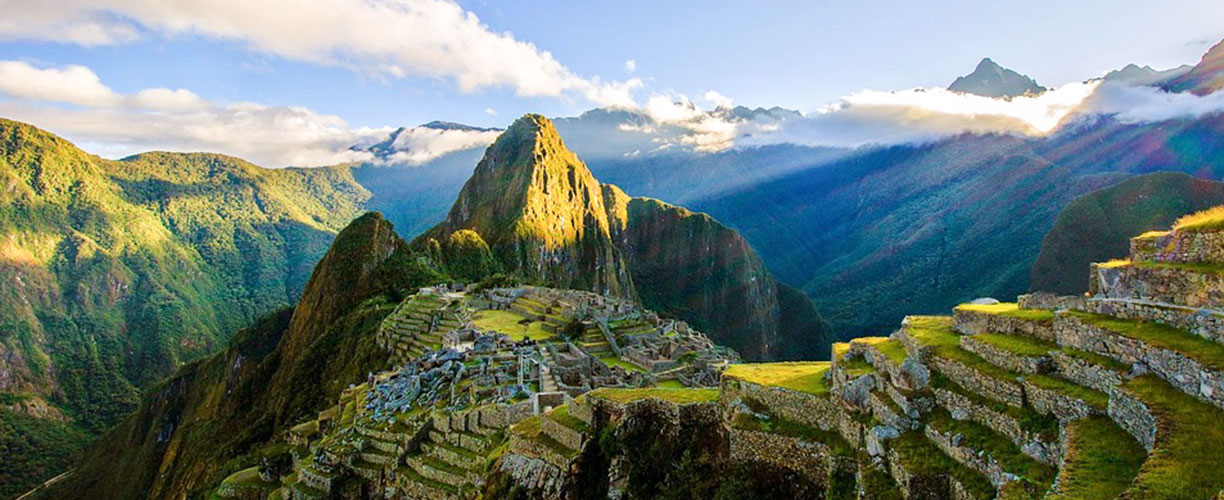 Peru, Mysteries of the Inca Civilization by Private Jet
Overview / Highlights
6 NIGHTS / 7 DAYS
Once home to the mighty Incan Empire, Peru provides a fascinating contrast between the ancient and modern worlds. Diverse cultures blend old and modern traditions forging a cultural medley that evolves daily. Peru is home to some of the world's wildest and amazing landscapes, sure to be etched in your memory forever. A kaleidoscope of cultures, mesmerizing nature and a turbulent colonial past created one of the most intriguing cultures in South America and the world. You're invited to follow the paths of one of the most powerful, remote civilizations where ancient ruins and breathtaking vistas awaits your every turn. Walk along historical plazas, trek ancient ruins surrounded by amazing landscapes, and ride through the Sacred Urubamba Valley and immerse yourself in Peruvian culture and tradition. You'll meander off the beaten path offering authentic understanding of this alluring, mysterious region. Both, rugged, and quaint, as you traverse on a unique private guided experience along unforgettable backcountry.
Countries

Peru

Cities

Lima, Urubamba Valley, Machu Picchu
Tour Program Summery Outline

Day 1 : Arrive Lima
Day 2 : Lima / Cuzco – Sacred Valley of Urubamba
Day 3 : Sacred Valley of Urubamba
Day 4 : Sacred Valley of Urubamba
Day 5 : Sacred Valley of Urubamba / Machu Picchu
Day 6 : Machu Picchu / Cuzco
Day 7 : Depart Cuzco

Click   icon to enlarge map to full screen view and back 

Features

All transfers and tours on private basis.
Locally hosted by English speaking guide / Escort.
All entrance fees mentioned in the itinerary are included
Breakfast daily
Meals mentioned in the itinerary are included.
1 nights at the Belmond Miraflores Park Hotel in Lima.





Unique Culinary experiences throughout.
Full day activities in Lima.
3 nights stay at Rio Sagrado Hotel in Urubamba Valley.
3 full day tours in Urubamba Valley.
1 nights stay at the Sanctuary Lodge in Machu Picchu
Visit Machu Picchu with trekking options.
Luxury Hiram Bingham Train
Interest
Adventure / Beaches / Cosmopolitan Cities / Culinary / Cultural / Eco Tours / Family Adventures / Flora / Luxury / Nightlife
Day 1: Arrive Lima (Sample Unique Visits)
Meet and greet airport services expedite immigration process at the FBO.Transfer to the Belmond Miraflores Park Hotel.
Notes:
1. Most arrivals tend to be at night … if you arrive in the evening we will transfer your party to the Belmond Miraflores Park Hotel and start the tour the next day. If you opted to arrive in the morning then you begin your visit that same day as appearing below.
Please note that our tours are always custom-designed. We are providing you with a sample suggested program… many other unique local cultural activities will be provided based on each client preference.
*Daytime dress code (average temperature 68°F winter Jun to Oct and 72°F summer Dec to Mar): Comfortable Casual: Comfortable walking shoes, light jacket and sunblock.
The first day activities:
Morning Visit Colonial Lima, Modern Lima and private showing at the Larco Museum.
After city tour Lunch at Cala – Terrace seating at selected tables.
4pm the bohemian Barranco District including Testino photographer exhibition.
Meeting with Chef Penelope and go to a local food market to buy the freshest ingredients and go to her apartment for dinner.
The Belmond Miraflores Park Hotel in the best location in an oh-so stylish part of town.
Set in one of Lima's most fashionable areas, Belmond Miraflores Park takes you straight to the heart of all that's best about this great capital city. This luxury hotel combines personalized service, exceptional dining and indulgent facilities to create the perfect base from which to explore. Colonial architecture, superb museums with Inca gold and Pre-Columbian antiquities, and glamorous shops, bars and restaurants are all just moments from the hotel.
Day 2: Lima / Cusco – Urubamba Sacred Valley (Special Activities)
Transfer to the airport for your private flight to Cusco.
In Cuzco light nutritious luxury lunch at the Terra Andina Hotel built in the late 19th century.
Continue to Sacred Valley with stop Pablo Seminario Ceramic Studio + stop at Awana Kancha textile center
Check-in to the Belmond Hotel Rio Sagrado Hotel in the valley.
Enjoy the amazing setting … get a massage overlooking the river.
Dinner at private section of the hotel.
*Daytime dress code (average temperature 70°F daytime down to 45°F in the evenings:
Comfortable Casual: Comfortable walking shoes, light jacket and sunblock.
Rio Sagrado Hotel in Urubamba Valley is simply an oasis rich with the spirit of the Incas. Set in lush gardens beside the rushing Urubamba River, this tranquil Andean hideaway is an adventure for the senses. Everything here enchants as it soothes. Relax with yoga on the riverbanks or explore the Sacred Valley on horseback. Float in the heated pool or indulge at the Andean-style Mayu Willka Spa. As birds jabber overhead and wind whispers in the emerald trees, find your own harmony in the elements.
Day 3: Urubamba Sacred Valley (Special Visits & Activities)
Full Day visits to the Maras salt pans and the experimental agricultural terraces of Moray
Lunch served at Mil, way up in Peru's mountains, 11,500 feet above sea-level, at a new restaurant from Virgilio Martínez, owner of the sixth-best restaurant in the world.
After lunch visit the ruins of Ollantaytambo, once an important Inca administrative center.
Dinner at Belmond Hotel Rio Sagrado Sacred Valley.
Day 4: Urubamba Sacred Valley (Special Visits & Activities)
Visit colorful Chinchero Market situated within the Chincero Andean village in the Sacred Valley
Also visit an authentic traditional Quechua village to learn about Andean life and the weaving tradition from Awamaki artisans.
Today… A Feast for the Senses. While there are no shortage of unique Peru culinary experiences, there is no dining experience that can rival the private, luxury picnic lunch overlooking Huaypo Lake.
Dinner at Belmond Hotel Rio Sagrado Sacred Valley
Day 5: Urubamba Sacred Valley – Machu Picchu (Special Activities)
Today we head to the pinnacle wonder of Peru. Despite reams of publicity, Machu Picchu and nearby is still shrouded in mystery and wonderment.
For the more adventurous and able bodied persons we offer to hike from Km 104 along the railway to Machu Picchu trekking amid exquisite beauty of the natural surroundings. On this full day hike on the Inca Trail you arrive at Machu Picchu on the very same trail used by the Incas, you enter the citadel through the legendary Sun Gate.
Okay… so this is a bit too much for you…. We got you covered! Have you ever dreamed of traveling through the Peruvian Andes on a train modeled on the Pullman cars of the 1920s. The Belmond Hiram Bingham luxury train not only makes this possible, it turns a magical journey into an unforgettable Experience, complete with personalized service that takes care of every last detail on your trip.
Just shy of 600 years ago, a small plateau between two lushly forested peaks high in the Andes became a building site for the Inca Empire's greatest city. This citadel in the clouds was abandoned only 100 years later… but Spanish invaders never found Machu Picchu. It would be the explorer Hiram Bingham to discover this magical wonder on an expedition in 1911.
Perched 8,200 feet above the valley, this significant archaeological find is situated along remote mountains, amid a semi-tropical jungle and therefore was hidden for 400 years until discovered by Hiram Bingham of Yale University. Once you ascend to the ancient citadel to explore the temples, altars and more than 200 buildings.
Dress Code: As with travel to almost anywhere along the equator, layers, layers, and more layers. Temperatures will swing from morning to midday to afternoon and evening. So if it's hot, you reduce the layer and when it's cold, add a layer or more on.
Generally in Machu Picchu it is hot during the day and cold at night. You must be prepared, because the weather fluctuates. The ideal thing is carry a backpack, a sweater of wool and a jacket. During the day you can use a t-shirt and a comfortable pair of pants (and good hiking shows). In the dry season (May- November) the sun makes us wear sunglasses, a hat and sun block. Keep in mind that Machu Picchu is a part of the Amazon jungle, and the rains are present in all the seasons. In the hottest period the temperature is approximately 79ºF, in the coldest early mornings in June and July the temperature can drop to 36ºF. Its annual average temperature is 61ºF. You can clearly make a difference between two seasons: the rainy season (November to March) visitors are recommended to bring appropriate clothing and during the strong sun season (April to October), with a notable increase in temperature. The best months to visit Machu Picchu are May to October.
Belmond Sanctuary Lodge is the only hotel located adjacent to the mystifying ancient Inca citadel. As the only Machu Picchu hotel, you'll enjoy exceptionally easy access from early morning to late afternoon and allowing you to explore the citadel when most of the day visitors and buses have left. Sit out on the terrace and savor Peruvian cuisine based on produce grown on the Lodge's own plot: this delightful hideaway is the perfect place to relax after a day packed with adventure.
Day 6: Machu Picchu – Cuzco (Optional Activities)
If you prefer, we can add another day in Machu Picchu and offer you a variety of activities and amazing adventure. But most visitors use the 2 day / 1 night visit and head back to Cuzco, for this option we recommend as follows:
This morning a second day to visit Machu Picchu for additional picture opportunities. Explore the ancient citadel and its temples, altars and more than 200 buildings. For those seeking a bit more adventure, we suggest a hike along steep stone-paved trail of Huayna Picchu, the pyramid-shape mountain above Machu Picchu for a breathtaking view of the site.
In the afternoon we board the Hiram Bingham for our rail return to Cuzco. Begin your journey back with a welcome cocktail. Late brunch and gourmet lunch. The return trip includes a fine dining experience at dinner. Arrive in Cuzco and transfer to the Belmond Palacio Nazarenas Hotel Cuzco.
The Belmond Palacio Nazarenas Hotel Cuzco is built on Inca foundations where rich history meets modern indulgence in Cusco's fairytale hideaway. The hotel preserved all that is precious: original Inca stonework, colonial frescos and gold-framed paintings. Discover a fabulous spa, the city's first outdoor pool and daring cuisine from leading Peruvian chefs.
Day 7: Depart Cuzco
Today you say farewell to this wondrous experience… sure to be etched in your memory forever!
Remarks