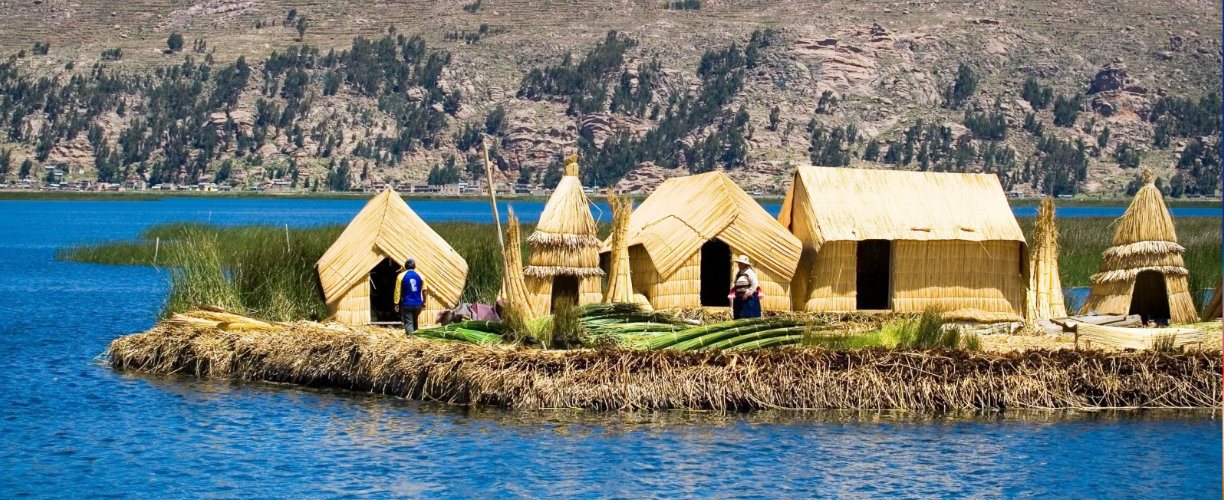 Peru Exploration in Luxury
Overview / Highlights
10 NIGHTS / 11 DAYS
This 10-night / 11-day tour of Peru's was designed with the curious demanding traveler in mind, offering unique, off the beaten path visits to Peru's main destinations, telling the story of the Incas, a short-lived mysterious ancient civilization whose origins are unknown. The only testament left behind are remains of ruins, magnificent temples, and large cities they constructed, preeminent among are the ruins of Machu Picchu. This tour will introduce you to the enchantments and heritage of Peru in style and luxury utilizing the best hotels Peru has to offer. The tour sojourns amid a wide array of mysterious archeological riddles, including Machu Picchu, Ollantaytambo Fortress, colonial Cuzco and Lake Titicaca, home to the floating islands of the Uros, an ancient Indian lake tribe, maintaining traditions and way of life as they have for centuries.
Countries

Peru

Cities

Lima, Cuzco, Machu Picchu, Lake Titicaca
Tour Program Summery Outline

Day 1 : Arrival in Lima
Day 2 : Lima (City Tour)
Day 3 : Lima / Cuzco - Sacred Valley of Urubamba
Day 4 : Sacred Valley ((Pisac Market & Ollantaytambo)
Day 5 : Sacred Valley (Moray, Maras and Misminay)
Day 6 : Sacred Valley - Machu Picchu (Visit Ruins)
Day 7 : Machu Picchu - Cuzco
Day 8 : Cuzco (City Tour and Nearby Ruins)
Day 9 : Cuzco / Juliaca - Puno (Lake Titicaca)
Day 10 : Puno (Lake Titicaca)
Day 11 : Puno / Lima – Departure

Click   icon to enlarge map to full screen view and back 

Features

Internal airfare within Peru
2 night in Lima
3 nights in Cuzco
3 nights Sacred Valley
1 nights in Machu Picchu
2 nights in Puno (Lake Titicaca)





Breakfast daily
Other meals as per itinerary
City Tour & Ruins Cuzco
Full day Urubamba Valley, Pisac Market & Ollantaytambo
2-day Tour Machu Picchu Tour: train, bus, meals, tour and entrance fees
Lima City Tour & Museums
Transfer to/from airports/hotels
Hotel tax and service charges
Locally hosted by English Speaking guide
Interest
Adventure / Culinary / Cultural / Eco Tours / FAMILY ADVENTURES / Flora / Historical / Luxury / Nightlife
Day 1 - Arrival in Lima
Welcome to Lima, gateways to the fascinating regions of Peru, one of the most interesting cities in South America. For many visitors Lima is merely an unavoidable stopover; a sprawling, chaotic, disorganized metropolis; the starting and ending point on their trip to more interesting and exciting gems Peru has to offer. But this assumption is misleading. Lima is much more than a gateway and rushing through this amazing city you might miss a vital part of what Peru is today. Lima is a standalone destination and warrants attention. Take your time to acclimatize yourself, look behind the sometimes chaotic, maybe less then peasant surface and discover what this metropolis has to offer and be prepared to be pleasantly surprised. Famous for its Spanish Colonial architecture, extraordinary museums and cuisine. Lima is internationally recognized as the "Gastronomic Capital of the Americas", and its cuisine is considered among the most diverse and exquisite in the world on par with French cuisine. Meeting services upon arrival to the city dubbed the "City of Kings" and transfer to your hotel. Overnight at the Belmond Miraflores Park, Ocean View Junior Suite.


Day 2 - Lima (City & Museums Tour)
Founded in 1535 by the Spanish Conquistador Francisco Pizarro, this colonial city became the political and military capital of the New World until it was declared the capital of Peru in 1821. We begin our tour of Colonial and Modern Lima, "City of Kings." Colonial sites include the lovely Plaza Mayor with its cathedral and palace, and the exquisite Torre Tagle Palace modern day seat of the Ministry of Foreign Affairs. Continue with a visit to the Gold Museum followed by the Larco Herrera Archaeological Museum which exhibits the world's largest private collection of pre-Columbian art boasting an astonishing array of gold, silver, semi-precious stones and textiles. Next, we visit modern Lima, drive along the exclusive residential areas of Miraflores and San Isidro. Evening free to take in a dinner and show or simply relax at your hotel. Overnight at the Belmond Miraflores Park, Ocean View Junior Suite. (B)


Day 3 - Lima / Cusco / Sacred Valley
Early morning transfer from the hotel to the airport for a short but spectacular flight over the snowcapped Andes to the oldest inhabited city in the hemisphere, Cusco, at an elevation of 11,440 feet. Upon arrival a host will meet and assist you in transfer to the Sacred Valley at 8,200 feet of altitude.
Continue with a visit to Awana Kancha, an open-air museum of the Andes showcasing the South American Camelids such as llamas, vicuñas, guanacos and alpacas in their native environment. You will also enjoy a spinning and weaving demonstration of ancient techniques on how to make clothing from the wool fibers of these animals. You can also see native flowers and some agricultural terraces from the Inca times.
Overnight at the Belmond Rio Sagrado, Deluxe Terrace. (B,D)


Day 4 - Sacred Valley (Pisac Market & Ollantaytambo)
Morning departure for a drive through the fertile countryside of the Urubamba Valley to the colonial village of Pisac where a unique Indian Market takes place daily. The variety of products offered is overwhelming, from pottery with reproductions of archaeological pieces, to all kinds of textiles, jewelry and Peruvian handicrafts. During your visit to this bustling marketplace you will have the opportunity to bargain with the artisans and indigenous traders. Grab the items you like; you will hardly see the same one again.

We break for lunch and Peruvian Paso Horse Show at the Wayra. "Caballo de Paso" known worldwide for their smooth gaited movements and unusual spirit. No other horse combines strength, intelligence and beauty as the Peruvian Paso Horse. The particular characteristic of the Paso Horse is precisely the reason for its name: the sublime charm of its typical step. As it walks, its front legs step very high and forward while the hooves sway to the sides in a graceful and synchronized movement. Enjoy a delightful demonstration of the skills of this unique member of the horse kingdom. Lunch at the celebrated Wayra at "Sol y Luna" in the Sacred Valley.

Continue to the Ollantaytambo archaeological complex, the Incas built it as a fort that included a temple, agricultural terraces, and an urban area. There are two distinct sectors: The religious and worship zone, and the residential area. Ollantaytambo was an important administrative center with probable military functions if one considers the walls and towers. There are also traces of ancient roads and aqueducts. The town of Ollantaytambo is called a "Living Inca Town" since the inhabitants maintain very old practices and customs.
Overnight at the Belmond Rio Sagrado, Deluxe Terrace. (B,L,D)


Day 5 - Sacred Valley (Moray, Maras and Misminay)
Driving along unspoiled and picturesque Andean communities on your way to the Incan agricultural experimental center of Moray, famous for its sunken amphitheater, made up of four circular terraces, which appear to fade away into the earth like an artificial crater. The site was apparently an Inca agricultural research station filled with fertile earth and watered by complex irrigation systems, designed for experimenting with crops at various altitudes (some of which run down to depths of 100 meters).

Continue to the impressive Maras salt pools formed by water emerging from a lake inside a mountain in the Urubamba Valley. An amazing view of evaporating ponds for the extraction of salt. Learn about ancestral techniques, which are still used, in agricultural, irrigation and salt-recollection tasks, as well as in Andean festivals and rites.

Next we visit the community of Misminay, elevation 3700 meters, in the Urubamba Valley, where the townsfolk will greet you. You will be able to join with the families as they perform their daily tasks, like plowing or harvesting, depending on the time of year. You will enjoy a traditional lunch made by the community women from ingredients organically grown in their fields.
Overnight at the Belmond Rio Sagrado, Deluxe Terrace. (B,L,D)


Day 6 – Sacred Valley - Machu Picchu (Visit Ruins)
This morning you to step aboard the Vistadome train service to Machu Picchu. The train cars provide beautiful panoramic windows offering unsurpassed scenic views and photographic opportunities as you enter the Inca's territory in search for Machu Picchu Citadel. With glass surrounding them on all sides, passengers feel as if they are part of Peru's remarkable landscape. The train travels along the river of the Urubamba Valley to Machu Picchu often dubbed the "Lost City" of the Incas. Perched 8,200 feet above the valley, this significant archaeological find is situated along remote mountains, amid a semi-tropical jungle and therefore was hidden for 400 years until discovered in 1911 by Hiram Bingham of Yale University. Upon arrival to the town of Aguas Calientes we transfer to the nearby Inkaterra Machu Picchu Boutique Hotel. A mere few steps from the train station, the hotel is a natural paradise, immersed with the spirit of the mountain, offering screen setting and an Andean Garden of Eden where waterfalls and streams gently cascade through acres of orchids with hummingbirds frolicking in this private cloud forest paradise.

After check-in we resume our adventure taking the minibus that will make awe inspiring ascent to the ancient citadel to explore the temples, altars and more than 200 buildings. Standing at the top of a steep, forested hill overlooking the Urubamba River, the citadel was hidden by dense vegetation for centuries until Hiram Bingham began to clear the site. Today the city has been completely restored and even if it has lost some of its mystery it still remains an unforgettable sight. The tour includes visits to the temples, plazas, palaces, watercourses and residential areas. Afternoon more time to explore the mystical and mysterious citadel on your own. Machu Picchu was built around 1450, at the height of the Inca Empire and was abandoned a mere 100 years later, in 1572, as a belated result of the Spanish Conquest. Theory suggests that most of its inhabitants were wiped out by smallpox before the Spanish conquistadores arrived in the area and it appears that they were aware of a place called Piccho although there is no record of the Spanish having visited the remote city. The Conquistadors defaced sacred rocks in other locations but they are untouched at Machu Picchu.
Dinner and overnight at the Inkaterra Resort & Spa. (B,L,D)


Day 7 - Machu Picchu - Cusco
Morning optional (need to request) visit the ruins once again. If you feel a bit more adventurous, we suggest a hike along steep stone-paved trail of Huayna Picchu, the pyramid-shape mountain above Machu Picchu for a breathtaking view of the site. Afternoon return by train back to Cuzco and transfer to the Cusco at Belmond Monasterio Hotel, a 16th-century former Jesuit seminary, a relic of Spanish colonial architecture with two landscaped courtyards and covered arcades, transformed to a unique hotel. Overnight at the Belmond Monasterio, Superior Room (B)


Day 8 - Cusco (City Tour and Nearby Ruins)
Visitors are caught up in the excitement of touring the ancient capital of the Inca Empire, a delightful combination of Inca and colonial architecture. The tour visits important landmarks such us Cusco's Cathedral, Plaza de Armas and Koricancha "The Temple of the Sun". This tour of the oldest continuously inhabited city in the western hemisphere also includes the nearby ruins of Kenko, Puca-Pucara, Tambomachay as well as the Sacsayhuaman fortress, an imposing example of Inca military architecture. In the middle of the manorial and ample patio of the Museum of Pre-Columbian Art of the city of Cusco, MAP Café is a singular restaurant that surprises through its contemporary proposal that has character and boldness, and which deliciously incorporates the most extraordinary ingredients of the region. The menu includes tasty classics of the Peruvian cuisine, prepared with a very personal touch, as well as original dishes and desserts.
Overnight at Belmond Monasterio, Superior Room (B,L)


Day 9 - Cuzco / Juliaca - Puno (Lake Titicaca)
Transfer to the airport for the flight to Juliaca. Meeting services upon arrival in Juliaca and transfer to Puno on the shores of Lake Titicaca, the highest and largest navigable lake in the world. En-route to Puno we stop at the pre-Inca complex of Sillustani situated on a hilltop overlooking Lake Umayo. Sillustani is a unique pre-Inca complex where we view cylindrical and square shaped hand carved granite (believed to be) funeral towers also referred to as "chulpas". We continue to the Titilaka Hotel. Lake Titicaca located at 12,529 ft above sea level, so it is a good idea to relax and get acclimated to the high altitude so for the remainder of evening. Overnight at Titilaka Hotel in Puno. (B,D)


Day 10 - Puno (Lake Titicaca)
This morning we visit the floating islands of the Uros, an ancient lake Indian tribe, still maintaining traditions and way of life as they have for centuries. The Uros Indians live on these floating islands made by hand from totora reeds that grow in abundance in the shallow waters of the lake. This unique practice dates back to the time of the Incas, and today there are some 45 floating islands in the Bay of Puno. Box lunch and continue by boat to the island of Taquile, the Quechua speaking Indians boasting the world's finest hand weaving techniques which they perfected over the generations. Return to our hotel in Puno for overnight.
Overnight at Titilaka Hotel in Puno. (B,LD)


Day 11 - Puno / Lima – Departure
Transfer to the airport for the flight to Lima and continue home. (B)
Remarks
Not included:
Gratuities of any kind; airport departure taxes; meals unless included in the itinerary.

Please inquire about our special airfares on AMERICAN AIRLINES and LAN for this program.