PERU: Region by Region
Welcome to our Region by Region section. This section is intended to provide more details of each county's regions, highlighting the region's attributes and points of interest, including what to see, best time to see it; suggested length of stay, and more. Moreover, this section provides the independent traveler the opportunity to consider what cities and regions interest them most. While our Pre-designed tour menu provides a wide range of suggested popular tour programs, the Region by Region sections allows you to custom-design the tour of your choice.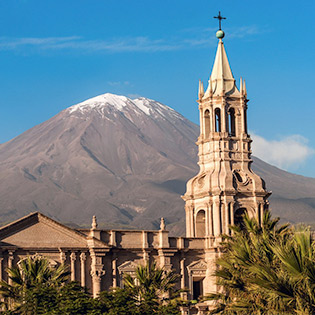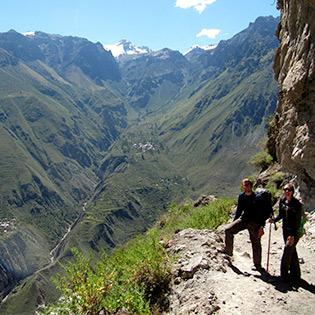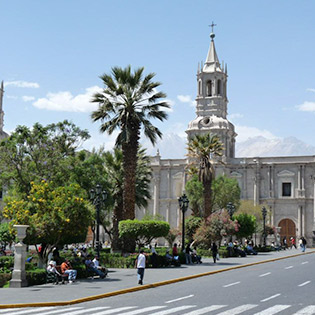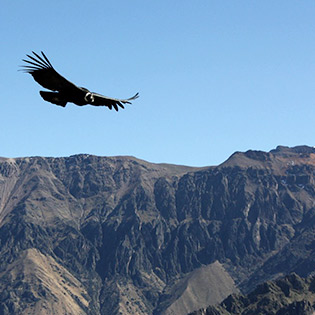 Overview
Arequipa is Peru's second largest city. It is popularly known as the White City because many magnificent buildings are constructed using volcanic white stone. Its main attraction is its colonial heritage, among which Santa Catalina Convent, shuttered to the outside world four centuries, is now open for viewing. Nearby Colca Canyon, the world's deepest, at twice the depth of Arizona's Grand Canyon, is an ideal place to experience traditional Peruvian rural lifestyle, and to watch condors soaring above and below from lookout points within the canyon.
Recommended Stay
Two nights
When to go
Arequipa boasts Peru's most pleasant weather with an average of 300 sunny days per year, making it a perfect destination year 'round. Temperatures show little variations from month to month with average highs in the lower 70's and lows around 50°F.
Highlights
Colonial City Tours: Don't miss Santa Catalina Convent, Plaza de Armas and other colonial landmarks such as the Franciscan Recoleta Convent and the city's Vallecito, St Lazarus and Cayma districts
A visit to Colca Canyon is a must… the world's deepest canyon, overnight stay recommended
El Misti is an active and very symmetrical volcano towering over the white city of Arequipa. There are a variety of half and full day tours and treks offered.
Museo Santuarios Andinos and visit Juanita the Ice Maiden mummy named Juanita is Arequipa's most globally famous attraction. She is believed to have been a sacrificial offering by Inca priests to the volcano Mount Ampato, where she remained buried in snow for over 500 years. In 1995, the scholar Johan Reinhard, a specialist in high altitude archaeology, discovered Juanita's well-preserved remains shortly after the eruption of a neighboring volcano melted the ice that encased her tomb high atop the Ampato's peak.
Cuzco, Capital of the Inca Empire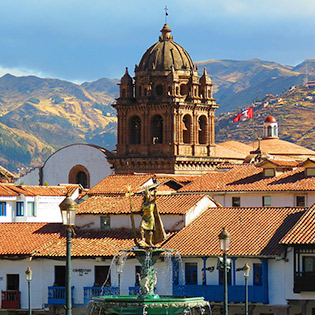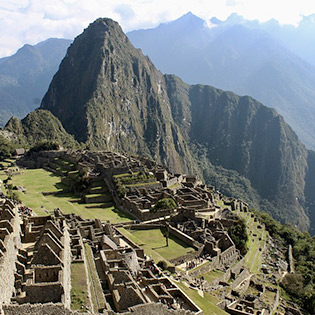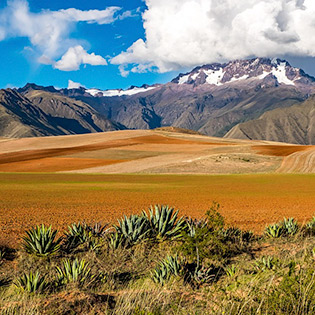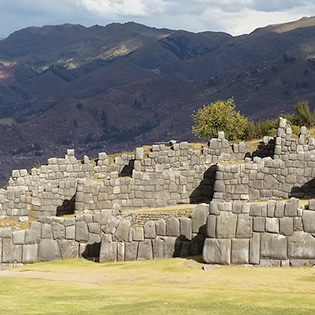 Overview
Welcome to Cuzco, South America's archaeological capital and oldest continuously inhabited city, an important link in the region's travel network. Situated 11,000 feet above sea level along the Peruvian Andes, Cuzco developed, under the Inca ruler Pachacutec, into a complex urban centre with distinct religious and administrative functions. It was surrounded by clearly delineated areas for agricultural, artisan and industrial production. When the Spaniards conquered it in the 16th century, they preserved the basic structure but built Baroque churches and palaces over the ruins of the Inca city. Its legacy as the hub of the Incan empire is readily apparent: Quechua-speaking Incan descendants crowd the centuries-old stone-walled city streets. Cuzco boasts magnificent repositories of colonial art - fine examples can be found in La Catedral and Museo de Arqueológia. West of the city is Machu Picchu, the most spectacular site on the continent. Despite the relentless stampede of tourists, it still retains an air of grandeur and mystery.
Recommended Stay
Three to five nights
When to go
The best time to visit Cusco is from June to mid-September. Though temperatures hover in the mid- to upper 60s throughout the year, the city sees fewer rain showers during its winter months. But this is peak tourist season so expect plenty of fellow visitors. To escape swells of tourists visit during May or between late September and early November. Although weather is unpredictable, the wet season is between late November and April when heavy downpours can delay and dampen exploration.
Highlights
City and the colonial gems of Cuzco including Plaza de Armas, San Pedro market, Temple of the Sun and Convent of Santo Domingo; visit San Cristobal Plaza, the dazzling Quirkancha temple, once covered in solid gold. Visit the city's Main Square & marvel at the masterpieces within the Cathedral; stroll through the bustling San Pedro Market and learn about local farming.
Sacred Valley of Urubamba and local markets, including Ollantaytambo Ruins.
Visit the nearby ruins of Kenko, Puca-pucara, and the royal baths of Tampumachay, also the fortress of Sacsayhuaman, whose gigantic 3-tiered walls are built from 18-foot boulders and weigh over 300 tons.
Visit Machu Picchu, the centerpiece of a Peru tour visiting an Incan citadel set high in the Andes Mountains in Peru, above the Urubamba River valley dating back to the 15th century.
Visit the Inca agricultural experimental center of Moray, famous for its sunken amphitheater, made up of four circular terraces, which appear to disappear into the earth like an artificial crater.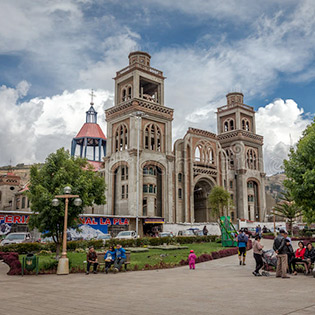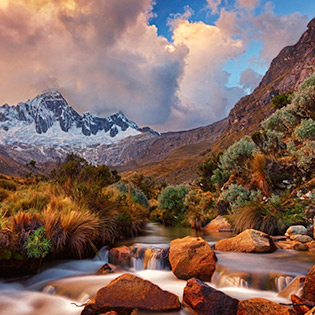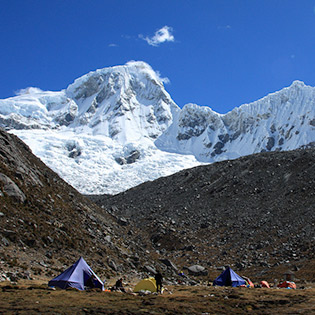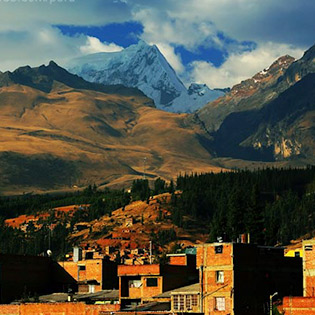 Overview
Huaraz, the most important trekking and climbing base in Peru, is situated in Callejon de Huaylas Valley at the foot of the Cordillera Blanca mountain range. The city is an 8 hr. bus ride from Lima. At an altitude of over 10,000 ft, Huaraz is set in a stunning natural setting of lush valleys, snow-capped mountains, and icy blue lakes. Its unique location makes it the ideal point to organize day hikes in the valley and longer trekking expeditions to the peaks beyond. Huaraz is also gateway to the mystifying Chavin de Huantar fortress temple which dates to 800 BC.
Recommended Stay
Three to seven nights
When to go
Best time to visit is during dry season (May-October). The rest of the year is characterized by continuous rain and cold temperatures.
Highlights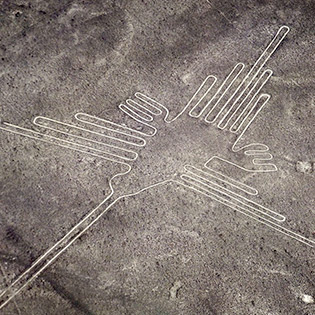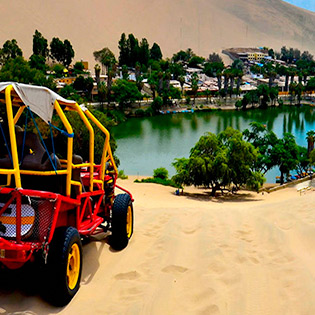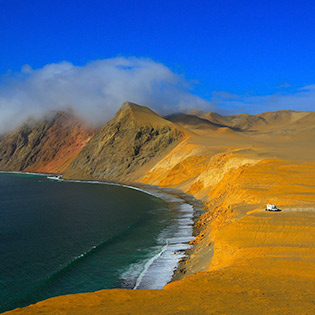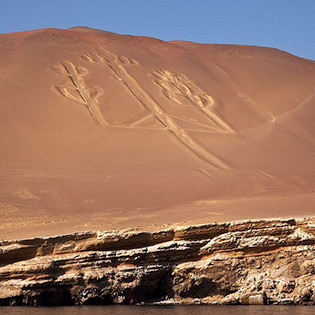 Overview
Nazca, located 280 mi. south of Lima and 100 mi. from Ica, is the most popular departure point for over flights over the famous Nazca Lines. The giant ground drawings are one of South America's most perplexing archaeological riddles, and one of the world's most beautiful works of art. Just outside the city, etched upon Peru's vast, barren Nazca plains, are hundreds of long, ruler straight lines, immense geometric symbols and giant geoglyphs mainly representing curious birds and animals. The lines are best appreciated on daily "flightseeing" trips from Nazca's small airstrip. Flights are also offered from Ica and Lima.
Recommended Stay
One night
When to go
Like all inland southern Peru, Nazca is a year 'round destination characterized by clear skies and hot temperatures averaging 86°F. Temperature variations are barely significant throughout the year, and there is little rainfall.
Highlights
Iquitos, Gateway to the Amazon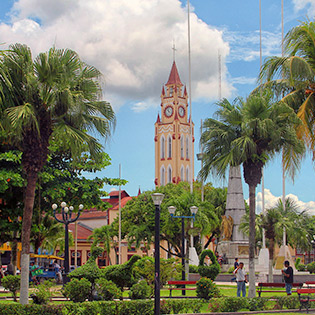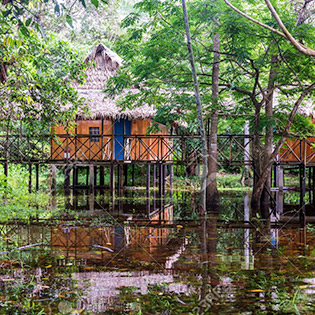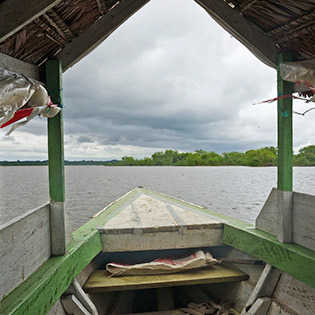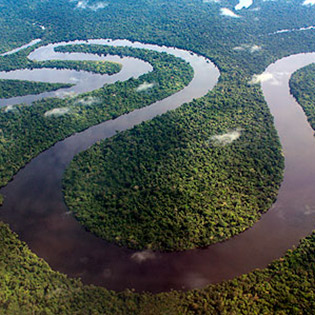 Overview
Located in the heart of the Peruvian rainforest, Iquitos is a border town that is only accessible plane or riverboat. The town offers visitors rich in history, indigenous culture and access to the Amazon River and rainforest. Iquitos owes its existence to Jesuit missionaries who settled the area seeking to save indigenous souls. The rubber boom at the end of the 19th century was a major stimulus to the city's growth and much of the ornate architecture from that period can still be seen today. Surrounded by three rivers - the Amazon, Itaya and Nanay - Iquitos is a large city, but with the feel of a small town with friendly people warmly welcoming visitors. Iquitos is an Amazon Gateway city from which to begin riverboat journeys on the Amazon River or visit jungle lodges.
Recommended Stay
One to two nights
When to go
Iquitos is a year-round destination. If you're sensitive to hot temperatures, you may want to miss the hottest months of September, October and November. However, many people find these months an enjoyable time to visit. On average, temperature in the day goes up to around 32°C (90°F) and falls back down to about 22°C (72°F) at night. There is a slight difference between the wetter and drier months, but this is only by one or two degrees with the wetter season being slightly hotter. The temperature is usually pleasant from day to day and warms to its daily maximum around noon
Highlights
A city tour of Iquitos for an overview of the local history and culture; view the architecture and local markets.
A visit to the floating city of Belén, known as the Venice of Peru. Situated on the south-eastern edge of Iquitos along the Itaya River where many of the homes are tethered to large poles, from which they float upon the river's rising waters or are built on stilts. The local open-air market offers a cornucopia of goods from foods, including fresh fish and meats, to clothing and household goods. The most notable part Pasaje Paquito, an entire block lined with sellers of local plant and animal medicines.
A cruise excursion along the Amazon… from 3 to 6 or 7 night river adventures.
A jungle stay inside the Amazon Rainforest…. Stays from 3 to 7 days.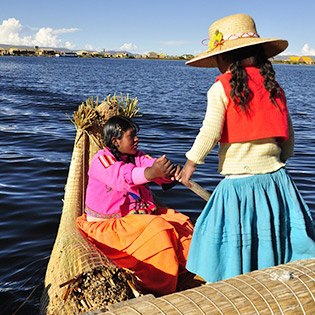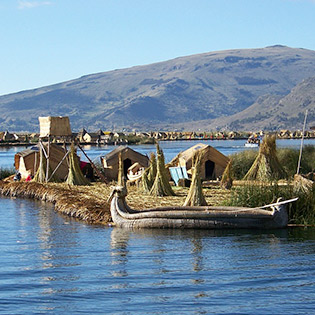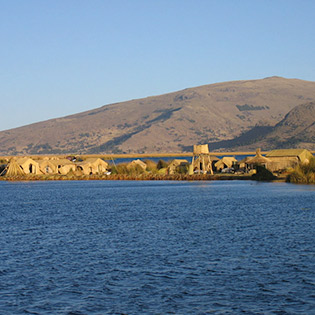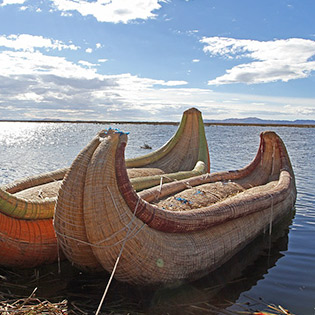 Overview
Puno and the surrounding countryside are cradle of the Aymara civilization, and the Inca Empire's legendary birthplace. Puno, located on the banks of Lake Titicaca, is a popular stopover for passengers heading to La Paz since the lake forms the natural border with Bolivia. The area's most intriguing archaeological site is Sillustani (17 mi. from Puno) where mysterious, ancient, circular towers (chullpas) survive. Other attractions include the Uros Islands, built by the natives with the lake's reed vegetation, Taquile Island (3 1/2 hrs, by boat from Puno) famous for textiles, and Amantani Island (north of Taquile), home of the Yatiri Indians, the Shamans of Lake Titicaca, who will read your future in coca leaves.
Recommended Stay
Two nights
When to go
April-November is the best time to visit the highlands. This season has hot, dry days and cold nights (just over freezing) with May the best month. Winter months (December-February) are characterized by clear, dry mornings with heavy afternoon downpours. Daily temperatures are mild with slightly cooler nights.
Highlights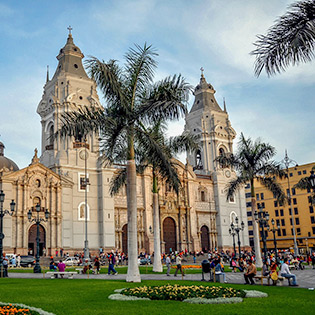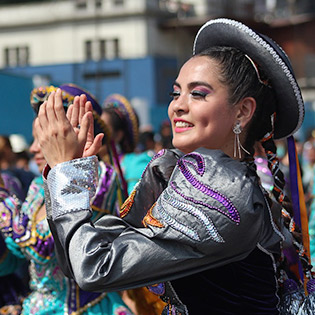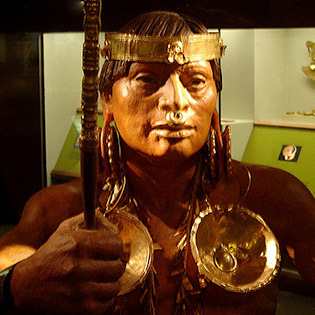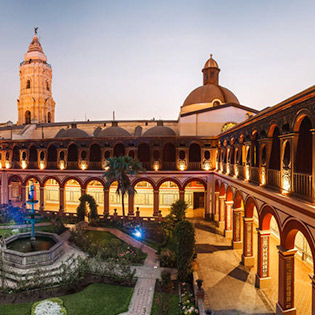 Overview
Historically the "City of Kings," the Peruvian capital was founded in 1535, and today serves as main gateway to Peru's many attractions. It is a city of fine museums and magnificent Pre-Columbian collections, including the Gold Museum (Pre-Columbian gold), National Archaeology & Anthropology Museum (art and archaeology), the Larco Herrera Museum (world class collection of ancient ceramics), and the intriguing Museum of the Inquisition. Oceanfront Lima has beaches, modern residences and gardens in the Miraflores and San Isidro districts. Downtown is more colonial with wide boulevards and centuries-old plazas.
Recommended Stay
One to two nights
When to go
Lima is a year 'round destination because of mild temperatures. During winter (May- November), most days are overcast with persistent coastal fog.
Highlights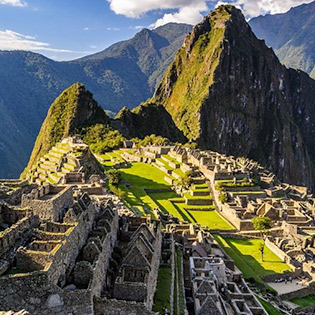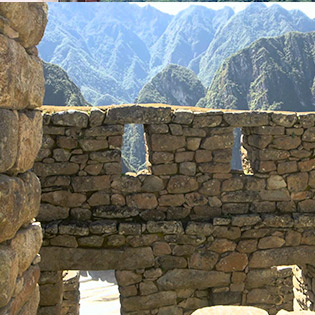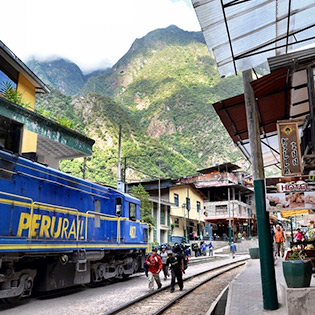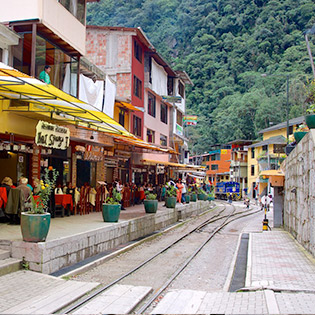 Overview
For many visitors to Peru and even South America, a visit to the Inca city of Machu Picchu is the long-anticipated highpoint of their trip. Often dubbed the "Lost City" of the Incas, Machu Picchu is perched 8,200 feet above the Urubamba River valley, along remote mountains, amid a semi-tropical jungle and hidden for 400 years until discovered in 1911 by Hiram Bingham of Yale University. Built in the 15th century and later abandoned, it's renowned for its sophisticated dry-stone walls that fuse huge blocks without the use of mortar, intriguing buildings that play on astronomical alignments and panoramic views. Its exact former use remains a mystery. Here you will marvel this ancient citadel, exploring the temples, altars and more than 200 buildings. The train station where visitors arrive to visit Machu Picchu, sometimes referred to as Machu Picchu Pueblo, is called Aguas Calientes. The town lies in a deep gorge below the ruins. A virtual island, it's cut off from all roads and enclosed by stone cliffs, towering cloud forest, and two rushing rivers. Despite its gorgeous location, Aguas Calientes has the feel of a gold rush town, with a large itinerant population, slack services that count on one-time customers and an architectural tradition of rebar and unfinished cement.
Recommended Stay
Two to three nights
When to go
Weather in the Andes is generally hard to predict because its mountainous geography spans tall peaks, low valleys, and highland plateaus. This creates many altitudinal zones, each with a different climate and temperature characteristics. That said, the best time to visit the Inca citadel is during the dry season from April to October. For warmer temperatures with light to heavy rains, visit from November to March. The peak months for Machu Picchu are June, July and August. We recommend you consider traveling April and May or September and October. These are months outside the peak season when the weather is still mostly dry. If you can only travel during the high season, be sure to plan and book your tour well in advance.
Highlights
Ascent to the ancient citadel of Machu Picchu and explore the temples, altars and more than 200 buildings.
Hike along steep stone-paved trail of Huayna Picchu, the picture-post card pyramid-shape mountain above Machu Picchu for a breathtaking view of the site.
The little-known KM 104 Inca Trail Express Hike an outstanding mini-trip for those wanting "a taste" of the Inca Trail, but either lack the time or energy for the full 4- or 5-day Inca Trail. There is one day of hiking; second day is at Machu Picchu.
Aguas Calientes means (Aguas - Water, Calientes -hot) hot springs. So they do have hot springs in Aguas Calientes. People who are really exhausted by hiking the trail usually visit this place. Not a very sophisticated place though. Even those who are tried walking in the ruins may find this place useful.
Café Inkaterra located upstream from the train station, this tucked-away riverside restaurant is housed in elongated thatched rooms with views of water tumbling over the boulders.
Manu Cloud Forest, Peruvian Amazon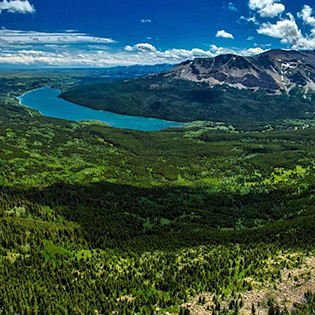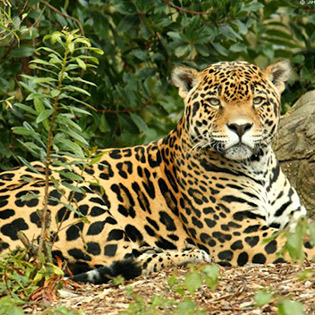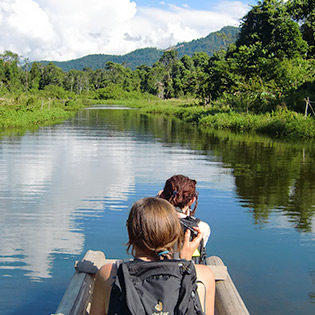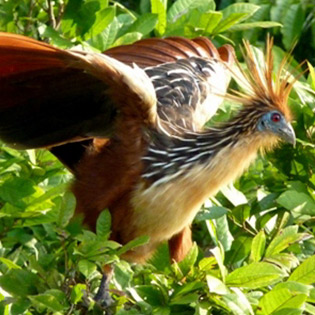 Overview
Manu Biosphere Reserve is a sprawling national park in southeastern Peru, spanning Andean highlands, cloud forest and lowland jungle. It's known for its rich biodiversity, notably hundreds of bird species, including macaws, which feed at clay licks at sites such as Blanquillo. Boats run along the Manu River, past dense Amazonian jungle that is home to jaguars, black caimans and spider monkeys. While most forests in the world have been altered by humans, Manu has remained intact and untouched by civilization. It is therefore possible to observe a variety of animals in their natural habitats, including: Giant Otters, Black Caiman, the majestic Jaguar, the strange Spectacled Bear, the Tapir, the Ocelot, 13 species of monkey, and an estimated one thousand species of birds. Manu contains 10% of the world's vascular plant species, including several species of figs and palms, as well as countless species of medicinal plants that scientists are currently cataloguing. A single hectare of forest in Manu can have up to 220 species of trees, while a hectare of temperate forest in Europe or North America may only have 20 tree species.
Recommended Stay
Three to five nights
When to go
Conditions along the Amazon in Peru can be divided into two seasons: a season of rain from December to April, and a summer season that extends from May to November. A tour to the Manu in any season promises great rewards with impressive opportunities to see and photograph magnificent plant and wildlife, unique to any other place in the land.
December to April: Rain and High Water in the Manu
The rain season in Peru (from December through April) is relatively cooler and wetter. During this time, the Amazon region receives just over half (60%) of its annual volume of precipitation. Temperatures average 86 ° F (30 ° C), which is only 12 ° F (7 ° C) cooler than the summer season average. The disadvantage of visiting the Manu Amazon jungle during the wet season is the swelling of the river basin after accumulating masses of rain from the surrounding Andes. The landscape changes dramatically due to the heavy inflow of rainwater. High Rivers and streams of the basin like Manu, the Madre de Dios, and Tambopata eventually rise 16 feet (5 meters). We can still offer a trip to the jungle in November through January and March through April. This can make your trip more adventurous and special, waterfalls abound! And there are fewer tourists so a more private experience. However, you will need to be flexible and understand that forces of nature can change the itinerary of our trip without notice. We at Manu Rainforest Peru will give you a rewarding trip in any case and will arrange your journey with a mix of exploration and safety.
February is the only month Manu Rainforest Peru suggests not to travel to the Manu jungle. This is the month with the most abundant rainfall causing fast moving rivers impossible for our boats and landslides making roads collapse, forcing us to turn back.
May-November: Amazon Summer (Dry) Season
The time of low water in the Amazon, from May to November, coincides with warmer temperatures. Temperatures average around 98 ° F (37 ° C). Despite its name, low water season can have occasional rainy days and heavy rain showers during an otherwise sunny day. A key difference of a visit to Manu in summer season is that now we can access lakes, bird and animal clay licks, and jungle paths, allowing our small groups to explore much more easily.
Highlights
Take river trips surrounded by jungle teeming with animals and birds; see some of South America most iconic species in close quarters.
Visit local indigenous communities and learn traditional ways of life.
Night walk into the jungle to catch sight of elusive nocturnal creatures.
Gain understanding of life in the treetops from canopy walks.
Visit Lake Salvador deep in the reserved zone and home to a large number of animal and bird species with opportunity to spot some of the more elusive residents of the park including monkeys, caiman, capybara and river turtles.
Visit Lake Otorongo, another strategic spot, home to a range of wildlife. The lake features a specially-constructed tower for spotting birds and animals.
See macaws at clay licks, considered one of the highlights of any visit to Manu National Park where hundreds of the brightly colored birds congregate to obtain salt and minerals necessary to supplement their diet.
Tambopata Reserve, Peruvian Amazon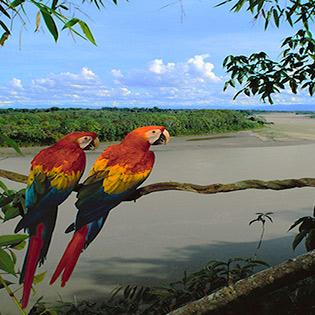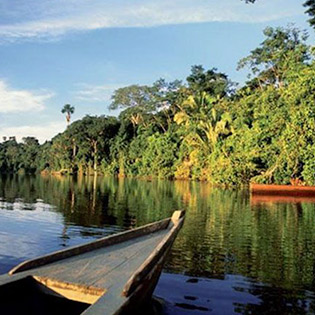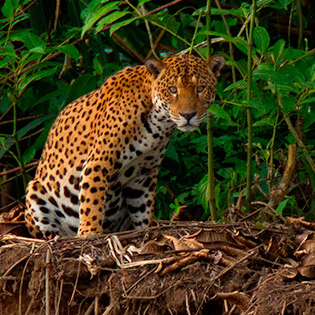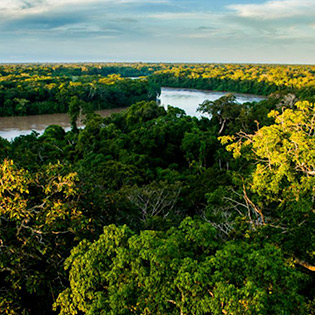 Overview
Tambopata National Reserve is a nature reserve located upstream from Puerto Maldonado along the southwestern Amazon Basin and nearby Andes. It's a massive tract of humid subtropical rainforest encompassing the lowlands south of the Madre de Dios River along the border of Peru and Bolivia. The north-south Heath River defines the borders of Peru and Bolivia boasting two important ecosystems, noted for its biodiversity, representing native flora and fauna with 165 species and 41 families of trees, 103 species of mammals, 1300 species of butterflies and 90 species of amphibians.
Recommended Stay
Three to five nights
When to go
Puerto Maldonado is a year-round destination. The temperature for Puerto Maldonado generally stays between 30 – 33°C (86 – 91°F) during the day and 19 – 22°C (66 – 72°F) at night with only slight monthly change. It can rain at any time of the year in the Tambopata area or anywhere in the Amazon rainforest but it is driest from May until October. The rainy season is from November until April and the rainiest months are from December to February. The drier season is the more popular time of the year for visitors but both seasons can be considered for your trip to the rainforest. Advantages to coming in the dry season are that rainforest trails can be much less muddy and the likelihood of any planned activities getting cancelled will be lower. In addition, since water levels are lower and fishing can be easier. However, it is hotter and travel times can be longer. Upsides to coming in the rainy season are that it is cooler, there are fewer tourists and transport times are quicker. However, there are more mosquitos and hiking trails and areas where passengers embark and disembark boats will be muddier.
Highlights
Take river trips surrounded by jungle teeming with animals and birds; see some of South America most iconic species in close quarters.
Nature walks into the jungle to learn first-hand of endless numbers of species of wildlife and trees and plants.
Visit local indigenous communities and learn traditional ways of life.
Night walk into the jungle to catch sight of elusive nocturnal creatures.
Gain understanding of life in the treetops from canopy walks.
Visit Lake Sandoval Lake with opportunities numerous animal and bird species with opportunity to spot monkeys, caimans and macaws. Arrange to take your tour when the wildlife is at its liveliest: either at dawn or in the hours before sunset.
See macaws at clay licks, considered one of the highlights of any visit to Tambopata National Park where hundreds of the brightly colored birds congregate to obtain salt and minerals necessary to supplement their diet.
Caiman searches during jungle explorations looking for caimans, which are the alligator species present in Central and South America.
Night walk in search of nocturnal rainforest species.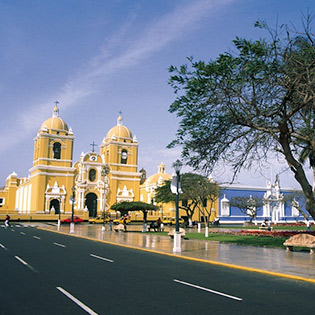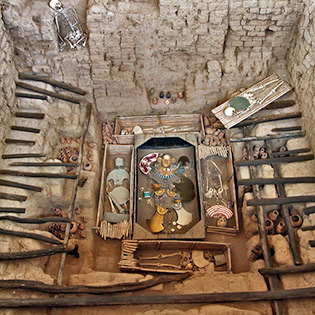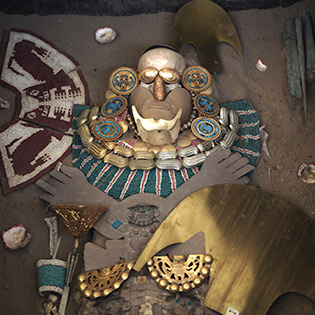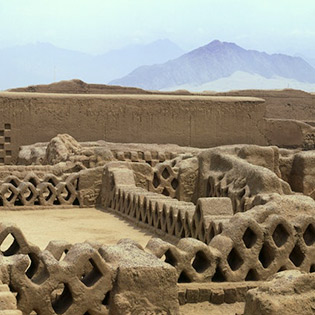 Overview
Chiclayo, located in an oasis in the northern Peruvian desert, is a commercial center an hour by air from Lima. The city is famous for fabulous handcrafts, and the nearby Tomb of the Lord of Sipan, the richest Inca burial ever excavated. Nearby Lambayeque Museum was built to house many of Sipan's astonishing treasures. Also popular nearby is Tucume, a vast complex of 27 prehistoric adobe pyramids. Chiclayo is often visited in conjunction with coastal Trujillo.
Recommended Stay
Two nights
When to go
Chiclayo has warm, sunny weather year 'round with temperatures ranging from 65°F to 80°F. Best time to visit is from May-December since summer (January-April) often brings higher temperatures reaching the mid 90's.
Highlights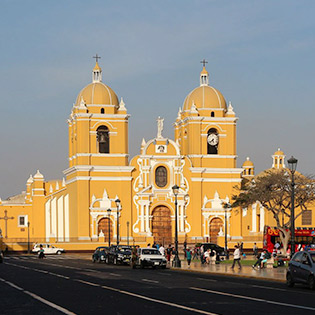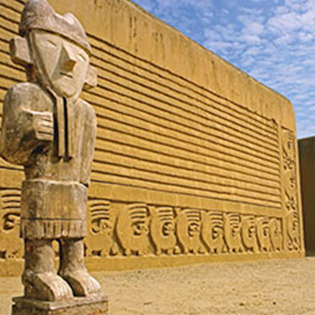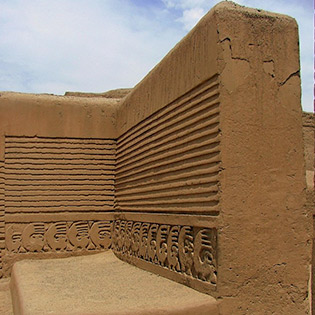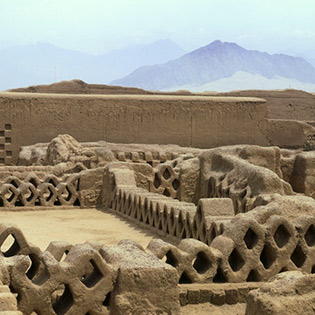 Overview
Trujillo, located in the fertile Santa Catalina Valley, is one of Peru's most beautiful cities. The historic town preserves magnificent aristocratic mansions and many baroque-style temples from the Spanish era. Main nearby attraction is Chan Chan, the world's largest adobe complex, and the imperial city of the Chimu who ruled here before the Incas. South of Trujillo are the Moche pyramids of the Moon and Sun, the tallest adobe structures in the Americas. West of the city, on the coast, Huanchaco is an old-world fishing village whose inhabitants still fish from narrow, pointed reed boats (caballitos) as did their ancestors (and many today offer visitors exciting rides through the surf).
Recommended Stay
Two nights
When to go
Trujillo has warm, sunny weather year 'round with temperatures ranging from 65°F to 80°F. Best time to visit is May-December since summer (January-April) often brings high temperatures that can reach mid 90's.
Highlights
Amazon Ceiba Tops Lodge (from Iquitos)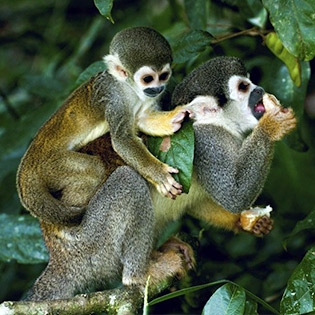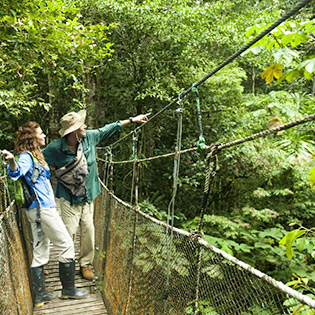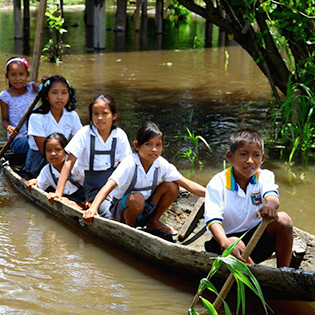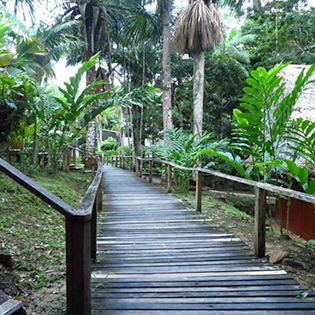 Overview
Peru's Amazon rain forest is one of the last true frontiers on earth— and a thrilling place for an adventure. Peru offers three (3) regions collectively called the Amazon. Tambopata Reserve in the Southern Amazon Basin, the Manu National Park in the Southern Amazon Basin a bit to the north, and the only true Amazon River experience accessible from Iquitos in the northern jungle. All three are great destinations and have their advantages. But for an authentic, in depth Amazon Rainforest experience we recommend this region originating in Iquitos. In this module we are offering the best jungle lodge in all Peru…. the Ceiba Tops, the newest of Explorama's lodges, is located on the banks of the Amazon River just 25-miles from Iquitos, offering the comforts of air conditioned rooms with private bathrooms, in the most luxurious of Amazonian Rainforest settings. So let's discover the beauty of the Amazon with this luxury jungle adventure as we traverse the forest by foot and by boat to learn about the native flora and fauna and the indigenous Yagua culture that lives in this famous jungle.
Recommended Stay
Four to Seven nights
When to go
One beauty of the Amazon rain forest of western Peru is that it's always at its peak, lush and green, teeming with wildlife, and among the world's sensory pleasures. It has only two seasons, high water and low water—rainy and less rainy—and their relevance pertains mainly to how one gets around. During high water, December into May, much exploring is by boat or canoe. When the floodwaters subside in June, options for terra firma (land) exploration increase and it's possible to hike on jungle trails.
Highlights
Hike in the primary rainforest reserve surrounding Ceiba Tops that includes many huge trees festooned with epiphytes.
Morning birding excursions.
Take river trips surrounded by jungle teeming with animals and birds; see some of South America most iconic species in close quarters.
Boating excursion in search of sloth, found in Cecropia trees at the water's edge, and the two species of freshwater river dolphin, pink and grey, found in Amazonian waters.
Nature walks into the jungle to learn first-hand of endless numbers of species of wildlife and trees and plants.
Visit a small village of Yagua Indians and learn traditional ways of life.
Gain understanding of life in the treetops from canopy walks.
Visit Monkey Island, a family run rescue center for monkeys. Here they rescue, rehabilitate and release monkeys that are victims of the pet trade.