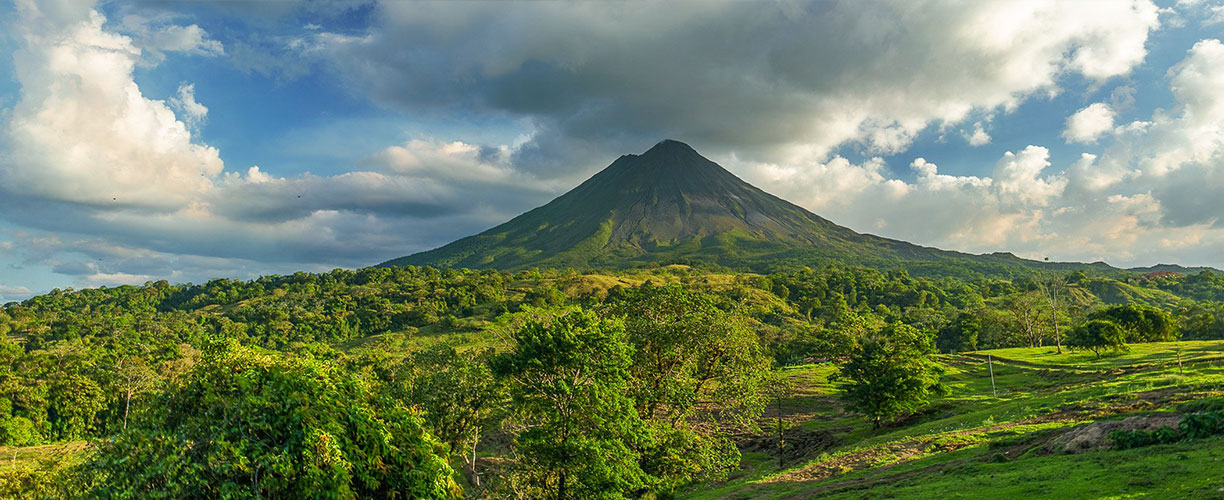 Costa Rica Adventurer
Overview / Highlights
8 NIGHTS / 9 DAYS
Costa Rica boasts unmatched natural beauty, home to volcanoes, mountains, tropical rainforests, scarlet sunsets and a very diverse range of wildlife. This program was designed with the active traveler in mind, combining the robust eco-diversity of Costa Rica with the fun and excitement of outdoor activities like soaring along the canopy tops, forest trekking and exhilarating river rafting providing a diversity of entertainment for all ages. From the still active Arenal Volcano providing a continuous show of sight and sounds courtesy of Mother Nature, to Monteverde Cloud Forest, one of Costa Rica's premier cloud forests, to the picturesque Manuel Antonio National Park and beach, this experience will be etched in your memory forever!
Countries

Costa Rica

Cities

Arenal, Monteverde, Manuel Antonio
Tour Program Summery Outline

Day 1 : Arrive San Jose – Arenal Region
Day 2 : Arenal Region (Sky Tram & Arenal Hike)
Day 3 : Arenal Region (Sarapiqui River Rafting)
Day 4 : Arenal - Monteverde Cloud Forest (Horse Back Ride)
Day 5 : Monteverde (Cloud Forest & Sky Walkway)
Day 6 : Monteverde - Manuel Antonio (Villa Lapas)
Day 7: Manuel Antonio (Park Tour and Snorkeling & Coastal Kayaking)
Day 8: Manuel Antonio National Park
Day 9: Departure

Click   icon to enlarge map to full screen view and back 

Features

Round trip private transfers as per itinerary
3 nights at the Tabacon Resort & Spa, Arenal
2 nights at the Establo Lodge, Monteverde
3 nights at the Parador Hotel, Manuel Antonio
Arenal Volcano National Park Tour
Arenal Sky Tram & Sky Trek (canopy) Tour
Sarapiqui River Rafting Tour
Monteverde Cloud Forest Reserve Tour





Lunch at Villa Lapas
Carara National Park Tour
Manuel Antonio National Park Tour
Coastal Kayaking Tour
ATV Tour
Flight Quepos/San Jose
Meals as per itinerary
Hotel tax and service charges
Locally hosted by English speaking guides
Interest
Adventure / Beaches / Cosmapolitan Cities / Cultural / Eco Tours / FAMILY ADVENTURES / Flora / Luxury
Day 1: Arrive San Jose – Arenal Region
Meet & greet services upon arrival in San Jose International Airport and transfer to the San Carlos Region and continuing to the Arenal Volcano area, nestled amidst the northern region of Costa Rica, near the base of the magnificent Arenal Volcano. As we approach La Fortuna Arenal Volcano's imposing silhouette will start emerging on the horizon arriving at the Tabacon Resort & Spa. Tonight is free to relax and view the drama of the still-active Arenal Volcano as it spews the red hot lava along the side of the mountain. Overnight Tabacon Resort & Spa.


Day 2: Arenal Region (Sky Tram & Arenal Hike)
This morning we experience the forest from a completely different perspective as you view the environs of the jungle from the canopy tops. We enter the Arenal Reserve, a tourism complex inside the tropical rain forest, offering adventure tours, bird watching, forest hiking, research and diverse entertainment for all ages. Our tour begins with a ride in the Sky Tram gondolas soaring smoothly through the rainforest, offering up endless views during their mountainous ascent. Accompanied by a bilingual guide, tour takers will have the ability to stop the tram at any point, a feature that allows for magnificent, one-of-a-kind photographs to be captured and tropical birds to be spotted.

Once the top is reached you are invited to explore the observation deck, where they'll enjoy magnificent views of the Arenal Volcano's southern side as well as a view of the Arenal Lake and the rolling hillsides that surround it. We can spend as much time as we wish on the observation deck before heading back down aboard the tram or taking the next exiting portion of the tour… the Sky Trek!

The Sky Trek is a tour of adventure full of adrenaline high above the treetops, allowing you to observe the rainforest at its best and stunning views of the Arenal Volcano and the Arenal Lake. Here is your opportunity of zipping along nearly two miles of cables at a maximum height of 660 feet. The zip lines and tram are complementary and you cannot do just the zip lines. We return to the hotel to prepare for this afternoon's activities.

This afternoon we visit the Arenal National Park forming the Arenal Tilaran Conservation Region. The main attraction is the Arenal Volcano, the most active in the country. Here we hike through lush rainforest near the active volcano accompanied by an experienced naturalist guide. The Hike begins along the active side of the volcano providing extraordinary view of the Arenal Volcano and continues along the trails of the Arenal National Park and along the way we'll enter the tropical rainforest and areas which were once devastated by the fury of the volcano explosion of 1968. While in the park it is possible to hear the constant activity of the volcano with its lava flows and sporadic eruptions and if it's a clear day we will have a magnificent view of the impressive Arenal Volcano. After the tour we return to the hotel for dinner and overnight.


Day 3: Arenal Region (Sarapiqui River Rafting)
Early morning pick you up for the transfer to the Sarapiqui River. Upon arrival to the river there will be some brief safety instructions before starting out on this incredible rafting journey. This stunning rainforest river offers an excellent choice for a first rafting trip to Costa Rica. Vegetation and thick tree canopy along the narrow, winding river are home to cormorants, kingfishers, howler monkeys, hummingbirds and much more. Depending on weather conditions, we may be able to offer Class IV rapids but those opting for Class IV adventure must have proper experience – be of excellent physical condition and at least 14 years old. After finishing return to the Arenal for this evening's activities. (B,L)


Day 4: Arenal - Monteverde Cloud Forest (Horse Back Ride)
Today we transfer by car and boat, and car again, to the Monteverde Cloud Forest, a peaceful dairy community settled by Quakers from the United States back in 1950, most of whom were conscientious objectors of the Korean War. One of the major attributes of Costa Rica is its unique and diverse topography, boasting a broad and varied spectrum of ecosystems. Today we enter a deferent ecosystem than we have experienced thus far. A cloud forest is a unique ecosystem that typically resides in a tropical or subtropical mountainous environments characterized by a persistent, frequent or seasonal low-level cloud cover, usually at the canopy level. Straddling the Continental Divide at 5,000 feet above sea level, the world famous Monteverde Cloud Forest offers a unique eco blend of mountains, rainforests and cloud forests, creating a habitat that is hospitable for huge numbers of plants and animals. We check-in to the El Establo Hotel strategically located in the heart of the tourist zone of Monteverde.

This afternoon we trek Monteverde on horseback, one of the best ways to experience Montverde's astounding wilderness, as you can cover several miles of hilly terrain in a few hours. This allows for more wildlife to be seen and more pictures to be taken. You'll have the opportunity to spot toucans, bellbirds and parrots, as well as monkeys, sloths and agouti. You'll pass mountains and canyons, ride through primary and secondary forest, and even spot the Gulf of Nicoya in the distance.
Overnight at El Establo Hotel. (B)


Day 5: Monteverde (Cloud Forest & Sky Walkway)
Early morning we depart for a guided visit to the Monteverde Cloud Forest Reserve. The Monteverde Cloud Forest is a biological reserve owned and managed by the Tropical Science Center, a Costa Rican nonprofit, scientific research organization and is regarded by many as one of the most important tropical plant and wildlife sanctuaries in the world. The temperature and humidity level in Monteverde changes dramatically over relatively short distances, allowing six different ecological communities to exist with relatively little change in elevation. Over 2,000 plant species are native to the area, including a host of wild orchids. This is home to more than 320 species of birds and 100 species of mammals. Some of the most notable species that can be found here include Baird's tapir, jaguar, ocelot, resplendent quetzal, Black guan, Three-wattle bellbird and Bare-necked Umbrella bird. You will see giant pipers, beautiful strangler figs, roadside Spanish flag orchids (epidendrum radicans) and abundant epiphytic vegetation. After our walking tour we return to the hotel for breakfast.

This afternoon a fascinating tour to the Treetop Walkways adventure offering a magnificent view of the Monteverde Cloud Forest that not many people have had the chance to see. If you think about it, most of the wildlife found in the Cloud forest is living or feeding in the treetops. The Walkways is a set of eight suspended bridges that cross a small valley in the Monteverde Cloud Forest. These bridges have a maximum height of 150Ft and the longest one is almost 1000Ft. These literally get you in contact with the Canopy of the Cloud Forest in a safe and relaxing way.


Day 6: Monteverde - Manuel Antonio (Villa Lapas)
Following breakfast we begin an interesting transfer towards Manuel Antonio National Park and beach. Along the way we stop for lunch at Villa Lapas, a charming eco-resort hotel situated at the outskirts of the Carara Biological Reserve that protects one of the last remnants of an ecological transition zone between Costa Rica's drier northwest and the more humid southwest and thus is rich in a collection of plants and animals. After a relaxing lunch we take a short hike along the Carara Reserve before we resume our drive passing a bridge over the Tarcoles River at the outskirts of Carara Reserve – making sure to stop to take a look (and pictures) at the crocodiles below, basking in the sun.

We arrive at Manuel Antonio and check in to the Parador Hotel. Enthroned atop a majestic bluff overlooking the Pacific Ocean and surrounded by 400 acres of lush tropical rainforest, Hotel Parador "Boutique Resort", is located in the most remote and pristine area of Manuel Antonio, yet within minutes from the World Famous Manuel Antonio National Park, the small sport fishing town of Quepos, and the local airport. Exciting tours such as canopying, rafting and jungle cruises are all close by. Just 10 minutes walking distance from the hotel, hidden in a secluded bay you will find the most breathtaking white sand beach surrounded by tranquil turquoise waters and jungle. The hotel was built in an elegant Mediterranean – style architecture, modeled after the Traditional Spanish Paradores and quaint European "boutique hotels", renders the resort as one of a kind. Since opening in 1995 the Hotel Parador has been a hidden getaway in Costa Rica for many celebrities including Don Johnson, Charlie Sheen, Lorenzo Lamas, Eric Roberts and many more.
Overnight at the Parador Hotel. (B,L)


Day 7: Manuel Antonio (Park Tour and Snorkeling & Coastal Kayaking)
Morning tour of Manuel Antonio National Park, one of the most beautiful parks in Costa Rica. The principal natural communities are the primary forest, secondary forest, mangrove forest, lagoon and beach vegetation. The park includes 12 small islands just off the coast which are excellent bird refuges. Although impacted by uncontrolled visitation, the fauna remains varied with 109 species of mammals and 184 species of birds including the Fiery-billed Aracari, Chestnut-Backed Antbird, White-necked Jacobin, Baird's trogon, Orange-collared Manakin, Blue-throated Goldentail and Blue-black grosbeak. An early morning trail walk should allow you to spot Squirrel Monkeys, Three-toed sloths and Agoutis. Today we visit Manuel Antonio National Park with an easy hike through nature trails takes us into the heart of the forest to observe a variety of flora and fauna, including white-faced capuchin monkeys, raccoons, and countless tropical birds. We will also have time to take a dip in the warm waters of the Pacific.

This afternoon we experience one of Costa Rica's most striking coastlines and National Parks, by open-seat ocean kayak. An adventure for all to enjoy themselves and submerse themselves into the beauties of the underwater world; the trip begins near the developing Pez Vela Marina in Quepos and winds along the Manuel Antonio coastline. Once you have arrived at Blezans Bay, there will be plenty of the best snorkeling spots to be pointed out by your guide. If snorkeling is not for you take a swim and enjoy the snacks and refreshments on shore. The adventure will continue towards Manuel Antonio National Park, passing nearby nesting islands and popular locations for local aquatic marine life. At the Manuel Antonio beach you will stop off to enjoy a Tico style mean before returning back to your hotel.
Overnight at the Parador Hotel. (B,L)


Day 8: Manuel Antonio National Park
This morning experience the most unforgettable ATV adventure in Manuel Antonio. Accompanied with our professional, bilingual guides, we drive through unpaved mountain trails, giant palm plantations and rustic Costa Rican towns – all nestled in the primary tropical rain forest. Indulge yourselves in 2 breathtaking waterfalls by swimming in natural, crystal-clear waters. And end your daring ATV journey with a delicious Tico-style meal at our private Finca Anita surrounded by spectacular mountain views, exquisite Costa Rican nature, great local food, and even better friends.
Afternoon at leisure to relax or take optional tours. Overnight at the Parador Hotel. (B)


Day 9: Departure
Afternoon transfer from Manuel Antonio to San Jose for the flight home. (B)
Remarks
Not included:
Airfare, Gratuities of any kind; airport departure taxes; meals unless included in the itinerary.