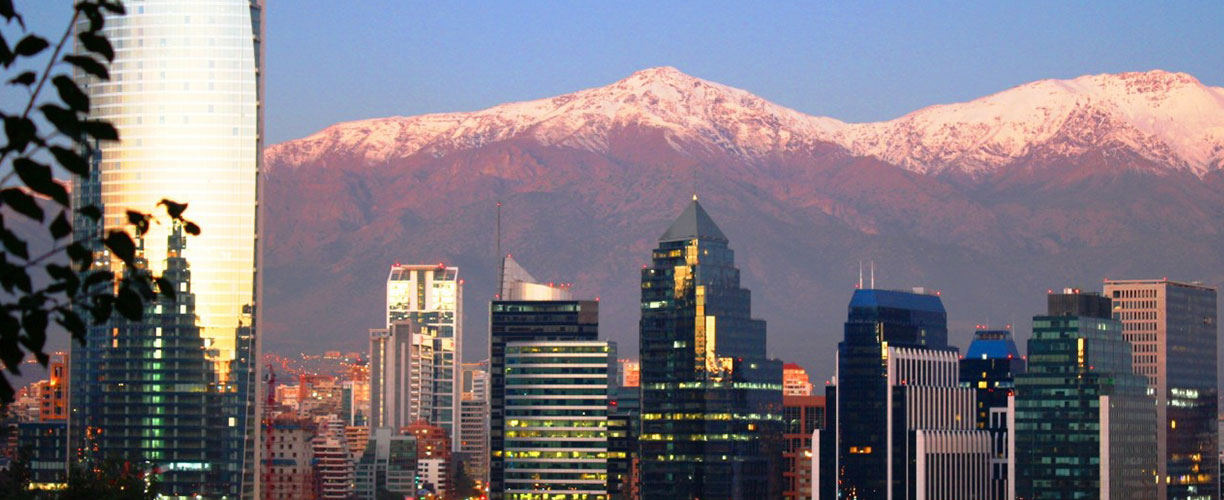 Chile, Wine & Wilderness
Overview / Highlights
11 NIGHTS / 12 DAYS
We invite you to experience, first-hand Chile's stunning array of landscapes. From the thriving capital Santiago, we visit the Mediterranean climes of the Central Valley and Chile's great vineyards, before making our way to the Lake District, famous for its spectacular scenery of deep blue mountain lakes, snow-capped volcanoes, unspoiled beauty of alerce (larch) forests, popular resorts with traditional folklore and arguably the richest variety of seafood, handicrafts and legends. We head further south towards the most pristine region left on earth, to the heart of the Patagonia Region; home to spectacular fjords, glistening glacier and the vast plains and granite cathedral peaks of Paine National Park. For all its natural wonder, Chile remains deliciously undiscovered, making it your perfect discovery adventure.
Countries

Chile

Cities

Santiago, Santa Cruz, Puerto Montt, Patagonia
Tour Program Summery Outline

Day 1 : Santiago
Day 2 : Santiago / Santa Cruz (wine route)
Day 3 : Santa Cruz
Day 4 : Santa Cruz - Santiago / Puerto Montt – Puerto Varas
Day 5 : Puerto Varas ( Lake District )
Day 6 : Puerto Varas ( Chiloe Island )
Day 7 : Puerto Varas / Punta Arenas – Explora Lodge ( Paine Towers National Park )
Day 8 : Explora Lodge ( Paine Towers National Park )
Day 9 : Explora Lodge ( Paine Towers National Park )
Day 10 : Explora Lodge ( Paine Towers National Park )
Day 11 : Explora Lodge - Punta Arenas / Santiago
Day 12 : Santiago

Click   icon to enlarge map to full screen view and back 

Features

Domestic airfare within Chile
11 nights accommodations
2 nights in Santiago
2 nights in Santa Cruz (wine district)
3 nights in Puerto Montt
4 nights in Patagonia
City Tour in Santiago
Santa Rita and Colchagua Valley Winery Tour





Viu Manet and Bisquertt Winery Tour
Puerto Montt and Puerto Varas city tour
Lake District Crossing
Museum of Archaeology and Mythology in Ancud, with lunch
Breakfast daily, 5 lunches and 4 dinners
Excursions from Explora Lodge, Patagonia
All transfers and sightseeing as indicated
Locally hosted by English-speaking guides
All hotel room tax/service charges
Interest
Adventure / Eco Tours / FAMILY ADVENTURES / Flora
Day 1: Santiago
Morning arrival in this capital city nestled between the Pacific Ocean on the west, and the majestic Andes Mountains on the east. An afternoon city tour includes Club Hipico Racetrack, the historical Cousino Palace, "La Moneda" Government Center, The Pre-Columbian Art Museum, the city's main square Plaza des Armas, and Cerro San Cristobal. We stop at the Wine House for a sampling of some superb Chilean wines. Evening at leisure. (B)


Day 2: Santiago / Santa Cruz (wine route)
Today we drive south of Santiago to the fertile Maipo Valley to visit the famous Santa Rita Winery with its impressive estate boasting 800 hectares of vineyard land, producing high quality wines. The estate is home to 100 acres of a beautiful hundred-year-old park and ornamental gardens on the grounds where lunch is served. This award winning winery was founded in 1880 by the prominent public figure and entrepreneur Domingo Fernandez Concha, who built the houses, the chapel and the viticole facilities. Upon arrival, comprehensive tour through the premises followed by wine tasting. Continuing along the wine route, we head to the heart of central Chile, towards Colchagua Valley ; home to Chile 's new 'boutique" wineries destined almost exclusively for export. Colchagua embodies the best of country traditions, hospitality and modern winery, setting new standards in wine production as well as an example in local development and integration through cooperation at all levels. Here we will learn about the local production process and enjoy the sampling of the different varieties of wines, produced by the vineyards you visit. We arrive at Hotel Santa Cruz Plaza for overnight. (B, L)


Day 3: Santa Cruz
This morning we visit the Viu Manent Winery; very much entrenched in the history and traditions of Chilean wines. The Company has been family owned and managed since its inception in 1935. In 1966, under the direction of the second generation, the family acquired the company's first vineyard, Hacienda San Carlos de Cunao, a winery and vineyard planted in the 19th century. From their Malbec to their Chardonnay and Cabernet Sauvignon, Viu Manent has an internationally award winning variety of wines. After visiting the premises, wine tasting and a horse carriage ride around the vineyards, we return to the hotel. This afternoon's wine tasting tour takes us to the Bisquertt Winery, run by the Bisquertt family, who started producing fine wines at their well-established agricultural land; a big exporter since 1991. Return to the hotel for overnight. (B)


Day 4: Santa Cruz - Santiago / Puerto Montt – Puerto Varas
Return drive to Santiago for your flight to Puerto Montt, a quaint fishing village gateway to the Lake District. Upon arrival, your visit of this neat Nordic appearing city (settled by German colonists in 1852) includes Costanera Avenue, the Cathedral, and Observation Point for a panoramic view of the city. On to Tenglo Island and the colorful fishing village of Angelmo , known for inspiring Chilean artists by the colorful scene of the fishing boats. Continue to the quaint village of Puerto Varas, also known as the "City of Roses", and your Hotel Cabañas del Lago situated on a hill overlooking Lake Llanquihue and the town of Puerto Montt, with unparalleled vistas of the lake and the Osorno and Cabulco Volcanoes. (B)


Day 5: Puerto Varas ( Lake District )
This is a region of glittering emerald lakes set among snowcapped volcanoes, deep woodland meadows and flowering gardens. This morning we drive to Petrohue skirting Lake Llanquihue, Chile's largest lake, with a stop at Petrohue River falls, and then we board a launch to cross spectacular Lake "Todos Los Santos" towards Swiss-styled Peulla Hotel for lunch. Afternoon return to Puerto Varas and our hotel. (B, L)


Day 6: Puerto Varas ( Chiloe Island )
Morning crossing the Chacao Channel by ferry to Chiloe Island, one of South America's largest island and among its most striking cultural anomalies. Divided by the gentle peaks of the Coastal Range, Chiloe's eastern and western coasts are two worlds apart. To the west is a wilderness of endless beaches, dune habitat, and temperate rainforests, much of it protected in one of Chile's most forgotten national parks. To the east are the scattered islands of the Chiloe archipelago, sheltered from Pacific storms, intensely cultivated; home to a traditional culture of subsistence farmers, fishermen, and craftsmen. The Jesuit Order made this corner of the earth their special responsibility; erecting schools and over two hundred elegant wooden churches, nine of which are protected national monuments. A rich mythology - populated by strange trolls, sea monsters, and eerie ghost ships - is yet another mark of Chiloe's unique history. Renowned for its seafood, woolen handicrafts, and the warmth of its people, Chiloe is still a largely undiscovered destination for walking, biking, fishing, paddling and birding. Today you'll visit this open-air museum with its mysterious and folkloric past. We visit the city of Ancud with its Chilote traditions, charming houses, handicrafts, and the Museum of Archaeology and Mythology. Lunch at a local restaurant and later return to Puerto Varas for overnight. (B, L)


Day 7: Puerto Varas / Punta Arenas – Explora Lodge ( Paine Towers National Park )
Morning transfer to Puerto Montt Airport for the flight to Punta Arenas. Meeting upon arrival and transfer to Paine National Park, driving along the fabled Patagonia wilderness; crossing trout rivers, a beech tree forest, and sheep ranches as we make our way to the fabulous Explora Lodge; a luxury resort located in the heart of Paine National Park, a pristine, half-million acre biosphere reserve. This glorious hotel-lodge is located on the shores of Lake Pehoe, surrounded by dramatic, craggy mountain formations, glacial lakes, icebergs and an abundance of fauna and exquisite flora. Dinner and overnight at the lodge. (L, D)


Day 8: Explora Lodge ( Paine Towers National Park )
The Explora Lodge has been designed as a base for exploring nature in what is arguably South America's finest national park. You have a choice of full or half day hikes, horseback rides, mountain bike trips, or you can visit ice fields, lakes, waterfalls and pampas with ample opportunity to view guanacos, pumas and flocks of condor, wild geese, ostriches and flamingos. After dinner, meet with your guides for information on the next day's activities. (B, L, D)


Day 9: Explora Lodge ( Paine Towers National Park )
Day at leisure. (B, L, D)


Day 10: Explora Lodge ( Paine Towers National Park )
Today you have another opportunity to explore this breathtaking landscape of majestic mountains and glittering lakes. Choose the Grey Glacier Walk or any of the other full or half-day included activities or simply relax at the hotel's facilities, pool, sauna, Jacuzzi or gym. (B, L, D)


Day 11: Explora Lodge - Punta Arenas / Santiago
Transfer to Punta Arenas Airport for the flight to Santiago . Meeting services and transfer to the San Cristobal Towers Hotel for overnight. (B)


Day 12: Santiago
Day at leisure for shopping or sightseeing. Departure transfer to airport for flight. (B)
Remarks
Not included:
Gratuities of any kind; airport departure taxes; meals unless included in the itinerary.