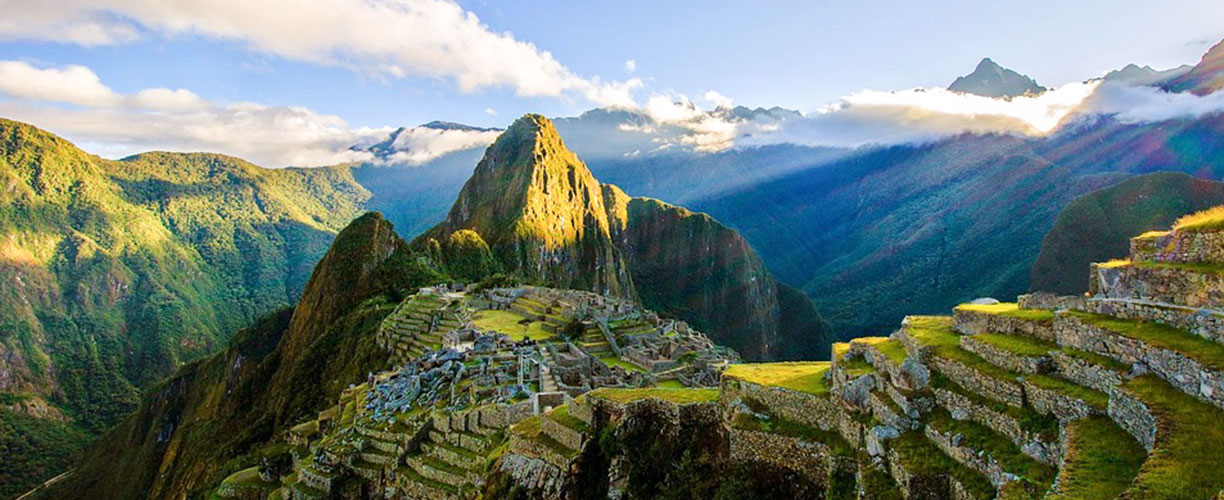 Amazing Peru in Luxury
Overview / Highlights
14 NIGHTS / 15 DAYS
Peru, considered by many as "an open Air Museum", boasts some of the most spectacular and varied scenery in South America. Home to enigmatic ancient cultures with rich colonial tradition, surrounded by some of the richest biodiversities on Earth, renders Peru as simply fascinating, arguably without equal. We invite you to experience, first hand, the mysteries and enchantments that Peru has to offer. Wander colonial cities, a testament to the legacy of the Spanish conquistadors; visit the ancient Inca capital of Cuzco and the Sacred Valley of Urubamba home to indigenous population maintaining traditions of old; explore the lost city of Machu Picchu and; experience Lake Titicaca, the highest navigable lake on earth and home to the floating islands of the Uros, an ancient lake Indian tribe, still maintaining traditions and way of life as they have for centuries and ponder the mysteries of the Nazca Lines as you journey this marvelous region.
Countries

Peru

Cities

Lima, Iquitos, Cuzco, Urubamba Valley, Machu Picchu, Lake Titicaca, Ica, Paracas
Tour Program Summery Outline

Day 1 : Arrive Lima
Day 2 : Lima / Iquitos
Day 3 : Iquitos – Cieba Tops Jungle Lodge
Day 4 : Cieba Tops Jungle Lodge
Day 5 : Cieba Tops Jungle Lodge (Canopy Walkway)
Day 6 : Cieba Tops Jungle Lodge – Iquitos / Cuzco
Day 7 : Cuzco (Urubamba Sacred Valley)
Day 8 : Cuzco (Urubamba Sacred Valley)
Day 9 : Cuzco / Machu Picchu
Day 10 : Machu Picchu / Cuzco
Day 11 : Cuzco ─ Puno (Lake Titicaca)
Day 12 : Puno - Suasi Island
Day 13 : Suasi Island – Puno / Lima
Day 14 : Lima / Ica (Nazca Markings) / Paracas
Day 15 : Paracas ( Ballestas Islands ) – Lima / Departure

Click   icon to enlarge map to full screen view and back 

Features

R/T Economy airfare Lima / Iquitos / Lima
Economy airfare Lima /Cuzco - Juliaca / Lima
2 nights in Lima at the Country Club Hotel
1 night in Iquitos a the El Dorado Plaza Hotel
3 nights at Ceiba Tops Jungle Lodge
4 nights at the Monasterio Hotel, Cuzco (Dlx Oxygen Room)
1 night at the Sanctuary Lodge, Machu Picchu
1 night at the Esteves Libertador Hotel, Puno
1 night at the Casa Andina Suasi Island Hotel, Puno
1 night at the Las Dunas Hotel, Paracas
Half Day Lima City Tour including visit to the Larco Museum
4-day Jungle package Ceiba Tops all excursions and transfers & meals





Half Day Cuzco City Tour including visit to the nearby ruins
Full Day visit to the Pisac, Chinchero and Ollantaytambo Fortress including lunch
Full Day visit to Maras & Moray including lunch
Full Day excursion to Machu Picchu aboard the Hiram Bingham Train including meals
Full day Andean Explorer train (with meals) Cusco to Puno
2 Days / 1 Night Suasi Package including excursions & meals
Visit Sillustani graves Puno
2 Days / 1 Night Nazca lines packages including overflight, Ballestas Islands & meals
Breakfast daily
Other meals as per itinerary (B=Bkfst, L=Lunch, D=Dinner)
Hotel tax and service charges
Locally hosted by English Speaking guides
Hotel tax and service charges
Interest
Adventure / Cosmopolitan Cities / Culinary / Cultural / Eco Tours / FAMILY ADVENTURES / Flora / Historical / Luxury / Nightlife
Day 1 : Arrive Lima
Evening arrival to the Peruvian capital and transfer to the Lima Country Club Hotel for overnight.


Day 2 : Lima / Iquitos
Morning visit of Lima. Founded in 1535 by the Spanish Conquistador Francisco Pizarro, this colonial city became the political and military capital of the New World until it was declared the capital of Peru in 1821. We begin our tour of Colonial and Modern Lima, "City of Kings." Colonial sites include the lovely Plaza Mayor with its cathedral and palace, and the exquisite Torre Tagle Palace modern day seat of the Ministry of Foreign Affairs. Continue with a visit to the Larco Herrera Archaeological Museum which exhibits the world's largest private collection of pre-Columbian art boasting an astonishing array of gold, silver, semi-precious stones and textiles. Afternoon transfer to the airport for the flight to Iquitos, Peru's gateway to the Amazon Jungle Adventure. Overnight El Dorado Plaza Hotel. (B)


Day 3 : Iquitos – Cieba Tops Jungle Lodge
Iquitos is a romantic and seductive city with a rustic charm and unique culture reflecting an intriguing history. The nineteenth century saw Iquitos as a rubber boomtown but nowadays oil and tourism have taken over the the economy of the city. The ethnic character of the city is comprised of indigenous tribes and European and Chinese immigrants who began to populate the area in the mid-1800. This morning we transfer to the pier with a brief city tour along the way and begin our jungle adventure as we make our way down the Amazon River to Ceiba Tops where private rooms with air conditioning provide for an Amazon Adventure in luxury. Afternoon hike in the beautiful primary rainforest reserve surrounding Ceiba Tops that includes many huge trees festooned with epiphytes. After dinner enjoy local flute or guitar music at the "El Tucan" Bar or the guides are always ready to relate some of the many legends of the Amazon forest. Overnight at Ceiba Tops. (L, D)


Day 4 : Cieba Tops Jungle Lodge
Early morning birding excursion. Morning boat ride to visit a small village of Yagua Indians where your guide will explain their culture and how it has been affected by the passing of time. There will be an opportunity to trade for or purchase some of their local crafts and for a demonstration of the use of the blowgun which some of the Yagua elders still use for hunting. Afternoon boating excursion in search of sloth, found in Cecropia trees at the water's edge, and the two species of freshwater river dolphin, pink and grey, found in Amazonian waters. Weather permitting; enjoy a beautiful Amazonian sunset on the river. Overnight at Ceiba Tops. (B,L,D)


Day 5 : Cieba Tops Jungle Lodge (Canopy Walkway)
Early morning departure from Ceiba Tops by boat to the narrow motorcar crossing connecting the Amazon and Napo Rivers to continue by boat to ExplorNapo Lodge for breakfast. Hike to the spectacular Canopy Walkway spanning over 500 meters (one-third of a mile), connected by tree platforms, and reaching a height of over 115 feet accessible without any type of climbing skill or equipment. After lunch, visit the "ReNuPeRu" Ethno botanical Garden where over 240 medicinal plants are cultivated by a local shaman who will explain the nature of Amazonian natural healing and the uses of some of the plants. Return to Ceiba Tops in time to enjoy the pool or hammocks before dinner. Overnight at Ceiba Tops. (B,L,D)


Day 6 : Cieba Tops Jungle Lodge – Iquitos / Cuzco
Early morning boating or walking excursion to further enjoy the rainforest surrounding Ceiba Tops before making our way back via boat towards Iquitos with transfer to the airport and the flight to Lima and connection to Cuzco. Meeting services upon arrival and transfer to the Monasterio Hotel. Afternoon tour of Cuzco, the oldest continuously inhabited city in the western hemisphere. Nowadays Cuzco is a delightful combination of Inca and colonial architecture dating back to the 17th and 18th centuries. During the tour we will visit Cuzco's most important landmarks such as the Cathedral, Santo Domingo Church and the Plaza de Armas. Also included is the famous San Blas artisan's quarter. Next we drive out of Cuzco to visit the nearby ruins of Kenko, Puca-pucara, and the royal baths of Tampumachay, continuing to the impressive fortress of Sacsayhuaman, whose gigantic 3-tiered walls are built from 18-foot boulders and weigh over 300 tons. This visit will end with a candlelight presentation by our guide about the mystery and history of these ruins and the Inca civilization. Overnight at Monasterio Hotel. (B)


Day 7 : Cuzco (Urubamba Sacred Valley)
Morning excursion to the Inca agricultural experimental center of Moray, famous for its sunken amphitheater, made up of four circular terraces, which appear to disappear into the earth like an artificial crater. The site was apparently an Inca agricultural research station designed for experimenting with crops at various altitudes (some of which run down to depths of 100 meters). Next we continue to the impressive Salt Pools of Maras emerging from a salt spring underneath the Urubamba Valley that is fed into terraced evaporative pools as a way of harvesting salt. Here we learn about ancestral techniques still used in current day agricultural, irrigation and salt-recollection tasks, as well as in Andean festivals and rites. Overnight at Monasterio Hotel. (B,L)


Day 8 : Cuzco (Urubamba Sacred Valley)
Morning visit to the fabled "Sacred Valley of the Incas," an astonishingly fertile Andean valley, where the fortunate visitor is soon impressed by soaring mountains, lush landscapes, ancient villages, Inca ruins, and deep-rooted traditions. First we visit beautiful Chinchero, a traditional Quechua community in the highlands of Peru. Sunday is market day when Indians from different villages meet to trade their wares and produces among themselves just as they did a century ago. We will visit with the local village women weaving in the market plaza in front of an Inca temple wall marked by a fine row of person-sized Inca niches. Beautiful hand-woven textiles, old and new, are available for purchase at very reasonable prices. Next we visit to the village of Ollantaytambo, an ancient fortress of temples and terrace that tower over the valley. After lunch we drive to the Spanish Colonial village of Pisac and the Pisac Indian Market. Here you will have the opportunity to bargain with the local artisans for a variety of Peruvian handicrafts, jewelry and excellent bargains on Alpaca sweaters. Overnight at Monasterio Hotel. (B,L)


Day 9 : Cuzco / Machu Picchu
This morning you to step aboard the "Hiram Bingham" Orient Express Train, a luxury train service to Machu Picchu. This special service aboard the distinctive blue and gold livery and elegant interior upholstery in warm, inviting tones, consists of 4 cars - 2 dining cars, a bar car and a kitchen car. The Hiram Bingham train provides for a leisurely trip including brunch that is served on board while guides explain points of interest as we travel along the river of the Urubama Valley to Machu Picchu considered the "Lost City" of the Incas. Perched 8,200 feet above the valley, this significant archaeological find is situated along remote mountains, amid a semi-tropical jungle and therefore was hidden for 400 years until discovered in 1911 by Hiram Bingham of Yale University. From the train station, our tour bus will make the ascent to this ancient citadel to explore the temples, altars and more than 200 buildings. An afternoon tea is served in the Machu Picchu Sanctuary Lodge located just steps from the entrance to the Ruins. Afternoon more time to explore on your own. Dinner and overnight at the Sanctuary Lodge a top Machu Picchu. (B,L,D)


Day 10 : Machu Picchu / Cuzco
Morning is free to revisit the ruins on your own. Lunch at the hotel and afternoon we board our luxurious Orient Express Train for the trip back to Cuzco. Enjoy the journey in the comforts of the train. After our 4:30 tea we will enjoy pre-dinner cocktails accompanied by live entertainment followed by a 4-course, a la carte dinner presented in the dining cars. Arrival in Cuzco and transfer to the Monasterio Hotel. Overnight at the Monasterio Hotel. (B,L)


Day 11 : Cuzco ─ Puno (Lake Titicaca)
Today travel via rail south to Puno on the shores of Lake Titicaca. We board the Andean Explorer; exquisitely decorated in the manner of the great Pullman trains of the 1920's, the Andean Explorer boasts a full fleet of refurbished coaches. An open-air Observation Bar Car adds to the enjoyment along this beautiful route, and provides the opportunity for magnificent photographs of the scenery. This is a luxurious way to travel between Cuzco and Lake Titicaca (meals included). The journey first makes a gentle climb to higher, cooler, altitudes. Spectacular scenery is dominated by magnificent Andean mountains towering over the deep Huatanay River valley. We then cross gentle, rolling Andean plains where vicuña and alpaca can be seen before arrival in Puno where we transfer to the Libertador Hotel along the shores of Lake Titicaca for overnight. (B,L,D)


Day 12 : Puno - Suasi Island
Lake Titicaca, at 14,000 ft. above sea level, is the world's highest navigable lake, and also South America's largest. As a special treat this morning we travel by motor launch to Suasi, a private island on Lake Titicaca's remote northern shore. En route we visit the legendary Uros floating reed islands, an ancient lake Indian tribe, still maintaining traditions and way of life as they have for centuries. The Uros Indians live on these floating islands made by hand from totora reeds that grow in abundance in the shallow waters of the lake. This unique practice dates back to the time of the Incas, and today there are some 45 floating islands in the Bay of Puno. Box lunch and continue by boat to the island of Taquile, the Quechua speaking Indians boasting the world's finest hand weaving techniques which they perfected over the generations. Overnight at the Eco Inn Hotel. (B,L,D)


Day 13 : Suasi Island – Puno / Lima
Transfer back to Puno and to the airport at Juliaca. En-route we stop at the pre-Inca complex of Sillustani situated on a hilltop overlooking Lake Umayo. Sillustani is a unique pre-Inca complex where we view cylindrical and square shaped hand carved granite (believed to be) funeral towers also referred to as "chulpas". We continue to the airport and our flight to Lima with transfer to the hotel. Overnight Lima Country Club Hotel. (B)


Day 14 : Lima / Ica (Nazca Markings) / Paracas
This morning we drive along the coast viewing sand dunes, deserts, and fertile valleys towards Ica. Here you'll board a small plane to view the mysterious and much debated Nazca drawings, only visible from the air. The Nazca culture dates back 2,500 years and was highly advanced in astronomy and ceramics. The Nazca lines are a series of huge geometric designs and drawings including animals, people, and birds (some over 1,000 feet in size) etched in the crest of the arid desert by ancient civilizations. After lunch, continue to the coastal town of Paracas for dinner and overnight. (B,L,D)


Day 15 : Paracas ( Ballestas Islands ) – Lima / Departure
Morning departure to the Paracas Reserve, Peru's largest coastal wildlife sanctuary, including the Ballestas Islands, reached by boat. These islands are home to thousands of resident and migratory sea birds, many endemic to the Humboldt Current. They include pelicans, boobies, cormorants, terns and gulls who share their habitat with herds of sea lions and fur seals. In the summer, condors are also frequent visitors and flamingoes occasionally pause at the bay. Return back to Lima with a stop at the Regional Museum of Ica, and the Inca shrine of Pachacamac. This evening's special culinary treat features dinner at Astrid & Gaston Restaurant, where the food is absolutely wonderful! This stylish and colonial restaurant is constantly rated as one of Lima's best and is owned and managed by a Cordon Bleu–trained, husband/wife team. Astrid (pastry chef) and Gaston (principal chef) made a name for themselves with this highly successful restaurant. If Astrid or Gaston comes to your table, it will be the dining experience of a lifetime; otherwise, it's just the best meal you've had this year. Late evening transfer to the airport for departure. (B,D)
Remarks
Not included:
Gratuities of any kind; airport departure taxes; meals unless included in the itinerary.

Please inquire about our special airfares on AMERICAN AIRLINES and LAN for this program.