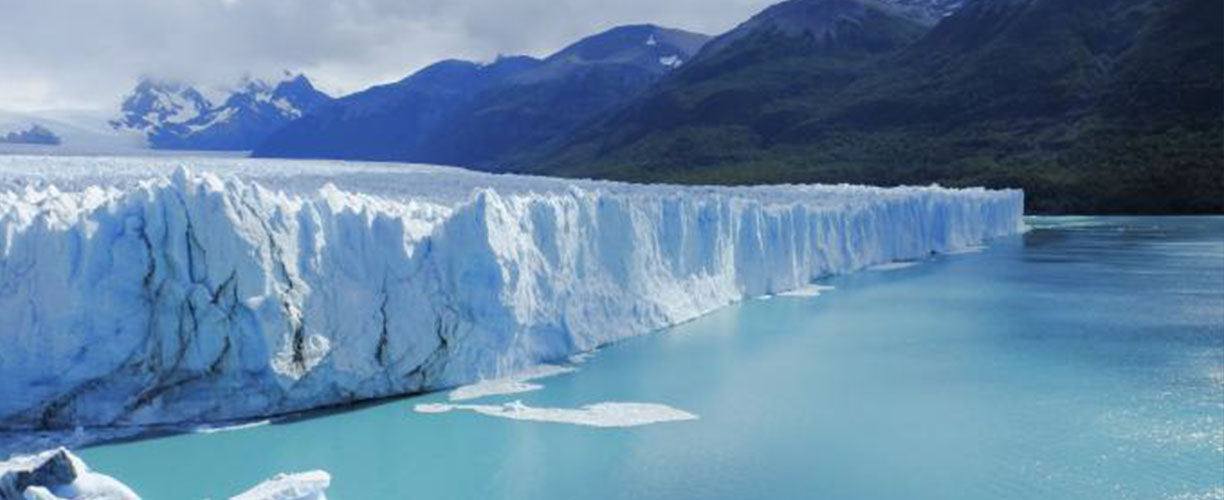 The Magic of Argentina by Private Jet
Overview / Highlights
9 NIGHTS / 10 DAYS
Experience Argentina's stunning array of landscapes. Begin with Buenos Aires, a city more European than South American in flavor boasting bustling streets, grand avenues, old-time cafes and stylish restaurants. Continue to the renowned Argentine Lake District, popularly known as the "Switzerland of South America", a region of startling contrasts and extreme natural beauty offering dramatic landscapes of shimmering lakes, towering volcanic mountains and rolling hills. Next it's Clafate, home to the Perito Moreno Glacier, a signature landmark - one of the few glaciers in the world which is still advancing.
Countries

Argentina

Cities

Buenos Aires, Bariloche, El Calafate
Tour Program Summery Outline

Day 1 : Arrive Buenos Aires
Day 2 : Buenos Aires
Day 3 : Buenos Aires (Estancia)
Day 4 : Buenos Aires / Iguassu Falls
Day 5 : Iguassu Falls
Day 6 : Iguassu Falls / Bariloche
Day 7 : Bariloche
Day 8 : Bariloche / Calafate
Day 9 : Calafate
Day 10 : Depart Calafate





Optional Regions

Mendoza, Argentina
Paine, Chile's Patagonia
Atacama, Chile's Desert
Chile's Wine Regions

Note:

Ultimately, we will custom-design your tour based on your preferences, interests and available time. We have inserted the Optional Regions listed above because they are a natural combination and or extension of the above tour. As example, you may opt to remove Bariloche in Argentina and insert Mendoza, also in Argentina. Or you may prefer visiting Paine Park in Chile rather than Clafate in Argentina, and / or you may wish to simply add any and all of the Optional Regions.

Click   icon to enlarge map to full screen view and back 

Features

All transfers in private described in the itinerary.
Locally hosted by English speaking guide
All entrance fees mentioned in the itinerary are included
Breakfast daily
Meals mentioned in the itinerary program
3 nights in a five stars hotel in Buenos Aires





8 unique visits in Buenos Aires
2 unique meal plans in Buenos Aires
Full day visit to local Estancia
3 activities in Iguassu Falls
2 nights in a five stars hotel in Bariloche
6 activities in Bariloche
2 nights five star hotel in Clafate
2 full day adventure activities
Interest
Adventure / Beaches / Cosmopolitan Cities / Culinary / Cultural / Eco Tours / Family Adventures / Flora / Luxury / Nightlife
Day 1: Arrive Buenos Aires (Sample Unique Visits)
Meet and greet airport services expedite immigration process at the FBO. Transfer to the Palacio Duhau – Park Hyatt Buenos Hotel.
Note: Please note that our tours are always custom-designed. We are providing you with a sample suggested program… many other unique local cultural activities will be provided based on each client preference.
The first day sample activities:
Buenos Aires with an Insider: Delve into the city's hidden gems by the hand of a local lifestyle expert.
Learn about the city's origins and current the state of affairs with a journalist, or a political/economy analyst.
Art Tour: Go behind the scenes of Argentina's contemporary art world. Guided by an Art Historian, we shall visit an avant-garde private art collection, an iconic art gallery featuring the up-and-coming conceptual masters and a renow¬ned artist studio. Meet the artists, dealers and collectors, a true immersion into Buenos Aires' art scene.
This evening a rear treat as we step into the Buenos Aires night…. Take a tango lesson with the Dancers of Tango Argentino and attend a Milonga, the tango salons where locals go to dance.
Dine at Master Chef Francis Mallmann's home in La Boca.
Palacio Duhau – Park Hyatt Buenos Aires is a complex of two buildings, a restored Palace from 1934 and a modern building overlooking the city. Also called the Park Hyatt Buenos Aires, Palacio Duhau made a big splash with its opening in 2006. Located in the picturesque, affluent neighborhood of Recoleta, the hotel is made up of two buildings. One is a stately and grand neoclassical palace from the early 1930s, and the other is, in contrast, the sleek 17-floor Posadas tower. The two are adjoined by an art-lined, underground walkway – which feels like a chic gallery – and an oft-photographed, impeccably-manicured terrace and courtyard.
Day 2: Buenos Aires (Special Activities)
This morning, your host will take you to San Telmo, one of the city's oldest and most traditional neighborhoods. With magnificent architecture, lively street cafés, antique shops, art exhibitions, and a huge plaza where a fabulous street market takes place on Sundays.
Walking Architectural tour to explore the city's golden age at the beginning of the 20th century accompanied by architect or urban historian.
We stop at the Iconic French-style Café Tortoni opened in 1858, favorite haunt of the cultural elite for some coffee and pastries.
More walking tour including visit to the charming, historical San Telmo District; watch spontaneous tango dancers and explore the various antique shops and vintage shops that surround the plaza.
Visit private homes and also a look at some of the most striking parks and gardens in the Argentine capital.
Open Fire Cooking lesson: Learn to grill the Argentine way.
Day 3: Buenos Aires (Visit Argentine Estancia - ranch)
Estancia Day: A day in the Argentine Pampas, the "ocean of grass" considered one of the richest grazing prairies in the world, and the land of the picturesque gaucho, will im¬merse you in the essence of Argentina's heritage. Witness a horse whispering session and ride horses in the picturesque countryside.
Dinner to be advised ….
Day 4: Buenos Aires / Iguassu Falls (Special Visits)
Private transfer to the airport for the flight to Iguassu Falls. Meeting services at the Iguassu facilities and transfer to the Awasi Iguazu Hotel.
Explore the Argentine falls, one of nature's most impressive spectacles where the water runs through a gauntlet of islands reaching a lava cliff and descends in a series of 275 interlinking waterfalls. Also visit the 17th-century Jesuit missions Spain headed deep into the forests in present-day northeastern Argentina and eastern Paraguay jungle with private explorations in the National parks and to Indian communities.
Dine on fresh local river fish, paru, dorado or surubi.
The Awasi Iguazu is a relatively new boutique lodge, with just 14 rooms, is located on the banks of the Iguassu River just 15 minutes from the famed waterfalls. Each private villa is tucked discreetly into the jungle and features its own plunge pool, outdoor shower and spacious living area. Join fellow travelers in the main lodge for socializing at the bar and relaxed meals at the restaurant. Each villa is assigned a private guide and vehicle, allowing guests to explore at their own pace.
Day 5: Iguassu Falls (Private Visits)
One of the new seven wonders of nature, Iguassu falls offers a variety of explorations. Today we cross the bridge (and border) to the Brazil side of the falls for the "picture postcard" view of falls from where you have a full frontal view of the horseshoe-shaped gorge.
We can board a speed boat to take us along the river to the point of the Devil's Throat, Devil's Throat, one of the most impressive points where 14 separate falls cascade down 350 foot cliffs.
Day 6: Iguassu Falls / Bariloche (Special Visits)
Private transfer to the airport for the flight to Bariloche. Meeting services at the Bariloche facilities and transfer to the hotel Llao Llao, Moreno Wing.
Suggested activities:
Condor-watching with the world expert and enjoy a cookout in the wild by a local Chef in the open steppe lands.
Navigate the waters of the crystal clear Nahuel Huapi Lake and have lunch on an island.
Fly-fish the fabled rivers of Patagonia. Take a fly casting lesson and float the Limay River.
Llao Llao Resort, Golf-Spa is the most exclusive resort in Argentine Patagonia. Our 5 star Resort in Bariloche offers Studios and Suites with incredible views of lakes, forests and mountains. A magnificent indoor / outdoor pool, 18 holes of golf, an amazing Spa and activities for adults and children, are some of the services available. The Deluxe Moreno Lake Studio provide beautiful views of Moreno Lake and Mt. Tronador.
Day 7: Bariloche (Special Visits)
Suggested activities:
Take a Nature photography lesson.
Drive a classic car along the legendary Route 40 and the scenic 7 Lakes Road.
Adventure thrill: combine hiking with rappelling and kayaking in idyllic mountain and lake sceneries.
Day 8: Bariloche / El Calafate (Special Visits)
Private transfer to the airport for the flight to El Calafate. Meeting services at the Calafate airport facilities and transfer to the Eco Lodge.
Suggested activities:
Visit the Perito Moreno Glacier, navigate amongst glaciers and take an ice-trek over the massive Iceland.
Eolo Lodge is conveniently located halfway between the city of El Calafate and Los Glaciers National Park, yet far from the commotion of the tourist activity in the area. The 10,000 acres property is a paradise for horseback riding, mountain bike rides, trekking, bird-watching and, of course, to fully enjoy the subtle elegance of the property.
Day 9: El Calafate (Special Visits)
Suggested activities:
Go on an off-road 4WD overland safari in the steppe lands with amazing rock formations.
Visit a pioneer Patagonian sheep ranch and partake with the Gauchos of the sheering and Rural chores.
Day 10: Depart El Calafate
Transfer to the airport for the flight back home.
Notes:
The Patagonia is shared by Argentina and Chile but separated by the Andes. It is important to note that the Chilean side of the Patagonia, in particular Paine National Park which is across the Andes is much more robust a region then Clafate and you may wish to add and or exchange regions to include sections of Chile (see our special notes).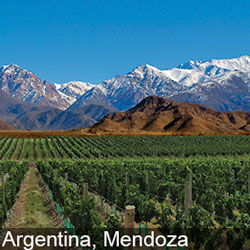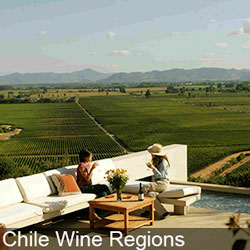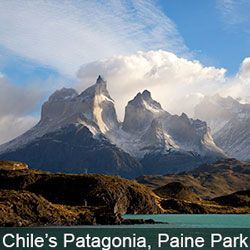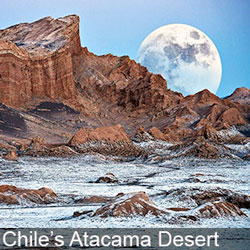 About Mendoza
At the foot of the highest Andes, Mendoza is a modern city with a storied past that charms visitors with its tree-lined avenues, handsome villas, adobe houses and the acres upon acres of grapevines backed by dramatic mountain peaks of the Andes. This is home to Argentina's wine country, where European settlers introduced the ancient craft of winemaking in the 19th century. It's also the adventure tourism center of Argentina's Cuyo region, offering world-class hiking, biking, fishing, rafting, horseback riding and skiing.
Though rainfall is slight, irrigation has turned the countryside into a green oasis of vineyards and fruit plantations. Wine making season is March-April, and there are numerous wine cellars (bodegas) where wine tasting is a popular activity. Mendoza is also the departing point for exciting rafting excursions and expeditions to Mount Aconcagua, (22,835 ft.) highest in the Americas.
Nearly two-thirds of the wine produced in Argentina comes from the Mendoza region. Most famous for its Malbec. These highland vineyards also produce Criolla Grande, Cabernet Sauvignon, Tempranillo and Chardonnay. We will explore the winemaking tradition with resident experts and will arranged activities that will create memories of a lifetime.
The Stay
To elevate the experience we selected The Vines Resort & Spa, strategically situated at the foot of the Andes Mountains. The Vines Resort & Spa is nestled into acres of surrounding grapevines. All accommodations are spacious villas blending rustic elegance and modern comfort, with decor inspired by the Uco Valley. The resort also features top dining and wine experiences, showcasing internationally renowned chef Francis Mallmann's regional dishes, and a glorious spa.
The Experience
Internationally acclaimed chef Francis Mallmann creates inspired regional dishes, showcasing Argentina's famous beef. The ingredients come from the vineyard gardens and the surrounding land. Of course you are the beneficiary of the amazing local dishes paired with exceptional Argentine wines. Siete Fuegos, or "seven fires," describes Francis Mallmann's honed collection of open-flame cooking techniques, inspired by Argentine gauchos and European migrations, and refined through hundreds of years of history. Savor the rustic, fiery flavors of specialties like 9-hour slow-grilled rib eye, cast-iron baked salt-encrusted salmon, grilled seasonal fruits, and more, paired with award-winning boutique wines. We also have fabulous options for kosher guests (reserve in advance) as well as vegetarians and vegans. Dine indoors or out, or enjoy a front row seat in the open kitchen where you can watch our artisans of fire create impassioned Argentine fare.
Activities
Wine tours: Visit small, independent wineries to learn about their history, production, and interact with owners.
Wine Harvest Festival: One of Argentina's largest celebrations, held annually the first Saturday in March.
Climbing/Mountaineering: Mount Aconcagua, just an hour away, is one of the most popular treks in South America.
About Chile Wine Regions
Chile is an agricultural paradise whose bounty of fruits and vegetables supplies the world's marketplaces and whose wine graces tables on every continent. A Mediterranean climate and increasingly organic, sustainable farming practices contribute to creating high-quality wines which are the purest expression of their privileged terroir. With the Pacific coastline to the west, the Andes Mountains to the east, Patagonia to the south and the Atacama Desert to the north; Chile's wine regions are breath-taking and easily added to either the Argentina Jet Tour, a Chile Jet Tour, or as a combination offered herein. Enjoy discovering and exploring the wonderful varieties of Chilean wine along central Chile.
The Spanish first established vineyards in Chile in the mid-sixteenth century, and Chile has maintained a thriving wine industry for its home market for several centuries. Chile's wine industry has grown considerably since the mid-1980s, with rapid development as a strong export market, and a shift toward French grape varieties such as Cabernet Sauvignon, Merlot, and Chardonnay. Chile's range of mountains along the coast, which blocks the ocean dampness from most vineyards, and the ocean's general tempering influence on a relatively hot climate.
There numerous wine regions including Limari Valley, a small region northwest of Santiago, near the Pacific Ocean. Aconcagua Valley located north of Santiago, named for the country's highest mountain, the magnificent Mount Aconcagua. Casablanca Valley, the first-established of the newer Chilean wine regions, it's still one of the best. Maipo Valley, Chile's most-established wine region, just south of Santiago, Maipo Valley is home to most of the country's wineries. We selected to visit Colchagua Valley. Ocean breezes have transformed the formerly quiet Colchagua Valley into one of Chile's most important new red wine regions. Carmenère, Cabernet Sauvignon, Merlot, and Syrah grow especially well here. Colchagua's two leading wineries are Casa Lapostolle and Montes.
The Stay
Upon arriving Santiago, Chile's Capital City and gateway to Chile's Central Valley plains, we drive south into the Colchagua Valley, a prestigious wine region where many of Chile's best wines are produced. Our destination is Casa Lapostolle winery which together with Clos Apalta winery was founded by Alexandra Marnier Lapostolle, the great granddaughter of Grand Marnier founder Alexandre Marnier Lapo stolle. Highly regarded as one of the best wines produced in Chile, Clos Apalta is the winery's signature blend and is the inspiration for the Casa Lapostolle Residence, a stunning, secluded wine lodge. This is an all-inclusive stay featuring all meals, private tours and wine tasting at Clos Apalta Winery; also includes visit to private family's cellar; and visits other Winery's in Apalta Valley; Mountain biking rides through the vineyards and or forest hiking.
The Experience
Here you have the opportunity to learn local cultivation and production, and to enjoy sampling wine produced by the valley's vineyards. Visits will be made at Selentia Vineyard and Casa Silva Vineyards. After lunch, we continue to the attractive town of Santa Cruz, hub of the Colchagua Valley,
If needed, we can bring along one of Chile's preeminent experts. When it comes to Chilean terroir, nobody knows more about where specific grapes grow best than Pedro Parra, Chile's pre-eminent expert in soil composition and the impact that climate has on the wines his country produces. Nicknamed the "Terroir Hunter," Parra, who holds a Ph.D. in agronomy and wine-specific terroir from the Institut National Agronomique de Paris-Grignon, has conducted more than 20,000 soil studies, the majority in his native Chile. Parra holds that Chile is blessed with diverse terroirs that strongly influence the characters of its top wines.
Activities
Tour wineries at Casa Lapostolle and Clos Apalta winery.
Visit to private family's cellar; and visits other Winery's in Apalta Valley.
Mountain biking rides through the vineyards and or forest hiking.
About Chile's Patagonia, Paine Park
Chile is a land of startling contrasts and extreme beauty offering dramatic landscapes from shimmering lakes, towering volcanic mountains, glaciers and rolling hills, to the extreme opposite, the mysterious and awesome Atacama Desert. Chile's geography is unique. Chile is one of the longest and narrowest countries on the planet, bordering Peru in the north, Bolivia and Argentina in the east, the Antarctic in the south, and the Pacific Ocean in the west, along its 2700 mile coastline. It stretches the farthest south in the world, hemmed in by mountains on one side and on the other by the Pacific.
Patagonia is a region encompassing the vast southernmost tip of South America, shared by Argentina and Chile, with the Andes Mountains as its dividing line. It's important to note that the Chilean and Argentine sides are distinctive and contrasting and thus make for a good combination. Chilean Patagonia and the Torres del Paine National Park is one of the most awesome places on the planet. This is a region boasting glacial fjords and temperate rainforest, while the Argentine side features arid steppes, grasslands and deserts. This is home to soaring mountains, bright blue icebergs that cleave from glaciers and golden pampas (grasslands) that shelter rare wildlife such as llama-like guanacos. Some of its most iconic sites are the 3 granite towers from which the park takes its name and the horn-shaped peaks called Cuernos del Paine.
The Stay
Awasi Patagonia is situated inside a private reserve neighboring the Torres del Paine National Park, from where you can enjoy imposing views of the Torres del Paine peaks and Lake Sarmiento. This secluded outpost is strategically situated, protected from the strong Patagonian winds by a luxuriant native forest. Spend your time here exploring the Torres del Paine Mountain Range, the Patagonian Steppe and Lake Sarmiento; then return home for a soak in your hot tub, a custom-made cocktail and a delectable evening meal prepared by a celebrated Relais & Chateaux chef. Awasi has only 14 villas and a main lodge. Each villa is assigned with a private guide and 4WD so you can explore at your own pace, visiting where you want, when you want. It's the world's southernmost Relais & Chateaux hotel and the perfect spot to enjoy Patagonia's splendor.
The Experience
Spend your days indulging Mother Nature at her best. You have a choice of full or half day hiking through the park with experienced guides, and having picnic lunches in the middle of some of the most spectacular scenery in the world. Or engage the park on horseback or a mountain bike to lookout points of unforgettable vistas of wild guanacos and rheas, and soaring condors overhead. All excursions and outings are carefully designed by our guides according to daily weather conditions, guests' preferences, and duration and degree of difficulty. Choose an expedition along park trails ending up at Laguna Azul, a mirrored lagoon embedded in a valley of flowers. Or sail along Lake Grey to the massive walls of Grey Glacier. Or drive up to the Great Waterfall and then follow our guide on a leisure hike in full view of the mighty Paine Horns.
Activities
Climbing/Mountaineering: Mount Aconcagua.
Horseback riding
Biking
Mountain biking
Hiking
Fishing
Bicycle riding
Horseback riding
Walking through trails
Archaeological visits to a nearby paleontological site
Hiking (El Puesto - Sierra Contreras - Los Riscos - Agujas de Cleopatra - Salto Las Chinas - Hojas de Piedra - Barranca de los Fosiles - Weber-Lazo - Las Lagunas - Base Torres - Puesto el Mercado - Florence Dixie - Sendero de los Fosiles - Laguna Rodas)
Hiking (Sierra Baguales - Peninsula Grey - Rio Pingo - Mirador Ferrier - Morrenas del Grey - Rio Paine - Cumbres Ventosas - Mirador Cumbre - Mirador Cuernos - Lago Sarmiento - Sendero de los Nómades - Loma Guanaco - Laguna Azul - Descenso Zamora)
Photo safaris
Birdwatching
About Chile's Atacama Desert
Chile is a land of startling contrasts and extreme beauty offering dramatic landscapes from the Atacama, the driest desert in the world, to the extreme opposite, shimmering lakes, volcanic mountains, glaciers and rolling hills. In describing Chile one must resort to a number of superlatives. Chile's geography is unique, one of the longest and narrowest countries on the planet with a 2700-mile coastline, providing it with an amazing array of topography and eco-systems.
San Pedro de Atacama, an hour from Calama Airport, is an oasis located at 8,000 ft. altitude. The Atacama is far more than a desert. Far from being a desolate or an arid wilderness, the Atacama Desert is overflowing with life. Its ancient cultures offer a warm welcome to the curious traveler, and fertile oases sustain an astonishing diversity of life here in the world's driest desert. Since time immemorial, native communities have inhabited the area, their legacy still alive in the local folklore and traditions and in the numerous archaeological sites. Here you can take fascinating excursions to archaeological sites, ancient villages, colonial towns, salt flats, geysers, oasis, and to the unique Valley of the Moon. Outings range from excursions in especially equipped vehicles to mountain biking, trekking, and horseback riding.
The Stay
Awasi, Member of Relais & Châteaux, is an oasis in the dramatic and beautiful Atacama Desert — a spectacular base for exploring the desert's otherworldly environs. Relax in one of ten suites made of adobe, wood and stone; each features a private patio with an outdoor shower and solarium, rustic custom-built furniture and abundant open space. Each room is assigned a 4x4 vehicle and a private professional guide to accompany you on all-inclusive outings to the area's volcanoes, geysers and dry salt lakes. Return to delicious fare in the hotel restaurant, which features local foods such as quinoa and purple potatoes.
The Experience
Daily excursions will unveil the spectacular landscapes and natural phenomena that occur in this mysterious place. We will watch fiery sunsets in the Valley of the Moon and welcome a new day admiring the searing Tatio geysers; pass by tiny communities where a colonial church of volcanic stone stands as testimony of the rich history of the area and observe flocks of flamingos feeding on vast salt flats. On an even more active note, trekking expeditions to the summit of volcanoes, horseback rides and mountain biking excursions are sure to satisfy the appetite of our most adventurous expeditioners
Activities
Horseback riding
Biking
Mountain biking
Hiking
Archeological site visits
Birdwatching
Sand-boarding
Tours (Toconao and Atacama Salt Flats / Moon Valley / Cejar Pond / Catarpe / Matancilla - Yerbas Buenas / Puritama Hot Springs / Machuca / Machuca Hill / Highland Salt Flats / Miscanti and Miñiques / Tara Salt Flat / Tatio Geyser)
Private excursions
Bicycle riding
Nature walks
Cooking classes
Hiking
Fishing
Bicycle riding
Horseback riding
Archaeological visits to a nearby paleontological site
Hiking (El Puesto - Sierra Contreras - Los Riscos - Agujas de Cleopatra - Salto Las Chinas - Hojas de Piedra - Barranca de los Fosiles - Weber-Lazo - Las Lagunas - Base Torres - Puesto el Mercado - Florence Dixie - Sendero de los Fosiles - Laguna Rodas)
Hiking (Sierra Baguales - Peninsula Grey - Rio Pingo - Mirador Ferrier - Morrenas del Grey - Rio Paine - Cumbres Ventosas - Mirador Cumbre - Mirador Cuernos - Lago Sarmiento - Sendero de los Nómades - Loma Guanaco - Laguna Azul - Descenso Zamora)
Photo safaris
Birdwatching
Remarks